The water runs milky and can feel like fire. In this impoverished county, Trump's $1.5 trillion infrastructure plan may not help
Reporting from INEZ, Ky. —
Across the steep hills and hollows of this remote Appalachian county, many do not trust what flows out of their faucets — if anything flows at all.
Sometimes they get no water. Other times just a trickle. Often, they say, their water is so discolored it resembles milk or Kool-Aid or beer.
"I haven't drunk the water in years," said Jessica Endicott, 35, general manager at Family Dollar in Warfield, a tiny town on Martin County's eastern edge. "I don't cook with it. I don't boil eggs with it. I don't even feel safe bathing in it."
Water outages and boil-water advisories have long plagued this rugged former coal mining region on the eastern tip of Kentucky, where more than half a century ago President Lyndon Johnson launched his war on poverty. Frequently, water bills here come with warnings — notifying residents the water contains high levels of disinfectant byproducts that could, over time, increase their risk of liver and kidney problems and cancer.
A lot of rural Kentucky's water issues are due to one of America's most talked-about problems: crumbling infrastructure. For years the water district here has been losing more than 50% of its treated water to aging, leaky pipes — which can also allow untreated groundwater to seep in.
President Trump has promised "gleaming new roads, bridges, highways, railways and waterways all across our land," and the White House is expected Monday to outline details of its plan to generate at least $1.5 trillion in infrastructure improvements. But experts say it is unlikely the federal government will invest in rebuilding the kind of infrastructure that has become a public health hazard in impoverished, out-of-the-way communities like Martin County.
"People see bridges, but water pipes are hidden underground and nobody sees them," said Gail Brion, a professor of environmental engineering and health at the University of Kentucky who specializes in water treatment. "There's no question that people need to have safe, clean water. The issue is, who's going to pay for it?"
In the last month, tension in Martin County ramped up after the water district shut off flow to more than a thousand residents for days because an intake pump and service pipes froze during severely cold weather.
As residents in this sparsely populated pocket of Appalachia struggled — some boiling rainwater to bathe and melting snow to flush toilets — local schools canceled classes for three days and volunteers fanned out to deliver bottled water to the sick and elderly.
County officials declared a state of emergency and sought permission from the state to raise water rates by 49%.
"People here are just enraged they're being asked to pay more for water that they can't drink — for water that's only suitable for flushing commodes," said Gary Ball, a 64-year-old former coal miner and editor of the Mountain Citizen, a weekly newspaper that has doggedly chronicled the water district's water violations, pump failures, and unsanitary conditions over the last two decades. "It's nasty, nasty water."
Local officials have sought to reassure residents the water is drinkable and that discoloration is not necessarily a sign it is unsafe: cloudiness, for example, can occur when air becomes trapped in water, and does not typically affect water safety.
But suspicion of local leaders is rife in this rural county of about 12,000, where nearly 40% of residents live below the poverty line and fewer than a third of those over age 16 are employed.
Those "on the other side of the hill" — a term used to describe those who live east of the county seat of Inez and other far-flung areas — say they bear the brunt of deteriorating water service lines while officials have devoted substantial public funds to flashy new offices and government buildings.
Frustrated, many have taken to the internet, posting photos of Mason jars full of milky liquid and bathtubs of blue-tinted water, and swapping anxious notes on ailments they suspect are caused by contaminated water.
"My hands are splitting open under my nails and my knuckles," Pamela Blevins, 49, a retired nurse who lives in Tomahawk, wrote on the Martin County Water Warriors Facebook site.
"I've been breaking out when I get into the shower," wrote another resident, Amy Sparks. "My scalp burns like it's on fire and I get red spots all over me. I noticed the water smelt like pure bleach."
Even when county officials finally announced on Jan. 26 that they were lifting a boil-water advisory, many were skeptical.
"We cannot use the water because it's killing us," said BarbiAnn Maynard, a 40-year-old stay-at-home mom in Huntleyville, who blames county water for her mom's death 10 years ago from cancer.
Martin County Water District has violated the Environmental Protection Agency's safe drinking water standards 36 times since 2012 — most often for excessive levels of disinfection byproducts, such as trihalomethanes and haloacetic acids, which are formed when a disinfectant, such as chlorine, reacts with organic compounds in the water.
In the last six months, the district has been in compliance with EPA regulations after a technician from the Kentucky Department for Environmental Protection trained county employees to tweak their treatment of raw water.
State officials, however, say the county has a long way to go, especially with its finances. At a hearing last month for the district's request for an emergency rate increase, Michael Schmitt, chairman of Kentucky's Public Service Commission, described Martin County as "by far the worst water district" in the state. "This has gone on for years and years and years … and I can tell you right now: This stops. We're going to fix it."
Officials representing the water district, which is more than $800,000 in debt and has been estimated to be in need of around $13 million for repairs, told the commission they were on the brink of financial collapse. During the winter outages, employees had to resort to digging up old lines and making repairs with used parts.
"We're putting a patch on a bomb," said John Horn, chairman of the water board. Without a fresh infusion of cash within 60 to 90 days, he said, the district will no longer be able to pay its employees.
The Public Service Commission is expected to make a decision on the water rate increase soon. State regulators could force the water district to merge with a nearby utility company or put the water district into receivership with an outside agency.
Already, there has been some infrastructure help: Officials note that the district has secured a $1.2-million grant to replace nearly a third of its leaking service lines and defective meters in the next 18 to 24 months.
"It's all been blown out of proportion," said Martin County's highest public official, Judge Executive Kelly Callaham.
Most people in the county are not experiencing water problems, Callaham said; anyone who continued to suffer from low pressure or water outages likely resided on hills and needed to invest in a pump.
"How can you blame the water company when it's your responsibility to put in an inline pump?" he said. "When they live 10 miles from the water plant and a mile and a half back on top of a hill, there needs to be a little better judgment on some of that stuff."
If the new rate increase is approved, the average household would pay about $20 extra a month.
James Maynard, 50, a former truck driver who lives amid a narrow strip of ramshackle trailers in Lovely, a small community nestled between the Tug Fork River and a two-lane highway, said he had little cash to spare. He ekes by on about $750 a month in Social Security payments, plus food stamps, and pays about $550 a month on rent and utilities.
Maynard, who did not have running water for a week and a half during the outage, estimated he spent about $25 a week on bottled water.
"I still don't know if it's safe to drink," he said as he stood outside his trailer patched with scraps of corrugated metal and looked out at a muddy landscape of discarded washing machines, used tires and empty Coca-Cola cans.
"A lot of money's been spent in this county, but we sure haven't seen anything here," he added.
Residents' complaints about water quality go back years. In 2000, Martin County was the center of one of the worst ecological disasters in the Southeast, when a huge coal slurry impoundment burst through an old mine shaft near Inez, pouring millions of gallons of black sludge mixed with poisonous metals into local creeks.
Back then, residents complained of skin rashes, nausea, and headaches, which they suspected were caused by contaminated water, but the county's water district reported that its water intake on the Tug Fork River was closed for maintenance before the disaster. A Department of Health and Human Services report concluded the water district did not take any slurry materials into the water treatment system and the county's drinking water was not contaminated by the spill.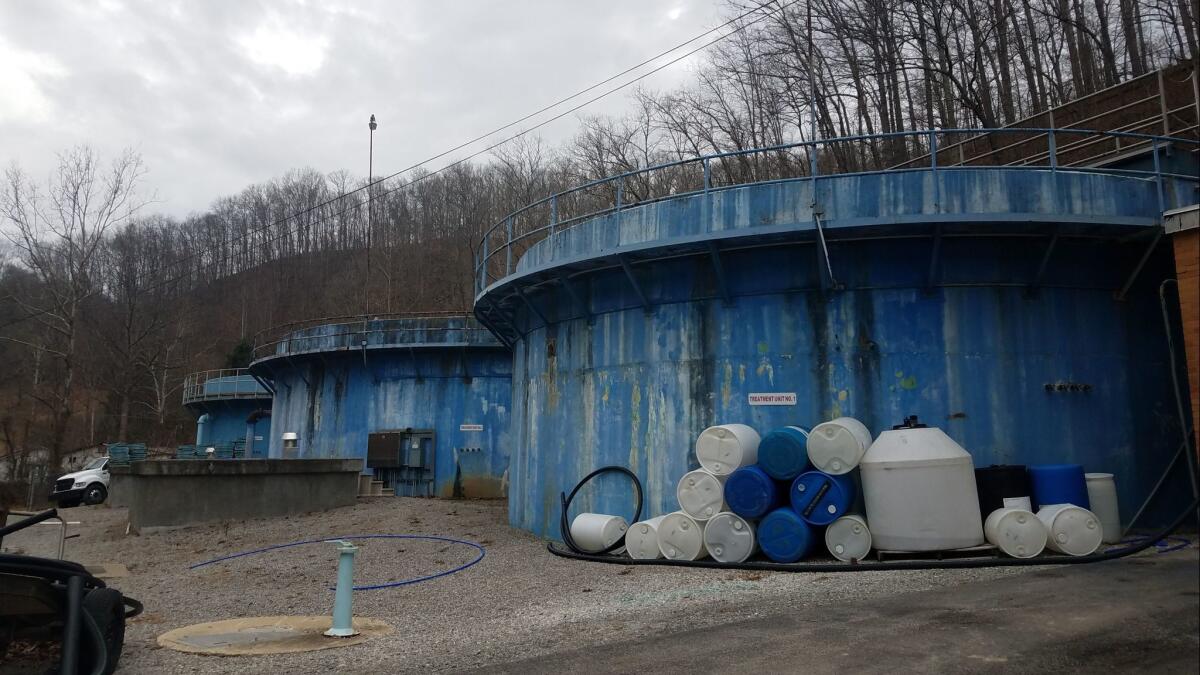 Experts say Martin County's challenge is not so much its water source but its dilapidated infrastructure, which has allowed untreated groundwater to seep in through leaky pipes.
"We can treat extraordinarily dirty water," said Brion, the University of Kentucky professor. "But even if the water treatment plant does a good job of producing clean, quality water, it then goes into a distribution system that is full of holes."
Local officials have tried to persuade residents that the risk of cancer from disinfection byproducts is small — EPA's standard is fairly conservative — and a better option than potential bacterial infections from water not treated with disinfectants.
Joe Hammond, the water district's business manager, said he and his family had experienced no problems with the tap water. "We do drink it, most definitely," he said. "We cook with it, eat with it, bathe with it."
What about residents who complained of rashes and irritable skin?
"Maybe they should use lotion?" he suggested.
Some residents say they have little faith county officials will fix the system.
"The more you complain, the less they try to help you," said Gary Michael Hunt, 39, a former coal miner who was escorted out of a public meeting last month when he voiced his frustration with the water shortages. "I just want people to have clean, fresh drinking water. This isn't a Third World country."
Jarvie is a special correspondent.
Sign up for Essential California for news, features and recommendations from the L.A. Times and beyond in your inbox six days a week.
You may occasionally receive promotional content from the Los Angeles Times.