No prison time for ex-NYPD Officer Peter Liang in fatal shooting of Akai Gurley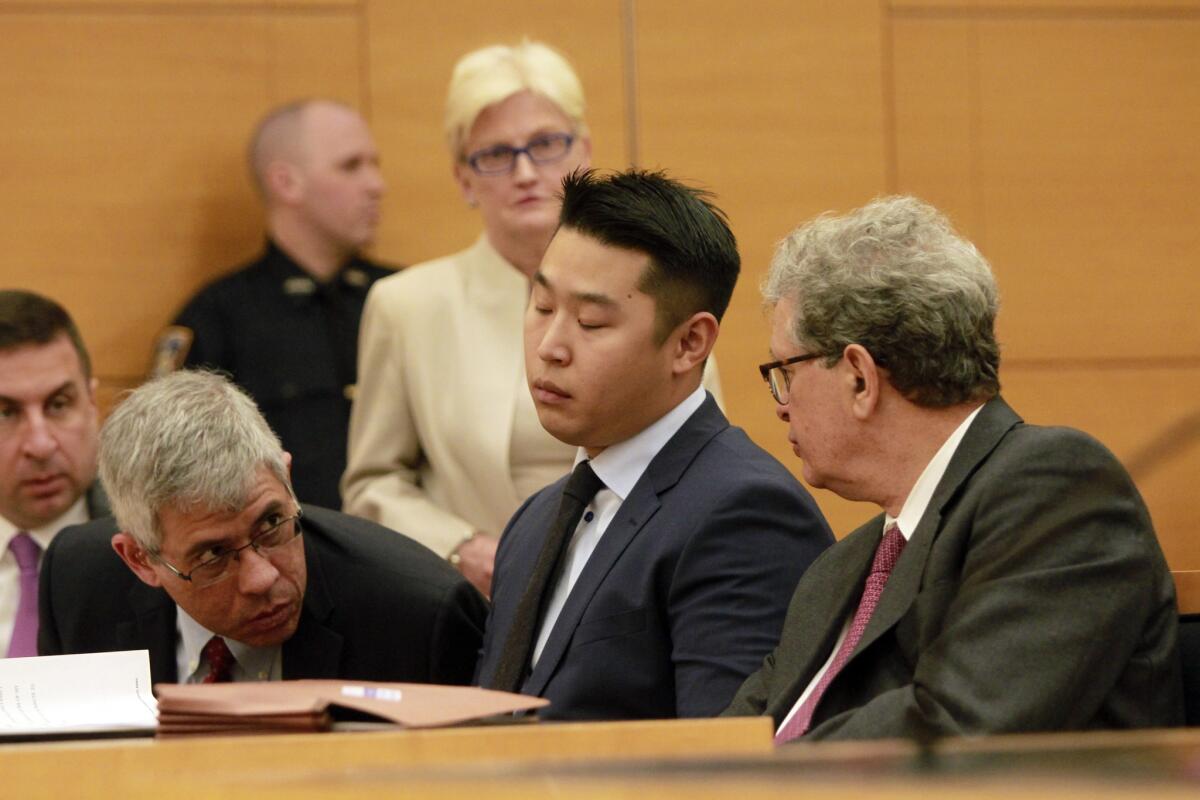 Reporting from New York —
Former New York Police Officer Peter Liang will not serve time behind bars for killing an innocent, unarmed black man in 2014 in a case that drew passionate allegations of racial injustice from both African American and Asian American protesters.
A Brooklyn judge on Tuesday ordered Liang to serve five years' probation and complete 800 hours of community service, saying the Chinese American rookie cop never intended to shoot, let alone kill, Akai Gurley while patrolling a dark stairwell in a Brooklyn housing project with his gun drawn.
Liang was convicted in February of manslaughter and official misconduct for firing a shot that ricocheted off a wall and struck Gurley, standing a floor below, in the heart.
Liang faced up to 15 years in prison, but a Brooklyn prosecutor requested that the former officer receive no prison time, and on Tuesday, Judge Danny Chun called the shooting an accident.
"Shooting that gun and killing someone was probably the last thing in his mind and probably never entered his mind at all," Chun said. "This was not an intentional act.... There's no evidence, either direct or circumstantial, that the defendant was aware of Akai Gurley's presence."
As Chun handed down the sentence, several members of the courtroom audience — particularly Gurley's friends and family — dabbed their eyes with tissue and clung tightly to one another, heads down.
Liang, who was fired by the Police Department after his conviction, gave a quiet and contrite address to the court, saying he was "forever changed" by the shooting.
After the shooting, "I was in shock and could barely breathe," he said, his head bowed as he read a statement. "I wish I could undo what happened."
Outside the courthouse, Gurley's family and friends were swept up by supporters who tried to shelter them from onlookers. Gurley's aunt Hertencia Petersen later told reporters, "There's no justice."
Gurley's death, as with other police shootings of unarmed black men, drew criticism from African Americans who have demanded greater accountability from a system they say doesn't value black lives.
But Liang's conviction — the first of an NYPD officer for an on-duty death since 2005 — also launched the largest Asian American protests in recent memory as supporters around the U.S. accused prosecutors of scapegoating Liang because of his Chinese American heritage.
To many of those supporters, the Liang shooting was a tragic accident caused by difficult patrol conditions in a dark and poorly maintained public housing facility. They felt Liang was an easy target for prosecution because of his ethnicity, while white cops went free or were lightly punished for similar incidents.
Liang said he fired his gun because he was startled by a loud noise, and his attorneys on Tuesday requested the manslaughter charge be downgraded, saying prosecutors hadn't proved Liang intentionally created a risk. Chun agreed, reducing the charge to criminally negligent homicide.
Liang's victim was also remembered as a family man who deserved justice. Kimberly Ballinger, Gurley's partner, said the loss had been particularly difficult for her young daughter.
"Everyday Akaila asks why her dad was killed by a police officer," she told the court.
Before the sentencing, opposing groups of protesters gathered outside the courthouse. Protesters who thought the shooting represented an unsettling trend of police targeting African Americans chanted for harsher punishment: "Indict, convict, send those killer cops to jail. The whole damn system is guilty as hell."
A small group of pro-Liang protesters, meanwhile, held signs that said "selective justice" and "racist prosecution."
As news of Liang's relatively lenient sentence trickled through the crowd, both camps expressed a lingering sense of exhaustion and frustration.
"Nobody wins," said Kevin Ni, 45, a Liang supporter. "But at least we can clear the case."
For supporters of the Gurley family, the verdict was dispiriting but not surprising.
"This case is unique because it involves two different minorities," said Pedro Valdez Rivera Jr., 24. "Both of them are victims of the bureaucracy going on in the system."
It also hit uncomfortably close to home for some, like Carol Gray, whose son Kimani was shot in 2013 by New York police officers who never faced charges.
"A life has been taken. Akai Gurley is gone," she said, expressing frustration that Liang didn't receive a harsher punishment when other defendants "go to jail for smoking drugs, for shoplifting."
Even the younger members of the crowd expressed a deep sense of fatigue at what they saw as another systemic failure.
"This is my first protest," said Imani Ecclesiasdes, 15. "I'm here because I'm tired of seeing my people get gunned down and the system doing nothing about it."
Liang grew up in New York's Chinatown as the son of Chinese immigrants, and his conviction in February brought out 10,000 protesters in Brooklyn. Rallies were held in other cities across the U.S. as well, with several hundred protesting outside Los Angeles City Hall on Feb. 20.
Prosecutors accused Liang of deadly negligence. After shooting Gurley, Liang didn't call for an ambulance and didn't perform CPR — factors that seemed to count against him in court.
Gurley's supporters say that whatever unfairness there may be in Liang's conviction, it can't compare with the injustice of Gurley's death.
"Akai had family that loved him just like Peter Liang, a mother just like Peter Liang," Peterson, Gurley's aunt, told The Times this month.
"But Liang's mother can come visit him every day," she said. "Akai Gurley's mom ... has to visit his grave."
Special correspondent Hansen reported from New York and Times staff writer Pearce reported from Los Angeles. Times staff writer Frank Shyong contributed to this report.
ALSO
Storm caused the worst flooding Houston has seen in 15 years
The wild schemes people will use to commit tax fraud
High court ruling is bad news for California taxpayers fleeing to Nevada for lower rates
Sign up for Essential California for the L.A. Times biggest news, features and recommendations in your inbox six days a week.
You may occasionally receive promotional content from the Los Angeles Times.