18-year-old killed in Massachusetts gas explosion had bright future ahead, friends and family say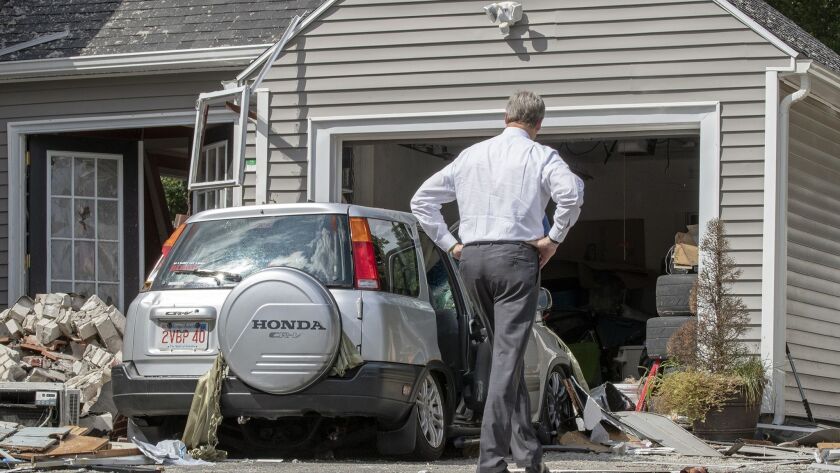 As his friends and relatives tell it, Leonel Rondon was excited to start the next chapter of his life. The 18-year-old had just passed his driving test and was ready to celebrate.
With his friends by his side, Rondon sat in the driver's seat of a car that was parked in the driveway of a friend's house. Suddenly, an explosion ripped through Lawrence, Mass., crumbling houses and setting off fires. The impact of the blast sent a chimney tumbling down on the car, killing Rondon.
The high school junior from Lawrence was the only person killed after a series of gas line explosions and fires erupted Thursday in Massachusetts' Merrimack Valley.
As family and friends mourn Rondon's death, firefighters on Saturday investigated a new gas odor in Lawrence while crews continued to visit thousands of homes, looking for potential danger.
The explosions sent thick black smoke in the air and touched off fires in 39 homes, officials said. Some houses were reduced to charredruins. Residents covered their faces with clothing or wore gas masks because of the intense smoke.
Officials estimate that the blast injured at least 25 people and that about 8,000 people were forced to evacuate. The Andover fire chief, Michael Mansfield, that day told reporters, "It looked like Armageddon; it really did."
By Saturday evening, more than 13,000 people in the affected areas — Lawrence and the towns of Andover and North Andover — still were without power. The three towns lie in the Merrimack Valley, about 26 miles north of Boston. Republican Gov. Charlie Baker declared a state of emergency the day after the blast.
Baker said more than 900 people were deployed Saturday to check on the 8,600 homes in the affected areas. Crews could be seen lifting manhole covers to detect the possible odor of gas. The odor reported in Lawrence was a false alarm.
Baker expected that officials would finish Saturday night and that residents would be able to start returning home Sunday morning.
The incident has left shaken residents demanding answers. The Massachusetts Emergency Management Agency pinned the disaster on gas lines that had become over-pressurized, but Baker said an official explanation could take weeks.
The chairman of the National Transportation Safety Board, Robert Sumwalt, said there were no indications that the blasts were intentional. It does not appear the disaster was caused by "anything nefarious, anything suspicious, anything intentional," he told the Associated Press.
Columbia Gas, which serves the areas affected by the explosion, asked residents for patience.
"We are focused on providing as much support as possible to our customers, residents and communities," the company said in a statement. "We are grateful for the community's patience as well as the tremendous support we have received from our first responder and law enforcement partners."
As they wait for an official explanation, Rondon's family members grappled with their loss. Shortly beforethe explosion, Rondon's father, Miguel Rondon, had dropped his son off at his friend's house, according to family friend Luis Medina.
"This family is broken apart from this accident," Medina said in a news conference Friday. "I have no words for what they are going through."
Rondon enjoyed cars and fashion, particularly sneakers. But it was the student's contagious personality and ambitious ideas that made him stand out.
"He was full of life and love," his older sister, Lucianny Rondon, said in an interview Saturday. "He was like that with everyone who met him. He cared a lot about his friends and family."
Rondon had a special talent for making mundane tasks enjoyable, said Armany Mendoza, his friend of five years.
Two years ago, the pair teamed up for a school project about hip-hop culture. After writing a song, they designed a sweater with a logo that read "Just Watch Me" on the front.
Mendoza and Rondon bonded and became close friends. "He was super fun. Anything that would happen we would laugh about it," Mendoza said. "He even met my mom."
Rondon and Mendoza wanted to take their project to the next level and start a clothing line. "We would talk about different clothing styles," Mendoza said. "We wanted to keep going."
Even though that didn't happen, Mendoza and Rondon still spoke about it years later in high school at Phoenix Charter Academy.
School officials in Lawrence said Rondon's teachers remember him as an outgoing and determined student.
It'd been about six months since they last spoke, but news of his friend's death has encouraged Mendoza to reflecton the meaning of friendship.
"He always said he had my back, and that was important to me," Mendoza said. "If I did something wrong, he would tell me. I felt like he was a real friend."
---
UPDATES:
7:30 p.m.: This article was updated throughout with staff reporting and comments from Lucianny Rondon.
This article was originally published at 10:35 a.m.
---
The Latinx experience chronicled
Get the Latinx Files newsletter for stories that capture the multitudes within our communities.
You may occasionally receive promotional content from the Los Angeles Times.