One winning ticket sold in Florida in $450-million Mega Millions drawing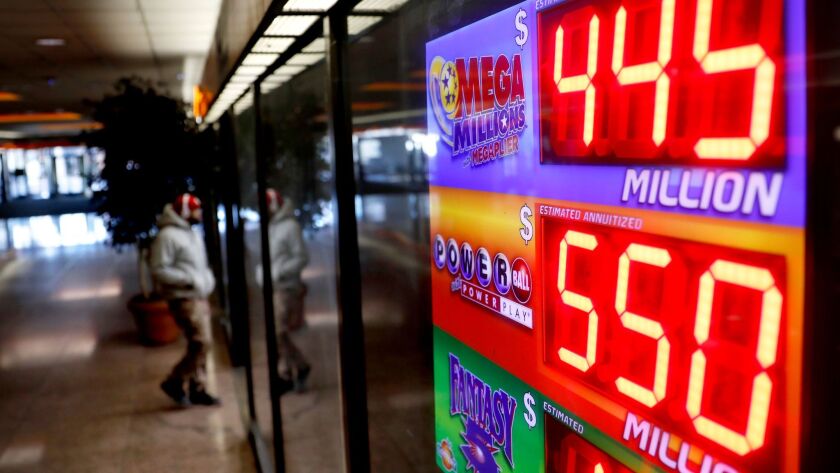 Reporting from DES MOINES, Iowa —
One Mega Millions ticket sold in Florida matched all six numbers and will claim a $450-million grand prize.
The winning numbers drawn Friday night to claim the nation's 10th largest jackpot were 28-30-39-59-70-10.
It was not immediately known in which city the winning ticket was sold.
Lottery officials also said that the jackpot for Powerball, the other national lottery game, had risen to $570 million. That drawing is Saturday night.
"Congratulations to Florida on their big jackpot win," said Mega Millions executive Gordon Medenica on the lottery's website. "This has been an exciting run for Mega Millions players and a great way to start off the new year!"
Mega Millions also reported that in Friday's drawing there were eight Match 5 winning tickets: one each in California, Massachusetts, Tennessee and Virginia, and two each in Oklahoma and Texas.
The Mega Millions jackpot resets to $40 million ($25 million cash) for the next drawing on Tuesday.
The jackpots refer to the annuity options for both games, in which payments are made over 29 years. Most winners opt for cash options, which would be $281 million for Mega Millions and $358.5 million for Powerball.
The odds of winning the Mega Millions jackpot are one in 302.5 million. Powerball odds are one in 292.2 million.
---
The Latinx experience chronicled
Get the Latinx Files newsletter for stories that capture the multitudes within our communities.
You may occasionally receive promotional content from the Los Angeles Times.