What life is like on $7.25 per hour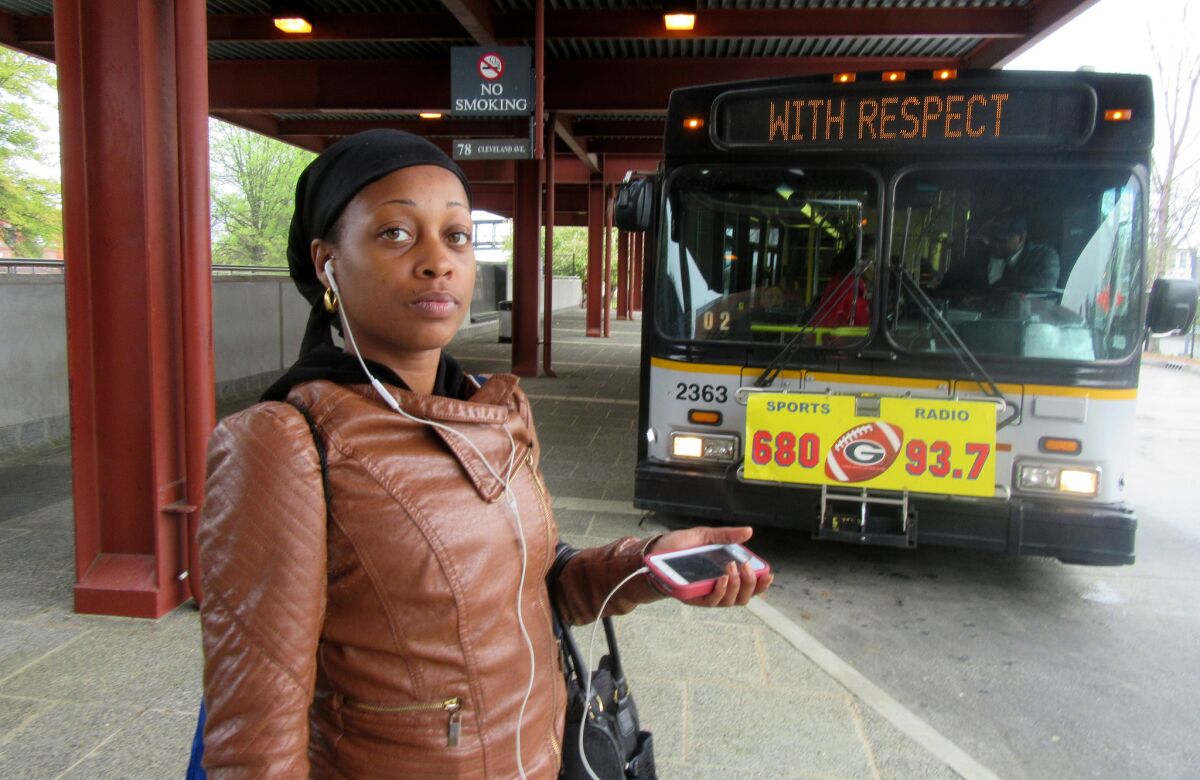 Reporting from Atlanta —
Early Sunday morning, Jewel Walker gets home from her full-time job as a wheelchair assistant at this city's airport and sets her alarm clock for 6 a.m.
It is still dark when she wakes, and the exhausted 19-year-old does not stop for breakfast. To make her 8 a.m. shift at her second job as a Burger King cashier, she has to ride two buses and a train 30 miles out to Atlanta's northern suburbs.
Even working seven days a week — 52 hours in all — Walker cannot scrape together enough money to buy a secondhand car or move out of her father's place in Dixie Hills, a poor west Atlanta neighborhood.
"I'm just running all the time and I never have any money left over for me," she said. "I'm still struggling from paycheck to paycheck."
NEWSLETTER: Get the day's top headlines from Times Editor Davan Maharaj >>
Walker is one of several million low-income workers across the nation who subsist, barely, on or below the federal minimum wage of $7.25.
This week, California became the first state in the nation to raise its eventual minimum wage to $15 an hour, yet hourly wages in other parts of the country, particularly in the Southeast, continue to lag. While 29 states and Washington, D.C., have set the bar higher than the federal minimum, 14 states match the federal rate and five states have no minimum wage at all.
Here in Georgia, one of two states where the minimum wage remains stuck at $5.15, lawmakers have long resisted any increases. The majority of low-income workers — except for those who work for small businesses that make less than $500,000 a year or are not involved in interstate commerce — make the federal minimum.
Many who earn $7.25 an hour work long days, cobbling multiple jobs together to get by. Others scramble to amass enough hours to keep up with basic household bills, surviving only with a patchwork of help from family or government subsidies.
Lissette Rowe, 30, a psychology student from East Point, Ga., who earns $7.25 an hour making subs at a gourmet sandwich chain, relies on her father in Florida to send money for bills. Her sister shares food stamps. Her mother, who is struggling to afford repairs for her own car, lent her $400 so her electricity would not be cut off.
"Today my rent is due and I'm not able to pay," she said Monday. "Mother says, 'Keep going in school. God is going to bless you.' It's tough. I feel like I'm always robbing Peter to pay Paul and I'm never caught up."
For many low-wage workers, the challenge is not just to survive on low wages but to find ways to advance beyond bottom-rung food service and cleaning jobs.
Last week, Nicole Malone, 28, quit an $8-an-hour job as a janitor at Clark Atlanta University for a $7.75 job at McDonald's in the hope that she would have a better chance of a promotion. Working 40 hours a week, the single mother of two relies on $100 in food stamps and a government subsidy for her two-bedroom apartment just south of downtown Atlanta.
"I can't stay at a place where I can't progress," Malone said. "It's hard labor for hardly any money. We're doing slave work while the big corporations collect."
Still, Malone is grateful. Not only does she have a job, but her grandmother buys diapers and wipes for her 6-month-old, and a friend provides child care for only $40 a week. "By the grace of God, I'm managing on my own," she said.
Wages at the bottom of the income scale have stagnated or dropped over the last three decades, and the minimum wage has not kept up with productivity and inflation.
While the federal minimum hourly wage has remained static since 2009, Georgia's has not changed since 2002, when it increased from $3.25 to $5.15.
See more of our top stories on Facebook >>
It makes no sense that Georgia's minimum wage is less than the federal level, according to Tsedeye Gebreselassie, a senior attorney at the National Employment Law Project, a nonprofit based in New York.
"The federal minimum wage already lags behind what people need," Gebreselassie said. "A $7.25 minimum wage does not cut it. It's unconscionable. You can't survive on $15,000 a year."
Of the 3 million Americans living on or below the federal minimum wage in 2014, many were young and female, according to the U.S. Bureau of Labor. Nearly two-thirds work in service occupations, preparing food and serving, cleaning and offering personal care and healthcare support.
After working 10 years as a custodian at Hartsfield-Jackson Atlanta International Airport, Carolyn Allen's pay has crept up from $7.25 to $7.70 an hour. Yet no matter how much the 58-year-old scrimps and saves, shopping at discount stores, she never has enough. "I budget and budget, and I still can't really buy no food."
Allen's rent in East Atlanta takes up nearly half of her $1,000 monthly wages, yet she said she doesn't qualify for food stamps. Her budget, which includes nearly $100 for public transport to get to work and $86 for her cellphone, leaves little wiggle room for medical care or emergencies.
For months, Allen hasn't been able to pay a $100 medical bill after visiting a hospital emergency room for a crick in her neck. "I know it's not much, but I can't pay it," she said. "It's impossible."
If the minimum wage were increased, Allen said, she would prioritize catching up on all her bills. Then she would buy simple household goods. "Just little things," she said, "you know, like Pine-Sol and bleach."
This year, Democratic lawmakers in Georgia sponsored bills to raise the state minimum wage to $10.10 and to $15, yet neither proposal gathered enough support to advance in the Republican-dominated General Assembly.
In the meantime, many workers are left scrambling to find extra sources of income.
On his days off from his $7.50-an-hour job as a cook at the Chicken Hut restaurant in Riverdale, Ga., Laugudria Screven Jr., 23, travels more than 25 miles across Atlanta to sell plasma. By offering up his arm to a technician's needle twice a week at $50 a shot, he scrapes together enough to pay his $360 rent.
Yet donating plasma takes a toll on Screven's body, leaving him drowsy and weak. And even with the extra income, he says he sometimes can't afford to eat more than once a day. Often he comes home to a refrigerator that contains little more than mustard, ketchup and peanut butter.
"I sell my blood to pay my bills," he said, rubbing his arm as he waited for a bus in East Point, Ga. "It's kind of messed up. If I were paid a fair wage, I wouldn't have to go through this."
At least, Screven tells himself, donating blood is legal. Some of his acquaintances make money pursuing more illicit activities, stealing and dealing drugs.
"Sometimes it feels that you've got to break the law to survive in this world," he said. "I could make more dealing drugs or trying to get by on people. My brother, he's a good one, he's always telling me: 'You've got to find the other way.'"
Jarvie is a special correspondent based in Atlanta.
ALSO
Workers at ex-Oxy CEO's Bel-Air home allege they were trafficked to U.S. via Middle East
California's economy expected to outpace that of U.S. this year
Must-read stories from the L.A. Times
Get the day's top news with our Today's Headlines newsletter, sent every weekday morning.
You may occasionally receive promotional content from the Los Angeles Times.