President Obama: Orlando shooting was 'act of terror and an act of hate'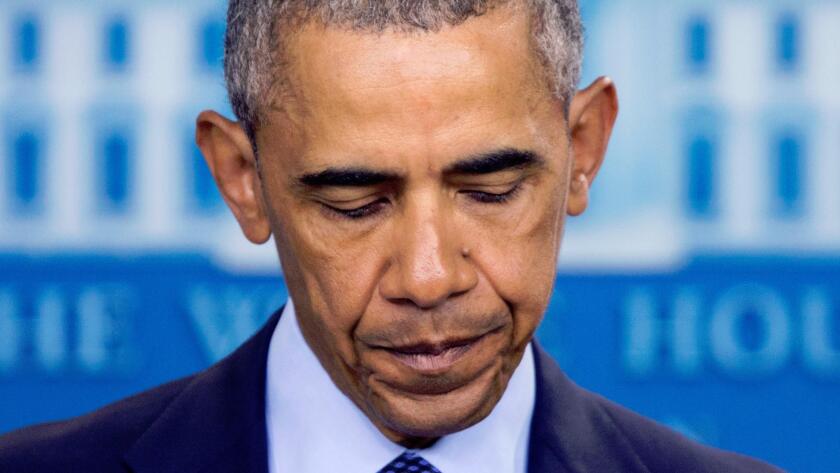 Reporting from WASHINGTON —
President Obama said the FBI is investigating the worst mass shooting in U.S. history as an act of terrorism, calling the Sunday morning slaughter of 50 people at a nightclub in Orlando, Fla., a "horrific massacre."
The somber address was a familiar ritual for Obama but no less painful for a president whose tenure has included the deadly bombing of the Boston Marathon, the slaughter of schoolchildren in Newton, Conn, and a terrorist attack on holiday party in San Bernardino, Calif.
Obama's full remarks on Orlando nightclub shooting »
"No act of terror or hate will change who we are," Obama said in a televised address at the White House shortly after he ordered U.S. flags flown at half-staff until Thursday to honor the victims in Orlando.
"We pray for their families, who are grasping for answers with broken hearts," he said.
Obama called the methodical slaying of patrons at a gay nightclub "especially heartbreaking" because it was a refuge for people "to come together to be with friends, to dance and to sing, and to live."
Obama said federal authorities had made "no definitive judgement" on the killer's motivation, and whether he was inspired by or directed by Islamic State or other terrorist groups.
"We know enough to say that this was an act of terror and an act of hate," Obama said. "And as Americans we are united in grief, in outrage and in resolve to defend our people."
Obama spoke as federal and state agencies scrambled to investigate Omar Mateen, the only suspect in the shooting, and to determine whether the FBI had missed signs of his growing radicalization.
"What is clear is he was a person filled with hatred," Obama said.
Obama was briefed on the attack early Sunday morning at the White House. He later cancelled a planned trip to Wisconsin on Wednesday to campaign with Hillary Clinton, who he endorsed last week as the presumptive Democratic presidential nominee.
Atty. Gen. Loretta Lynch and Homeland Security Secretary Jeh Johnson also cancelled trips to Beijing for high-level meetings this week aimed at reducing Chinese cyber attacks on U.S. businesses and institutions.
The terrorist attack inevitably spilled into the turmoil of the presidential campaign.
Donald Trump, the presumptive Republican presidential nominee, blamed "radical Islamic terrorism" in a tweet and asked, "When will we get tough, smart and vigilant?"
Later in a statement, he claimed that he had foreseen the attack.
"Because our leaders are weak, I said this was going to happen — and it is only going to get worse," he said. "I am trying to save lives and prevent the next terrorist attack. We can't afford to be politically correct anymore."
Trump's presidential bid gained momentum after the San Bernardino shooting last winter when he called for a temporary ban on foreign Muslims entering the country.
He cited legal immigration from the Middle East as a problem on Sunday, but did not repeat his call for a ban on Muslims.
Mateen, the 29-year-old gunman in Orlando, was born in New York City and was a U.S. citizen, officials said. His parents were from Afghanistan.
Clinton pronounced the attack an "act of terror" and said Americans should "redouble our efforts to defend our country from threats at home and abroad."
"That means defeating international terror groups, working with allies and partners to go after them wherever they are, countering their attempts to recruit people here and everywhere, and hardening our defenses at home," she said in a statement..
Like Obama, Clinton cited the attack as a reason to tighten gun laws that allowed Mateen to buy a handgun and an assault-style rifle.
"We need to keep guns like the ones used last night out of the hands of terrorists or other violent criminals," she said. "This is the deadliest mass shooting in the history of the United States and it reminds us once more that weapons of war have no place on our streets."
ALSO
Authorities search apartment where Orlando gunman is believed to have lived
Heartbreaking accounts from witnesses to the Orlando shooting: 'I thought it was just part of the music'
Man with weapons arrested in Santa Monica told police he was in town for L.A. Pride
---
Must-read stories from the L.A. Times
Get all the day's most vital news with our Today's Headlines newsletter, sent every weekday morning.
You may occasionally receive promotional content from the Los Angeles Times.