Oliver North was once a key figure in the Iran-Contra scandal. Now he has a new role: NRA president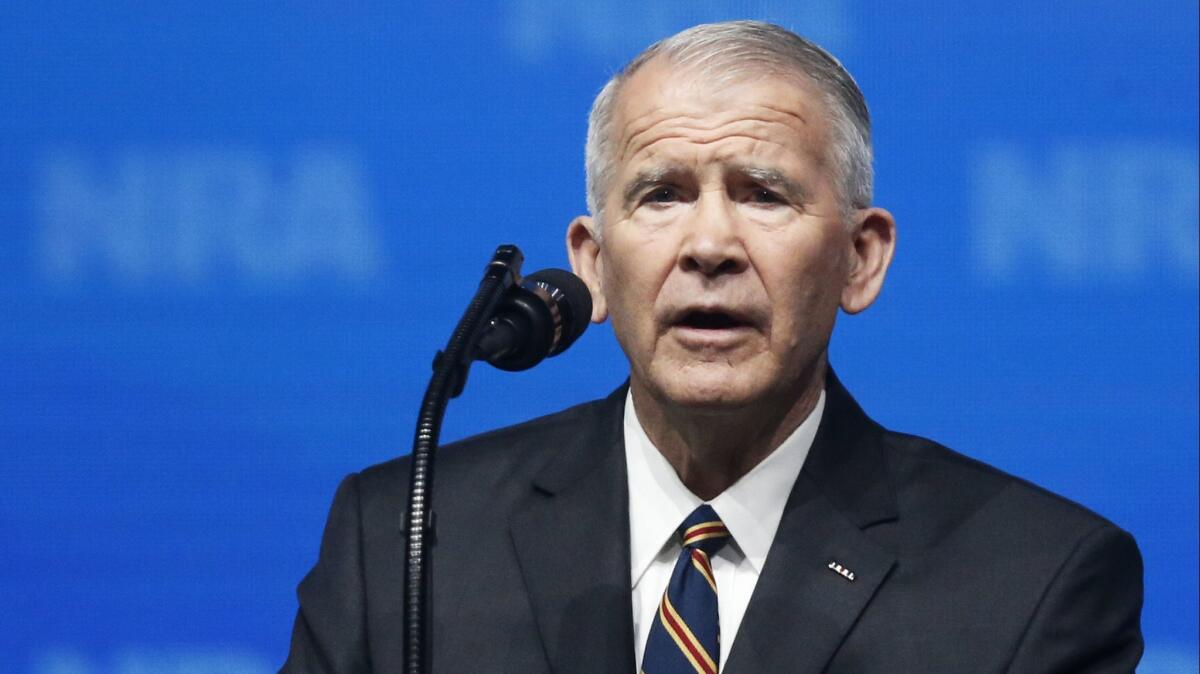 He once stood at the center of an international political scandal, becoming a household name for destroying government documents and lying to members of Congress.
That was more than three decades ago.
Now, Oliver North, a retired lieutenant colonel in the U.S. Marine Corps, has a new job: president of the National Rifle Assn.
On Monday, the NRA's board of directors announced that the organization would now be headed by North, who many gun rights supporters are banking will be able to rally the base at a time when gun control groups believe momentum is on their side in the highly polarized national debate over firearms. In recent months, the powerful special-interest group has faced an onslaught of criticism from gun control organizations and has seen pushback in polls following mass shootings at a Florida high school and a country music festival in Las Vegas.
Robert Spitzer, who has written extensively on politics and gun control, said North is "a sort-of celebrity who raises the organization's visibility among its base," which is helpful ahead of the November election.
"North is well-known in conservative circles as a longtime NRA board member, author and Fox News personality," said Spitzer, chairman of the political science department at the State University of New York at Cortland. Since 2001, North has hosted "War Stories with Oliver North"; he announced he will step aside from the program to lead the NRA.
"He won't do anything to help broaden the NRA's appeal, but rather to try and bring in people already sympathetic who may be susceptible to an appeal."
Known for his no-nonsense, understated style, North has been a popular figure in the NRA who, for several years, elicited rousing applause when speaking at the group's annual convention. As a gun rights activist, he often comes across as diplomatic, calmly referencing the Constitution in showing his support for the 2nd Amendment.
For leaders of the NRA, the group's new president is a much-needed jolt of energy.
Wayne LaPierre, chief executive officer of the NRA, said North's appointment was "the most exciting news for our members since Charlton Heston became president."
Heston, the renowned Hollywood actor who led the NRA from 1998 until 2003, often said his gun could only be taken from his "cold, dead hands." The NRA has had seven presidents since Heston, but none have had the same marquee appeal. North succeeds Pete Brownell, who owns an Iowa-based company that manufactures gun parts but is not widely known in national political circles.
"Oliver North is a legendary warrior for American freedom, a gifted communicator and skilled leader," LaPierre said in a statement. "In these times, I can think of no one better suited to serve as our president."
Marion Hammer, the first female president of the NRA, echoed LaPierre's sentiments.
"He will stand and fight for our country, our flag, our Constitution and the 2nd Amendment," said Hammer, who led the group from 1995 to 1998.
On his Fox show, North appeared as a buttoned-down, serious figure. He would often sit stoically, questioning veterans about experiences in battle.
But his reputation over the years has not always been wholesome.
North came to the forefront of American politics in the mid-1980s during the Iran-Contra scandal. As a military aide to the National Security Council during the Reagan administration, he was eventually exposed for his role in arranging the secret sale of weapons to Iran and for diverting the proceeds to the anti-revolutionary Contra rebels in Nicaragua. At televised congressional hearings during the summer of 1987, he admitted to shredding documents associated with the affair and acknowledged that he had lied during previous meetings with members of Congress.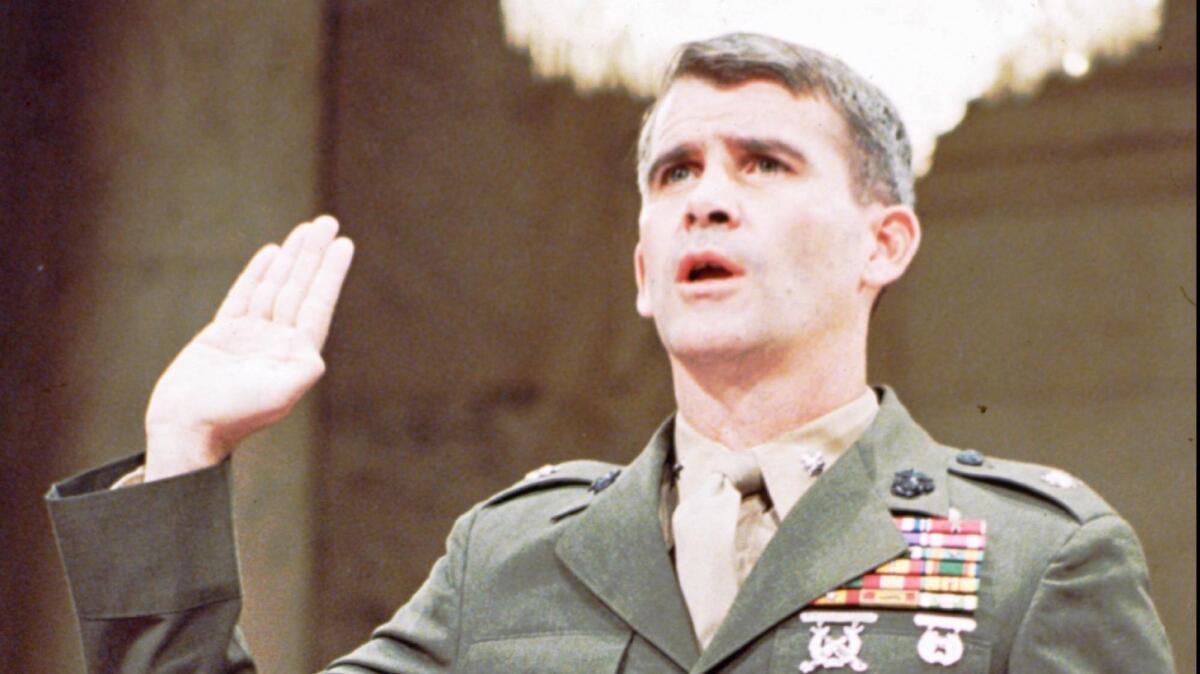 During the closely watched hearings, North faced a barrage of questions from lawmakers and attorneys.
George Van Cleve, the committee's senior Republican counsel at the time, prompted North at one point, according to a CBS News transcript: "You've also admitted you altered some of the documents in which you clearly describe your role."
"I did," North admitted.
"You intended to mislead Congress," Van Cleve added.
"I did," North replied.
Two years later, North was convicted of obstructing Congress during its investigation, destroying government documents and accepting an illegal gratuity. Those convictions were overturned in 1991. An appeals court found that witnesses may have been swayed by testimony he had given Congress on the promise that it would not be used against him in court.
In the years since the fallout, North, who did not respond to requests for an interview, didn't shy away from the public spotlight. Before the 1994 midterm election, he won the Republican primary for Senate in Virginia. He narrowly lost the general election to Democratic incumbent Charles S. Robb.
The NRA's announcement of North as its next president — a position that carries a two-year term — was assailed by gun control groups, who focused on his past admissions to lying to lawmakers.
"We think this choice shows an NRA committed to doubling down on its false rhetoric," said Kris Brown, president of the Brady Campaign to Prevent Gun Violence. "Momentum is building like never before for policies that ensure that dangerous people do not have ready access to guns, and the American people are focusing on the midterms."
Since 17 students and staff died in the Feb. 14 shooting at Marjory Stoneman Douglas High School in Parkland, Fla., several states have passed stricter gun control measures, even as Congress has sidestepped the issue. In Florida, the GOP-controlled Legislature passed a measure that, among other things, raises the minimum age to purchase a gun from 18 to 21. It was signed into law in March by Republican Gov. Rick Scott.
Under North's leadership, the NRA is poised to have a staunch defender of gun rights ahead of the November election. Last week, North delivered a politics-tinged invocation before a speech by President Trump, whom North supported during the 2016 election, sometimes introducing the candidate to crowds in his home state of Virginia.
"Lord," he said before the bowed heads at the NRA convention, "give us the strength and perseverance to guard all our God-given liberties enshrined in our Bill of Rights."
Twitter: @kurtisalee
Sign up for Essential California for news, features and recommendations from the L.A. Times and beyond in your inbox six days a week.
You may occasionally receive promotional content from the Los Angeles Times.