Reporting from Dallas —
President Trump was greeted with cheers, applause and standing ovations Friday when he joined Vice President Mike Pence at the National Rifle Assn. annual meeting in Dallas.
Trump acknowledged that his last-minute decision to attend was controversial. But he insisted it was the right thing to do as he attempted to reassure NRA members troubled by a national gun control movement in the wake of the February mass shooting in Parkland, Fla.
"Thanks to your activism and dedication, you have an administration fighting to protect your 2nd Amendment," Trump told the crowd. "Your 2nd Amendment rights are under siege, but they will never, ever be under siege as long as I am your president."
Trump noted that he met with relatives of the 17 Parkland shooting victims as well as survivors, and "was inspired like all of you were by their incredible courage."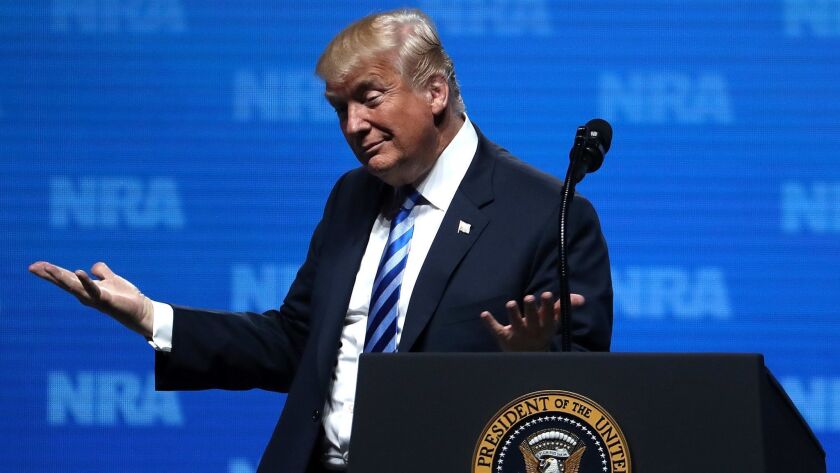 But instead of advancing the gun control measures that some Parkland students and their families have advocated, Trump said he was "working to improve early warning systems" so that "when the community sees red flags, which they saw in Parkland … swift action is taken by authorities" to keep guns out of the hands of criminals and the mentally ill.
Trump also endorsed arming "highly trained" teachers, a proposal that drew cheers and applause.
"There is no stronger deterrent for a sick individual than the knowledge that an attack will end their life and end in total failure," he said. "We support the 2nd Amendment not only because we believe in freedom, but we trust in everyday talented people that love our students. They're not going to let anybody hurt their students. But you have to give them a chance."
The mood in the nearly-packed arena, which holds about 9,200, was exuberant, with some chanting "USA!" and shouting "I love you." NRA organizers expect more than 80,000 to attend the convention, despite rain and tornado warnings.
Retirees Ronnie and Connie Lance, both 68, drove six and a half hours from the Texas Panhandle to hear Trump speak, and were pleased to hear him endorse arming teachers.
"Safety in schools really resonated with us because our son is a high school English teacher," Ronnie Lance said. "It still baffles me how anyone could blame the NRA."
Although their son carries a concealed handgun, he can't bring it to school to defend his students because it's a "gun-free zone," and that bothers the Lances.
"It's an invitation for a bad guy with a gun to come in," Ronnie Lance said, echoing the president's speech.
Lance was a hesitant Trump voter, but said, "He's accomplished more than he's promised."
"We'd support him again," Connie Lance said.
Bob Clausen stood to applaud at various points during Trump's speech.
Clausen, 67, an accountant from northern Illinois, said he left feeling encouraged.
"It's always a concern, the left encroaching on gun rights. If they could have been in here and heard the reaction of the crowd —" he said, and paused, shaking his head. "You're not going to change these people's minds."
Lois Fox was impressed Trump spoke at the convention after the Parkland controversy. She called his speech "rousing" and "uplifting."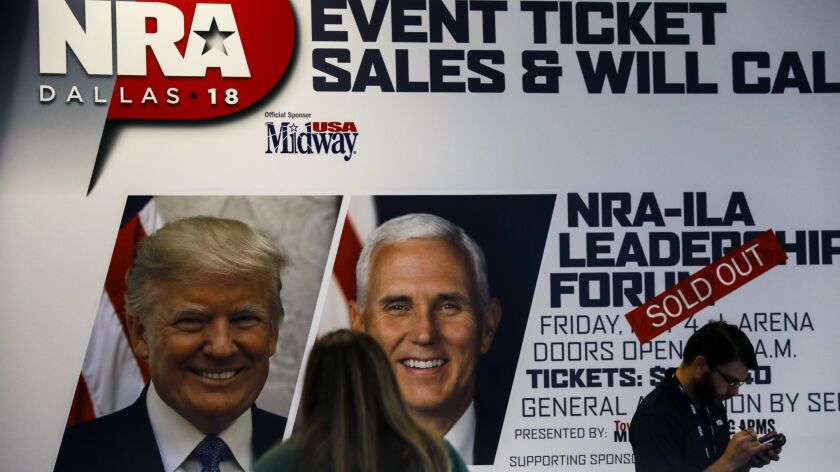 Fox, 68, a retired middle school science teacher, said she agreed with Trump's comments about increasing school security and mental health services.
"We need to get people with mental problems away from guns — we saw that in Florida, in Sandy Hook," she said.
No gun control protesters appeared outside the convention center after the speech, but about 100 gathered outside City Hall late Friday to speak out for gun control measures and against the NRA.
"They have the right to voice their opinions," Fox said, and she didn't expect fellow NRA members to object either, noting, "We are a law-abiding people."
At the protest, teenagers and grandmothers, teachers and other professionals brought handmade signs saying, "When did AR 15s become more valuable than 15 year olds?" And "my school is for learning not lockdowns." Some NRA members walked by, taking in the scene.
"There's too many kids dying in school. We need to pass reasonable gun legislation and the NRA is a hindrance to that," said local high school teacher Mike Alves, 47.
The Rev. Jane Lawrence, a retired United Methodist minister, brought two signs listing mass shootings since the University of Texas shooting in 1966. Lawrence, 72, of Athens, Texas, had spent the day inside the NRA convention with a colleague, talking to gun owners about why they oppose assault weapons.
"I think part of the distress in our country right now is we don't talk to each other," said her colleague, Judy Gould, 68, of Gilford, N.H.
Lawrence wasn't as encouraged. "I'm not sure we're reasoning with each other, respecting each other," she said.
Hearing Trump advocate for expanded gun rights and militarizing police made Dominique Alexander, executive director of Next Generation Action Network, worry that he could "turn American soil into a war zone."
"You have a president trying to give people more access to guns who doesn't understand the rule of law," Alexander said.
The convention runs through Sunday. A protest was also planned Saturday outside City Hall by Parkland survivors and relatives, as well as a counter-protest by Texas NRA supporters.
molly.hennessy-fiske@latimes.com
Twitter: @mollyhf
---
UPDATES:
5:25 p.m.: This article has been updated with protest taking place at City Hall.
4:35 p.m.: This article has been updated with Trump speech, reaction.
9:20 a.m.: This article was updated with additional details, including comments from attendees lining up to hear Trump's speech.
This article was originally published at 3 a.m.
---