Former Arizona Sheriff Joe Arpaio is back. So too are Latino voters who helped oust him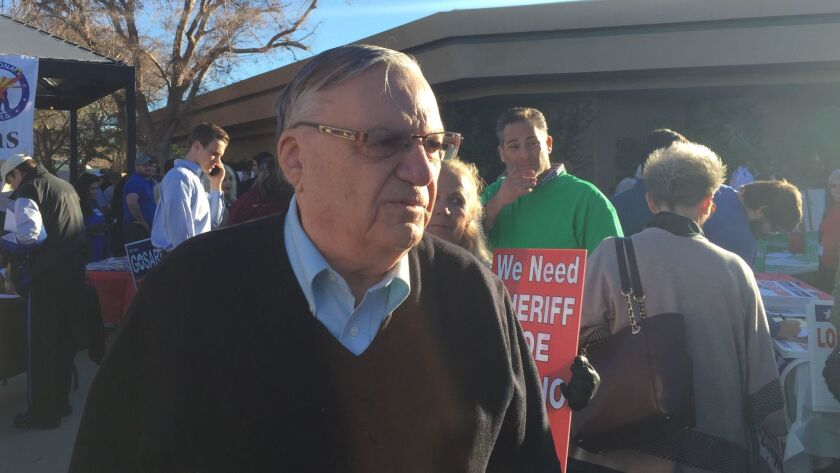 PHOENIX —
Yenni Sanchez had thought her work was finished.
Spared from the threat of deportation by the Obama-era Deferred Action for Childhood Arrivals program, she campaigned to oust Joe Arpaio when he unsuccessfully ran for reelection as Maricopa County sheriff in 2016. She knocked on hundreds of doors in south Phoenix's predominantly Latino neighborhoods to register voters. She made phone calls, walked on college campuses. Her message was direct, like the name of the group she worked with, Bazta Arpaio, a take on the Spanish word basta — enough Arpaio.
But now, the 85-year-old former sheriff is back and running for Senate. Sanchez, who had planned to step away from politics to focus on her studies at Grand Canyon University, is back as well, organizing once more.
"If he thinks he can come back and terrorize the entire state like he did Maricopa County, it's not going to happen," Sanchez, 20, said. "I'm not going to let it happen."
Arpaio enters a crowded Republican primary and may not emerge as the party's nominee, but his bid has already galvanized Arizona's Latino electorate — one of the country's largest and fastest-growing voter blocs.
Organizers like Sanchez, who thought they might sit out the midterm elections, rushed back into offices and started making calls. Social media groups that had gone dormant have resurrected with posts reminding voters that Arpaio was criminally convicted of violating a federal court order to stop racially profiling Latinos.
"We've been hearing, 'Is it true Arpaio is back? OK, what can we do to help?'" said Montserrat Arredondo, director of One Arizona, a Phoenix nonprofit group focused on increasing Latino voter turnout. "People were living in terror when Arpaio was in office. They haven't forgotten."
In 2008, 796,000 Latinos were eligible to vote in the state, according to One Arizona. By 2016, that potential voting pool jumped to 1.1 million. (California tops the nation with the most Latinos eligible to vote, almost 6.9 million.)
In 2016, Latinos accounted for almost 20% of all registered voters in Arizona. Latinos make up about 30% of Arizona's population.
Getting voters to the polls is another matter. In 2016, Latino voter turnout was 44%.
Voter turnout and registration typically dip in midterm election years, and that's been the case with Latinos in Arizona. In 2010, 26% of Latinos eligible to vote cast a ballot, according to One Arizona. In 2014, the figure was even worse, with only 18% of eligible Latinos voting.
One Arizona now hopes that at least 350,000 Latinos — about one third of those eligible — will vote in 2018.
"He and Trump are energizing our base and, unlike other demographics in the state, our base is growing," Arredondo said. This, in turn, helps Democrats in a red state that, with Latino voters, is inching closer to purple with each election.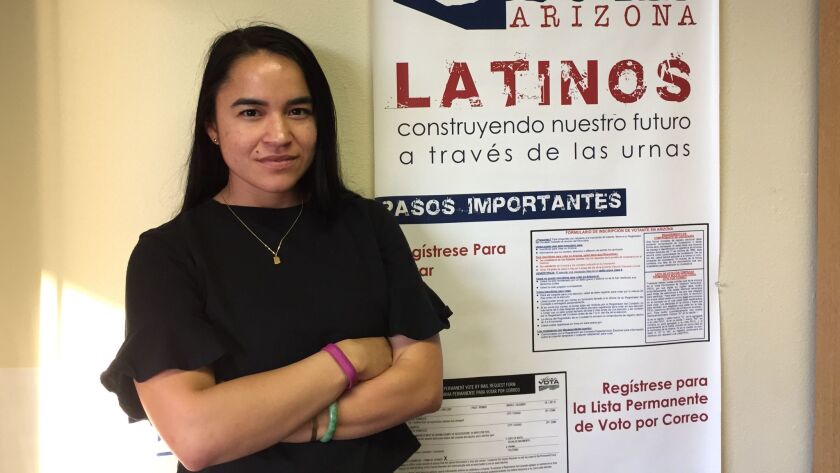 Last year, President Trump pardoned Arpaio of a criminal conviction for violating a federal court order to stop racially profiling Latinos. When announcing his candidacy Tuesday, Arpaio pledged his full support to the president and his policies.
On Saturday, Arpaio made his first public appearance since announcing his candidacy, attending a gathering of Maricopa County Republicans. He was unmoved when asked about the enthusiasm his candidacy has created among Latinos.
"Many of them hate me for enforcing the law," he said. "I can't change that. … All I know is that I have my supporters, they're going to support who they want. I'm in this to win it though."
Arpaio, gripping about a dozen red cardboard signs that read "We need Sheriff Joe Arpaio in DC," walked through the crowd where he mingled with, among others, former state Sen. Kelli Ward and U.S. Rep. Martha McSally, who also are seeking the GOP Senate nomination. Overall, Arpaio was widely met with enthusiasm from attendees.
"So glad you're back," said a man wearing a "Vietnam Veteran" hat.
"It's great to be back," Arpaio replied.
Arpaio, who handed out business cards touting his once self-proclaimed status as "America's toughest sheriff," said he had no regrets from his more than two decades in office.
"Not a single one," he said. "I spoke my mind and did what needed to be done and would do it the same in a minute."
In an interview, Arpaio, who still insists he has "evidence" that former President Obama's birth certificate is forged, a rumor repeatedly shown to be false, did not lay out specific policy platforms, only insisting he'll get things done in Washington.
During his tenure as sheriff, repeated court rulings against his office for civil rights violations cost local taxpayers tens of millions of dollars.
To Ricardo Zamudio, 26, Arpaio's reemergence sapped him of the rush of relief he's felt since 2016. No more racial profiling by local deputies, he remembers thinking at the time, no more crossing the street to avoid patrol cars.
For eight years, Zamudio, also a DACA recipient, had worked to defeat Arpaio. Like Sanchez, he'd made phone calls, sent Facebook messages, then followed up with eligible voters in person.
"The anger people had from the unjust treatment just boiled over," he said thinking back to Arpaio's defeat. "The work had paid off … we got him."
Zamudio, whose family brought him here from Mexico when he was 9, said his parents often thought of moving to California or Nevada to get away from Arpaio. Ultimately, they decided to stay.
"This is our home," he said, noting that when he makes his pitch to register voters he highlights his immigration status. "I tell them I can't vote, but they can. … I'll be telling them that a lot this year."
Twitter: @kurtisalee
ALSO
Trump sends message with Arpaio pardon: The federal government expects local help enforcing immigration laws
---
Must-read stories from the L.A. Times
Get the day's top news with our Today's Headlines newsletter, sent every weekday morning.
You may occasionally receive promotional content from the Los Angeles Times.