Pompeo meets with North Korea's former spy chief on nuclear weapons to build 'trust'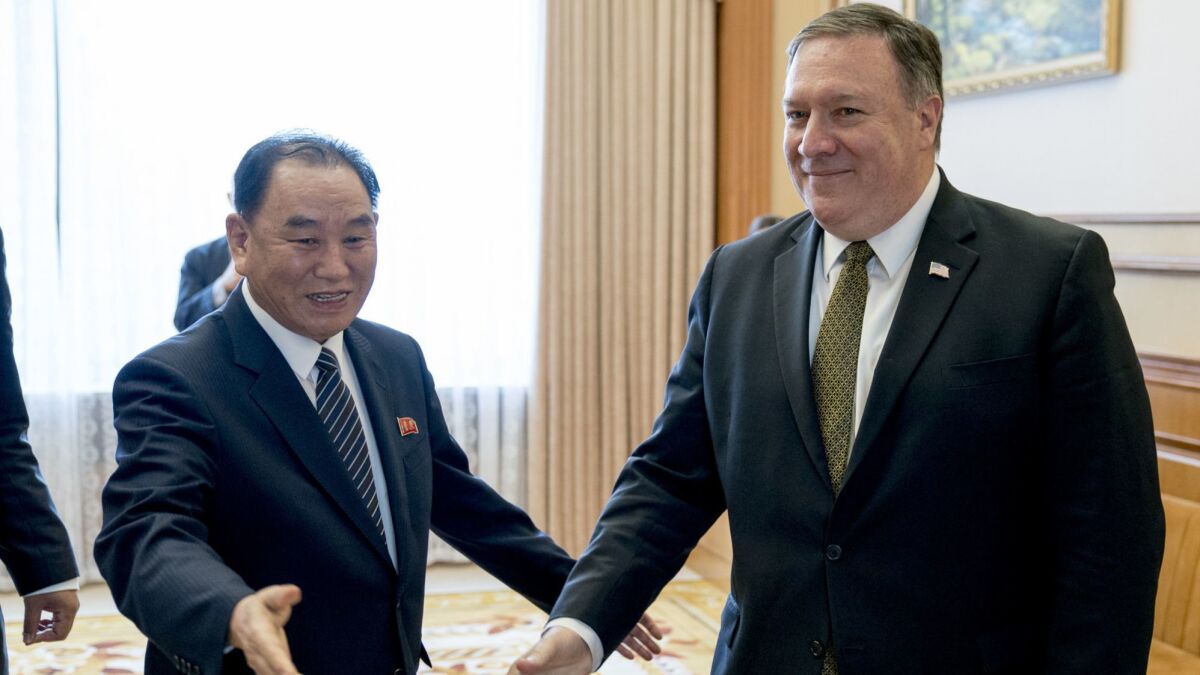 Reporting from Washington —
Secretary of State Michael R. Pompeo spent nearly three hours with North Korea's former spy chief in Pyongyang, the capital, on the first full day of his mission to move the government closer to serious negotiations on getting rid of its nuclear arsenal.
Pompeo and Kim Yong Chol, widely considered the second most powerful person in North Korea, held talks at the Park Hwa Won guesthouse compound. It was Pompeo's third visit to a once-hostile and closed country, his first since the June 12 summit between President Trump and North Korean leader Kim Jong Un that set the disarmament talks in motion.
Other than a tweet from Pompeo, few details emerged after the session.
"We just wrapped our first meeting of the day," Pompeo wrote on Twitter at what was early Friday in the United States. "I'm proud of my team's work."
"The more you come, more trust we can build between one another," Kim Yong Chol told Pompeo in an exchange of pleasantries while the small contingent of reporters traveling with the secretary was briefly allowed in the room.
Pompeo concurred and added, "I'm looking forward to our time together today." He joked that at the rate he was visiting North Korea, he'd have to start paying taxes.
Kim Yong Chol, who remains a top official in the ruling Workers Party of Korea after his stint as intelligence chief, was introduced to Americans last month when he was pictured delivering a jumbo letter from Kim to Trump at the White House ahead of the leaders' summit. He is under U.S. sanctions because he allegedly ordered the 2010 attack on a South Korean naval vessel that killed 46 sailors.
Reporters said the mood seemed relaxed and the two men did not utter the words "nuclear," "weapons," and "denuclearization" in their opening remarks. Initially there were not enough chairs around the long, polished wood table for the American delegation.
A second meeting was scheduled for later but it was not yet clear who would be sitting across the table from Pompeo. Having neither a confirmed, consistent interlocutor from the Korean side — so far, it's only been Kim Jong Un or Kim Yong Chol — nor a more clear-cut agenda underscores the obstacles to what would be grueling negotiations in the best of circumstances.
"They need to agree on a framework…so it's not improv theater featuring Mike Pompeo," said Daryl Kimball, a nonproliferation expert with the Arms Control Assn., a Washington policy organization.
"You don't want improvisational diplomacy here," Kimball added. "You need structure and pace before you get down to a very detailed negotiation."
Pompeo is under pressure to confirm Pyongyang's commitment to "work toward complete denuclearization" of the Korean peninsula. That was the pledge Kim and Trump signed in a brief, vague joint declaration during their one-day summit in Singapore last month.
State Department spokeswoman Heather Nauert, who accompanied Pompeo, said late Friday that the secretary's meetings with Kim Yong Chol established working groups that would delve into the "nitty-gritty stuff" of nuclear disarmament.
She also said Pompeo reiterated the U.S. demand that the remains of American soldiers killed in the Korean War be returned. This was another agreement ostensibly reached by Trump and Kim in the Singapore summit, but no remains have been returned thus far. The two countries have participated in a similar remains-recovery program in the past.
"We expect them to live up to their commitments," Nauert said.
A first step in any denuclearization process could be North Korea's agreement to a more extensive and verifiable freeze on its nuclear and missile production.
According to Kimball and other experts, only when a solid framework for future U.S.-North Korea meetings is established will the administration be able to work on even basic steps, like drawing up an inventory of North Korea's arsenal and a schedule for disarmament.
North Korea is believed to have up to 60 nuclear devices and many ballistic missiles as well as a vast, hidden system for developing both.
Although Kim has not conducted tests of long-range missiles or nuclear devices in recent months, there is no indication he has halted production and development efforts, including enrichment of uranium, experts have said.
Newly revealed satellite imagery, for example, shows rapid infrastructure improvements at Yongbyon Nuclear Scientific Research Center, the main nuclear facility north of Pyongyang, according to 38 North, a group of analysts specializing in North Korea.
The group reported Friday on more images that it said showed additional activity at Yongbyon, including testing of a nuclear-reactor cooling system. The reactor was not yet operational as of June 14, the group said.
Several congressional Democrats on Friday demanded that the House Foreign Affairs Committee hold hearings on the expansion of North Korea's arsenal.
"We are very concerned by recent reports on efforts by the North Korean regime to expand production of nuclear fuel; to make improvements to missile facilities; and to deceive the United States during the course of ongoing negotiations," the lawmakers, led by Rep. Ted W. Lieu of Los Angeles, wrote in a letter to the committee.
Trump and Pompeo, however, remain publicly optimistic about Kim's intentions — unrealistically so in the opinion of numerous experts and current and former U.S. officials from both parties.
"Spoke with POTUS while we were both in the air," Pompeo said in an earlier tweet. "The President told me he believes that Chairman Kim sees a different, brighter future for the people of North Korea. We both hope that's true."
With details and access limited, the reporters traveling with Pompeo sought to fill the void. One interviewed their North Korean handler, Kim Kwang Hak, a foreign ministry official.
When ABC's Tara Palmeri asked him what North Koreans were expecting from the meeting, he quipped, "We'll have to see, like your president says." Then he laughed and asked of the American reporters in his van, "No fake news?"
Bloomberg's Nick Wadhams provided the menu from Pompeo's lunch with Kim Yong Chol: "Steamed Hock with Red Sauce," corn puree, kimchi and "Nutritious Boiled Rice."
And the South Korean newspaper Chosun reported that Pompeo took as a gift for Kim Jong Un a CD of Elton John, autographed by Trump and containing the song "Rocket Man" — the president's nickname for Kim last year as they lobbed hostile words and threats prior to this year's warming.
Pompeo declined to confirm the report.
Staff writer David S. Cloud contributed to this report.
For more on international affairs, follow @TracyKWilkinson on Twitter
---
UPDATES:
9:10 p.m.: The article was updated with comments from State Department spokeswoman Heather Nauert.
The article was originally published at 3:30 p.m.
---
Must-read stories from the L.A. Times
Get the day's top news with our Today's Headlines newsletter, sent every weekday morning.
You may occasionally receive promotional content from the Los Angeles Times.