Virginia gunman hated Republicans, and 'was always in his own little world'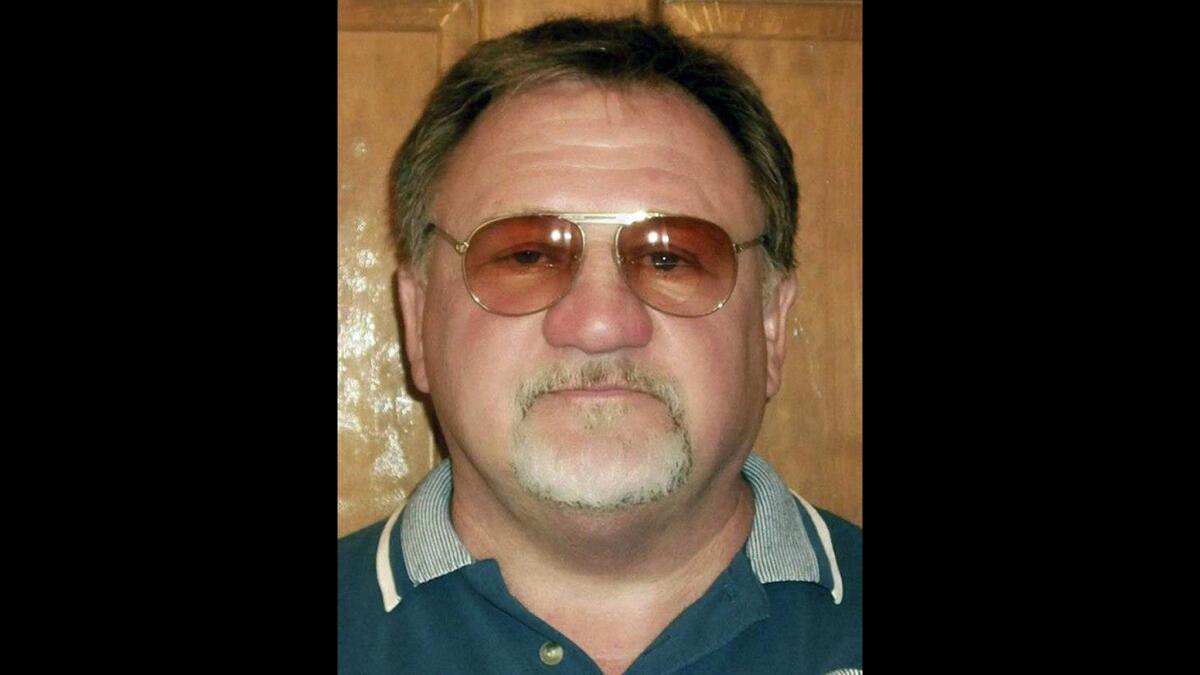 There seemed to be little about America that James T. Hodgkinson agreed with. He had a hero, Bernie Sanders. But his enemies seemed to be endless.
To the former Illinois home inspector, Donald Trump and his whole family were traitors who needed to be imprisoned. The Republican Party was worse than terrorists. The wealthy were a corrupt oligarchy that needed to be shattered. On post after post on Facebook, Hodgkinson sounded off on the crisis facing the country, only to see his posts mostly met with silence from his friends.
Early Wednesday morning, Hodgkinson took his anger into his own hands and opened fire on a baseball practice in Alexandria, Va., where Republican congressmen, staff and lobbyists had gathered to prepare for an upcoming game to raise money for charity.
When the shooting stopped, four victims were injured, and Hodgkinson, confronted by police, was mortally wounded. Not long after he died, his hero, Sanders — whom he had campaigned for — denounced him on the floor of the U.S. Senate.
"I am sickened by this despicable act," said Sen. Sanders (I-Vt.), who gave his condolences to the victims. "Let me be as clear as I can be: Violence of any kind is unacceptable in our society and I condemn this action in the strongest possible terms."
Hodgkinson's attack was the work of a left-wing activist and small-town Democrat who had, for years, waged his own political war of words against Republicans on social media with no success.
But it was also the final act of an adrift father who rarely spoke to strangers and sometimes directed his dissatisfaction at his neighbors and family — at one point in 2006 violently trying to pull his daughter out of a car, punching her friend in the face and threatening another of her friends with a shotgun.
In the final months of his life, the 66-year-old former construction worker had left his longtime home in Illinois to spend much of his time at a YMCA gym in Alexandria near the baseball diamond, fulminating online. "Republicans Hate Women, Minorities, Working Class People, & Most All (99%) of the People of the Country," he wrote on May 26.
The last time authorities in St. Clair County, Ill., saw Hodgkinson at home in Belleville, in March, sheriff's deputies were responding to a call of shots fired. They found Hodgkinson outside his house with a hunting rifle, practicing his shooting.
"He was a pushy little bastard, an in-your-face kind of guy," said Lyndon Evanko, a retired attorney from Belleville who remembered Hodgkinson for his temper and brusque attitude toward police and neighbors. "He believed what he believed and he wasn't going to take any [stuff] from anybody."
Hodgkinson was born in East St. Louis, Ill., on Dec. 12, 1950, and apparently did not stray far from his roots in downstate Illinois. According to his Facebook profile, he attended high school in Belleville, population about 43,000, and college at Southern Illinois University Edwardsville.
He later worked in construction and home inspections in Belleville, where he had scrapes with his neighbors and with the law, most of them minor.
In 1993, Hodgkinson was charged with drunk driving and other traffic offenses by Illinois State Police near his home, a suburb of St. Louis. Court records show that judgment was withheld, and he spent a year under court supervision.
Hodgkinson was arrested again in a more harrowing incident, in 2006, on a charge of battery by the St. Clair County Sheriff's Office.
The incident apparently unfolded at a neighbor's house as Hodgkinson burst inside to get his daughter to come home, according to an arrest report. Hodgkinson "became violent" after his daughter refused to leave and tried to hide in the house, the report said.
"James grabbed [his daughter] by the hair and pulled her off the floor," the report states. "After [she] was off the floor she attempted to run away. James would not release his grip and threw [her] to the floor" and later started hitting her in the arms and pulling her hair.
His daughter ran out of the house with a friend. But when they got into a car to leave, Hodgkinson reportedly cut her seat belt with a pocketknife and tried to pull her out of the car. His wife came to his aid and started "fighting with" her daughter and trying to drag her out of the car by her legs, the report said.
Hodgkinson then started choking his daughter, ripping her sweater, and then punched her friend in the face when she threatened to call police, according to the report.
Later, another friend of his daughter went to Hodgkinson's house to talk to him about the incident, and Hodgkinson struck the young man in the face with the butt of a shotgun, according to police. The youth told police he heard a single gunshot as he ran away.
Officials arrested Hodgkinson and his wife, but records say the case was dismissed after the victims repeatedly did not show up at court hearings, according to Brendan Kelly, St. Clair County state's attorney. (Hodgkinson's wife could not be reached for comment, and court records do not show a record of a charge.)
Records show that Hodgkinson allowed his inspection and contracting licenses to lapse. Evanko said he represented Hodgkinson in 2009 when he was ticketed for doing work without the proper permits.
"Even with that, he had a temper: 'What are they charging me for? I know what I was doing. So what if I didn't have the paperwork?'" Evanko said.
A former construction industry acquaintance, Bill Stanis of St. Louis, said Hodgkinson was "a little off."
"He was just always very opinionated in what he thought should be right," Stanis said. "He was always quick to tell you what he thought it was and what he thought it should be."
Stanis had worked with Hodgkinson on construction projects 20 or 30 years ago, but lost touch with him after moving from Belleville to St. Louis.
The pair reconnected in 2013 when Stanis hired Hodgkinson to inspect his new home. But when it took Stanis more than two weeks to send Hodgkinson a check for the work, Hodgkinson immediately sued him, which stunned Stanis.
"Dude, I hadn't seen you for 20 years, and you sue me? … I can't believe you did that to me," Stanis remembered thinking.
In recent years, Hodgkinson supported the Occupy Wall Street movement in 2011 and was an early Sanders fan during the last Democratic presidential primaries, volunteering for his campaign in Iowa.
A neighbor in Belleville, Aaron Meurer, 33, said Hodgkinson lived in a well-kept home in a rural area and had kept a Sanders sign in his yard during the 2016 election.
"He had mentioned stuff about Republicans and high taxes and not taxing the rich enough, stuff like that," Meurer said. "Nothing too extreme or too violent."
Hodgkinson bought a used white van, Meurer said, and disappeared. FBI officials said he relocated to the Alexandria area in March.
Stephen Brennman, a lawyer who lives in Alexandria, said he would see Hodgkinson nearly every day at the YMCA near where the shootings occurred. He said Hodgkinson would most often sit in the lobby, or near a window that has a good view of the ball field, and stare at his computer.
Hodgkinson never wore workout clothes — instead, he was usually dressed in polyester plants, collared shirts and a flat hat resembling a beret.
"He was always in his own little world," Brennman said. "I never saw him talk to anybody.… Just a blank stare."
But Hodgkinson was busy on his Facebook page, where President Trump and congressional Republicans were central targets of his ire. In a May 31 post he called Trump and his family "traitors" who "Need to Be Prosecuted to the Fullest Extent of the Law."
Hodgkinson was also a member of several liberal-leaning groups on Facebook, including the Road to Hell is Paved with Republicans, Donald Trump is Not My President, Terminate the Republican Party and President Bernie Sanders.
"I've seen him post some," said Howard Pearlman, founder of the left-leaning group Terminate the Republican Party, from his Cherry Hill, N.J., home, adding that he did not personally know Hodgkinson. "Everyone posts — we're really political."
But when Hodgkinson turned violent, it was clear he had gone too far. "It's terrible what he did," Pearlman said of the gunman. "I — and we as a group — do not condone this at all."
After Hodgkinson was identified as the gunman, his Facebook profile was removed.
Times staff writer Kurtis Lee in Los Angeles contributed to this report.
Twitter: @mattdpearce
Twitter: @jtanfani
---
UPDATES:
4:45 p.m.: Updated with changes throughout.
2:05 p.m.: This article was updated with comments of a patron at the YMCA where Hodgkinson was frequently seen.
2 p.m.: The story was updated with additional details from law enforcement records.
This story was originally published at 11 a.m.
Sign up for Essential California for the L.A. Times biggest news, features and recommendations in your inbox six days a week.
You may occasionally receive promotional content from the Los Angeles Times.