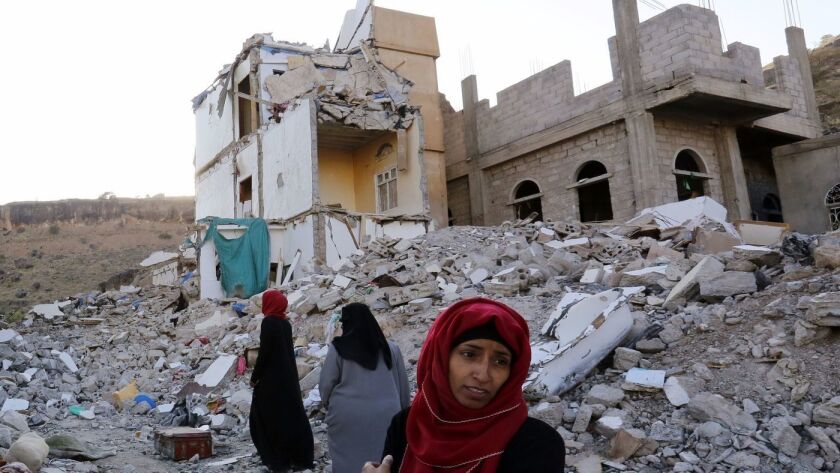 Reporting from Washington —
Facing mounting congressional pressure to address the humanitarian disaster in Yemen, the Trump administration for the first time called for a cease-fire in the country's bitter civil war, but stopped short of halting U.S. support for Saudi airstrikes blamed for thousands of civilian casualties.
Defense Secretary James N. Mattis and Secretary of State Michael R. Pompeo both called for a halt to the fighting within 30 days and for the warring parties to participate in U.N.-sponsored talks in Sweden next month. Neither appears likely.
"The time is now for the cessation of hostilities," Pompeo said Tuesday in a statement echoed by Mattis. He called on "all parties" to support efforts by the U.N. special envoy, Martin Griffiths, to find a peaceful solution to the bloody conflict.
But congressional backers of a resolution to cut off U.S. refueling and targeting assistance to the Saudi-led bombing campaign say the cease-fire demand is unlikely to succeed in pressuring the Saudi government to seek a settlement.
"After more than three years of war, thousands dead, millions on the brink of starvation and growing pressure from Congress, the Trump administration is finally calling for an end to the Saudi-led war in Yemen," said Rep. Ro Khanna (D-Fremont). "However, just a call for cessation of hostilities does not go far enough."
Khanna said the congressional resolution has 68 sponsors, and he is optimistic it could pass the House and Senate when Congress reconvenes after the Nov. 6 election for a lame-duck legislative session.
A successful move to cut off U.S. military support would be a rare instance of Congress asserting its war-making powers. But some lawmakers say the Trump administration may prefer to have lawmakers act, allowing the administration to distance itself from Riyadh without being directly responsible.
If passed, the resolution would give the Pentagon 30 days to wind down its refueling of Saudi warplanes and providing of intelligence on targets. Future assistance would be prohibited unless Congress voted to authorize U.S. involvement. A similar resolution was defeated in the Senate in March by a vote of 55 to 44.
Saudi Arabia and its allies intervened in Yemen in 2015 to support President Abdu Rabu Mansour Hadi's embattled government after Houthi rebels ousted it and seized vast tracts of territory, including the capital, Sana.
Bombing by the Saudi-led coalition, using U.S. targeting intelligence, has taken a devastating toll on civilians in Yemen, including recent attacks that killed scores of schoolchildren and medical personnel.
Washington's surprise call for a halt to hostilities in Yemen signaled renewed urgency by the Trump administration to reduce engagement with Saudi Crown Prince Mohammed bin Salman, who is viewed as the chief architect of the war in Yemen.
The crown prince is widely believed to have approved the Oct. 2 killing of Jamal Khashoggi, a dissident Saudi journalist living in Virginia, in a Saudi consulate in Istanbul, Turkey. The gruesome case has put U.S.-Saudi relations under a harsh spotlight.
President Trump, who has courted the Saudi monarchy, has said he does not want the scandal to interfere with the sale of U.S. weapons to Riyadh, but has not publicly indicated if his administration will take other actions.
There's little sign that either Houthi rebels or the Saudi-backed coalition fighting against them in Yemen are ready to stop the war, which began in March 2015. Nor does the Trump administration seem eager to pressure Saudi Arabia to halt hostilities.
Pompeo attached conditions that might doom the cease-fire plan, saying Houthi rebels must first end missile attacks on Saudi Arabia and the United Arab Emirates, after which airstrikes by the Saudi-led coalition would end.
Mattis called for the Houthis, who have received military support from Iran, to demilitarize Yemen's border with Saudi Arabia and to put their missiles under international control — conditions the Houthis seem unlikely to accept.
The Iranians "are the ones who keep fueling this conflict and they need to knock it off," Mattis said at the U.S. Institute of Peace, a government-funded think tank in Washington.
Mattis also pushed back at critics who said the Pentagon has turned a blind eye to civilian casualties from the Saudi bombing campaign.
"Some people have a very high expectation" that the U.S. can prevent Saudi warplanes from bombing improper targets, he said.
Intensive training of Saudi pilots had reduced the number of incidents, but "even then, we've had mistakes," he conceded.
State Department spokesman Robert Palladino expressed optimism, but he declined to provide details on the cease-fire demands or the timing.
"We believe the climate is right," he said. "We have seen progress being made on the ground, progress in laying the groundwork for peace negotiations."
The Saudi-led coalition recently sent more than 10,000 troops toward the rebel-held port city of Hodeidah ahead of a possible new assault, Yemeni government officials said.
The adjacent port is the entry point for three-quarters of imports to the impoverished country, which is teetering on the edge of famine.
Griffiths, the U.N. envoy, has proposed "confidence-building" talks to start in a third country in November to come to terms on "underlying issues" in the conflict, the demilitarization of borders and the concentration of weaponry under international monitoring.
"I urge all concerned parties to seize this opportunity to engage constructively with our current efforts to swiftly resume political consultations to agree on a framework for political negotiations and confidence-building measures," Griffiths said Wednesday in a statement.
Twitter: @davidcloudLAT
---