$1.9-million settlement in Sandra Bland death is the latest big payout in police-misconduct lawsuits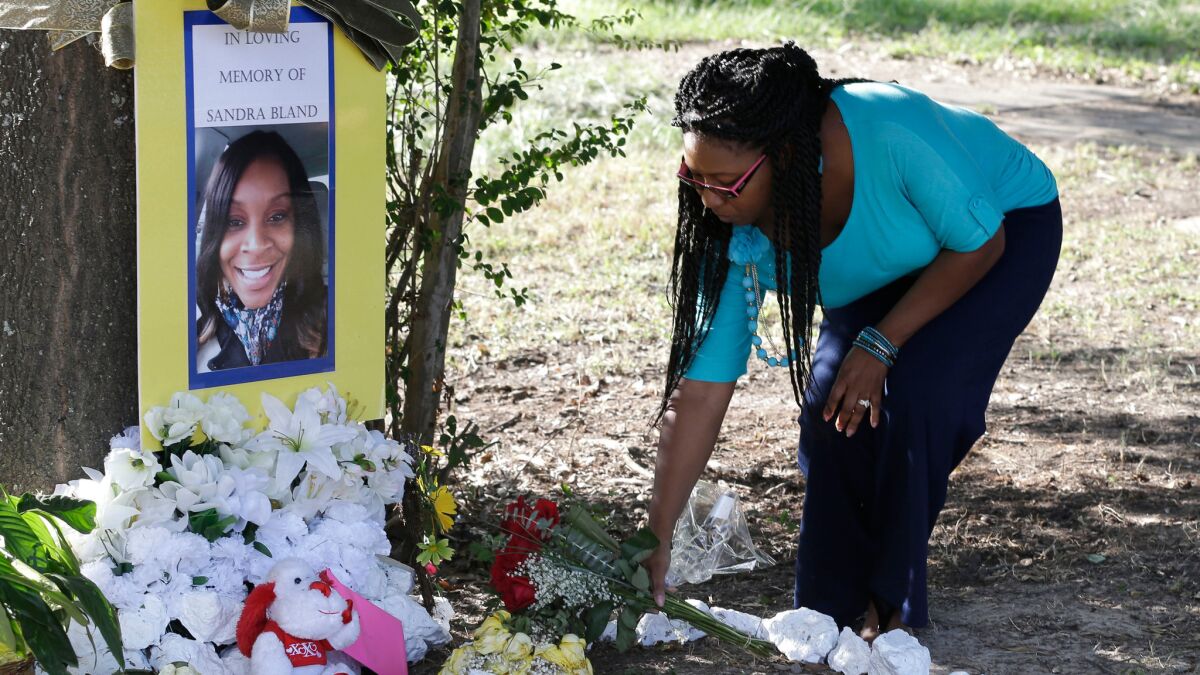 Cities and counties across the country have paid millions in recent years to settle lawsuits filed by families of people killed or mistreated by police.
The latest big payout — this time to the family of Sandra Bland, a black woman found dead in a Texas jail cell after getting pulled over for a routine traffic stop — was announced last week. Here's a look at her case and a few others settled within the last five months, which add up to more than $17 million.
---
Sandra Bland: $1.9 million
Waller County, Texas
What happened: Three days after her July 10, 2015, arrest following a routine traffic stop in a small city northwest of Houston, Bland was found hanging by a plastic bag in her jail cell. Dash-cam video from the arrest, which went viral, captured an argument between Bland, 28, who was black, and Brian T. Encinia, the white Texas state trooper who shouted, "I will light you up!" before arresting her. Bland's death has been ruled a suicide — a finding disputed by her family and civil rights activists.
The aftermath: In January, a grand jury indicted Encinia on perjury charges after determining that he had lied about why he removed Bland from the vehicle during the traffic stop. Encinia, who was fired, has pleaded not guilty.
The settlement: The agreement, which ends a wrongful-death lawsuit filed by Bland's relatives against Waller County, also requires the county to have a nurse or emergency medical technician at the county jail during all shifts. The county denies any wrongdoing in Bland's death.
---
Philip Coleman: $4.95 million
Chicago
What happened: After his December 12, 2012, arrest on suspicion of attacking his mother, Philip Coleman spent the night in a holding cell at the police station. The next morning — in an interaction captured on video — Coleman got into an argument with several officers and was shocked with a Taser. One of the jailers can then be seen dragging Coleman's limp, handcuffed body out of the cell.
He was taken to a hospital where, according to his autopsy, he died after reacting to an anti-psychotic drug. His body, the autopsy found, was covered in bruises.
The aftermath: Chicago's police oversight agency last month called for suspensions ranging from 28 days to 120 days for six police department employees involved in the incident.
The settlement: The city admitted no wrongdoing under the agreement approved in the spring.
---
Tamir Rice: $6 million
Cleveland
What happened: In November 2014, Cleveland police got a 911 call about someone brandishing a pistol — the weapon, the caller said, was "probably fake." Soon afterward — in an incident captured on camera — a cruiser pulled into a park and, within seconds, Tamir Rice, 12, slumped to the ground. The killing of Tamir, who was black, by a white officer became a rallying cry in the Black Lives Matter movement.
The aftermath: Half a year after the shooting, Cleveland and the U.S. Department of Justice, which had earlier concluded that the police force had a pattern of using unnecessary force, agreed to a settlement requiring the department to change its use-of-force policy. In December, a grand jury decided not to indict the Cleveland officer who killed Tamir. Last week, 150 miles away in Columbus, police shot and killed a 13-year-old carrying a BB gun.
The settlement: The city agreed in August to pay $6 million — half of it this year, the other half next year — to settle the lawsuit filed by Tamir's estate against the city and the officers involved in Tamir's death.
---
Akai Gurley: $4.5 million
New York City
What happened: On Nov. 20, 2014, a rookie cop fired his gun into a dark stairwell in a Brooklyn housing project. The bullet ricocheted off a wall before piercing the heart of 28-year-old Akai Gurley, an unarmed black man.
The aftermath: Former New York Police Officer Peter Liang, who is Chinese American, was convicted of manslaughter in February and later sentenced to five years' probation. The killing and conviction — the first of an NYPD officer for an on-duty death in more than a decade — drew impassioned cries of racial injustice from both the African American and Asian American communities.
The settlement: Under the agreement, which was described by a spokesman for the city's law department as "a fair resolution of a tragic matter," Liang will pay $25,000 to Gurley's family. The city is paying $4.1 million and the New York Housing Authority is paying $400,000.
The Associated Press contributed to this report.
Twitter: @marisagerber
---
Must-read stories from the L.A. Times
Get the day's top news with our Today's Headlines newsletter, sent every weekday morning.
You may occasionally receive promotional content from the Los Angeles Times.