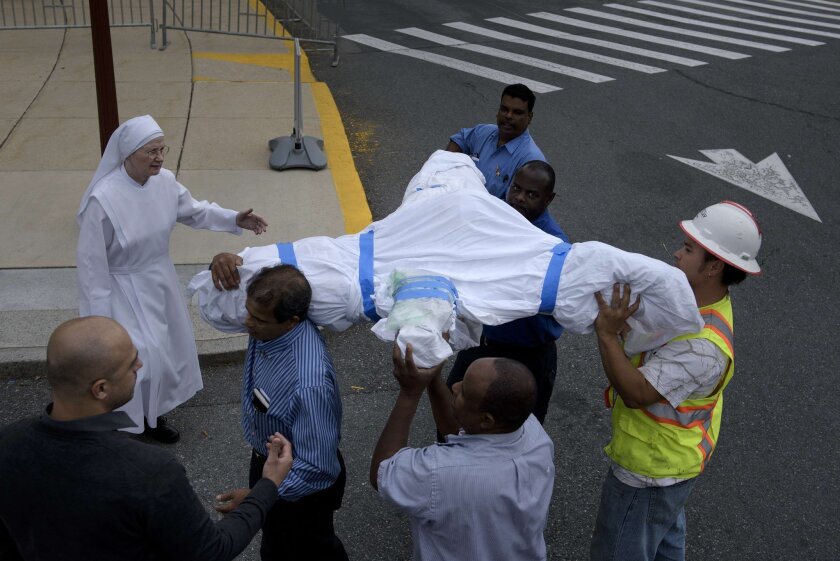 Pope Francis made an unscheduled visit Wednesday to a group of nuns who have been fighting a federal insurance requirement to provide contraceptive coverage to their employees.
The pope's visit to the Little Sisters of the Poor in Washington was "a sign of support for them" in their legal fight, said Father Federico Lombardi, a papal spokesman, at a televised news conference.
A representative for the nuns could not be reached at their residence in Washington after hours Wednesday.
The nuns' battle stems from an Affordable Care Act mandate for employers to provide contraception to female employees, which some religious conservatives successfully argued violated their belief that life begins at conception. The nuns were among the groups to sue for an exemption, as the rule would have affected employees at 29 homes they operate for the elderly in cities across the United States.
In one case that reached the U.S. Supreme Court, the court ruled in June 2014 that the religious owners of Hobby Lobby, a chain of craft stores, do not have to provide full contraceptive coverage for female workers as required under the Affordable Care Act.
As a result, private for-profit businesses had a right to be exempted from the law, but the ruling did not spell out how far such claims of religious liberty could go.
In August 2014, Affordable Care Act administrators created a waiver for religious nonprofits that would grant them an exemption from contraceptive coverage.
But the Little Sisters of the Poor argued that the waiver itself crosses the nuns' moral boundary by endorsing contraceptives and by giving control of their healthcare program to the government. They have pursued their cause against the government in court.
In July of this year, the U.S. 10th Circuit Court of Appeals ruled that if the Little Sisters of the Poor want to refuse contraceptive coverage for their employees, they must sign a waiver to be exempted, and that such a waiver is not a substantial burden on the nuns' religious freedom.
The nuns have appealed their case to the U.S. Supreme Court.
Nigel Duara contributed to this report.
Follow @MattDPearce for national news
---