Clashes erupt in Portland, Ore., over new police rules
Portland shut down its City Hall on Wednesday after protesters clashed with police over new rules that activists say give officers too much leeway in investigations of police misconduct.
Police in riot gear pepper-sprayed demonstrators who blocked streets in front of City Hall, crippling parts of the city's light rail and bus systems. Police said they were attacked with "projectiles" and that one officer was assaulted. Ten protesters were arrested.
Feds fault San Francisco police for violence against minorities and recommend 272 reforms »
The conflict centered largely on proposed rules regarding body cameras and public input into contract negotiations. In a 3-1 vote Wednesday, the City Council approved a new contract with the police union, which follows a controversial tentative contract agreement that referenced giving officers the right to review body camera footage before writing incident reports in all cases except fatal shootings.
A city spokesman said Wednesday that the contract that passed did not include the body camera provisions, which are being separately negotiated with police and would be open to public input next year.
But civil rights groups, concerned over body camera rules released in a draft policy earlier this month, have said they would allow officers an unjust advantage over other witnesses and invite abuse by giving police the opportunity to taper their accounts to conform to video footage. Activists said the contract also gives the city too little power to investigate officers accused of misconduct and discipline them.
Greg McKelvey, a spokesman for Don't Shoot Portland, which has battled with city officials over police policies, said accountability has long been a problem. "We wanted more," he said. "They gave us less."
McKelvey said several demonstrators were injured as police forced them out of City Hall after the council meeting was moved to a private room in response to protesters' disruption. "I saw people hit with sticks," he said. "Many of us were pepper-sprayed. There are a lot of people with black eyes."
Mayor Charlie Hales said in a statement that he supported the new contract because it would help the Police Department fill its 83 vacancies.
The statement said the new contract requires the union to drop several grievances against the city, raises officer salaries to improve recruiting, and eliminates a rule that gives officers 48 hours before they can be questioned after shootings.
"Portland's labor agreement with our police union will not only address our police staffing crisis, it reinforces a modern police bureau of accountability and transparency that fully represents our community," it said.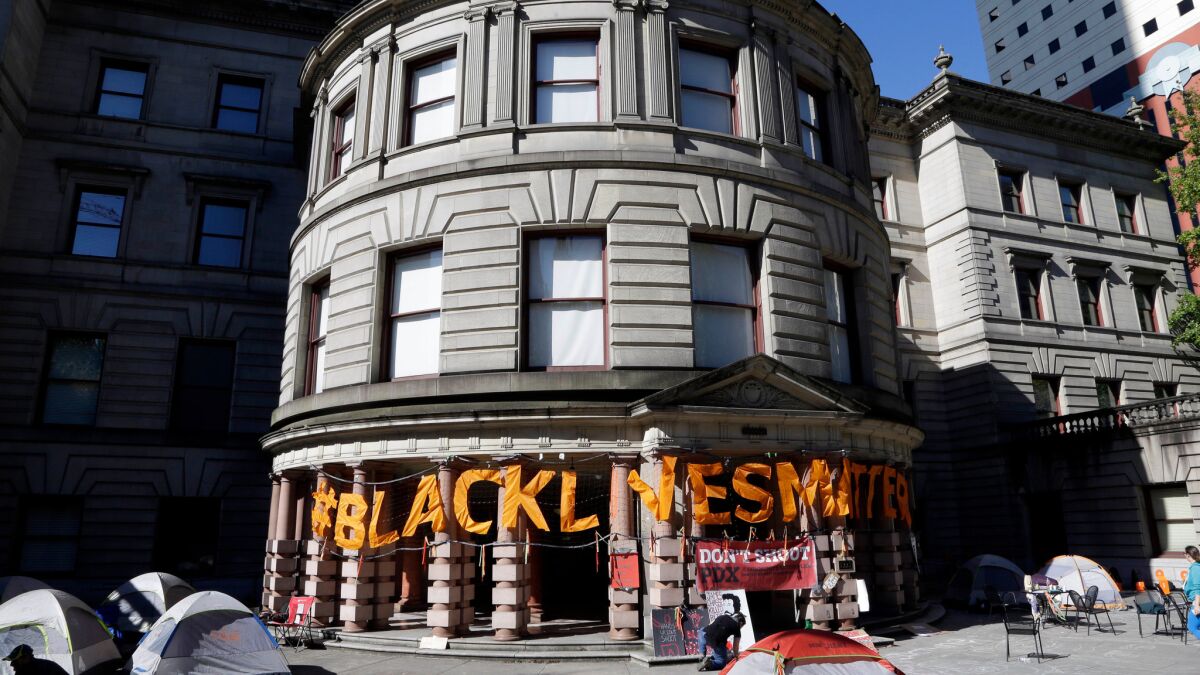 Hales, a Democrat, declined to be interviewed.
Parts of the 3-year contract are set to take effect Jan. 1, with the entire agreement coming into full force in June.
Portland police don't currently wear body cameras, but the mayor has said he expects them to start sometime next year under Mayor-elect Ted Wheeler.
The American Civil Liberties Union and the National Assn. for the Advancement of Colored People have also come out against the draft body camera rules.
"Why would police need to see video before writing a report unless they need to make their report match what's on the video tape — and possibly omit actions that weren't caught on camera?" Jo Ann Hardesty, president of the local NAACP, recently wrote in the Oregonian.
The role of police union contracts has increasingly become a focal point of growing efforts to reduce abuses by police, said Max Schanzenbach, a law professor at Northwestern University who studies policing.
Schanzenbach said that while "pre-review of video is quite common," it has recently come under scrutiny as more police departments require officers to wear body cameras.
"Pre-review undermines the investigator's powers," he said. "The ironic thing is that police use the tactic protesters are asking for in their own investigation of criminals. They don't reveal what evidence they have as they began their interrogations; they try to compare what they know from video evidence or other testimony to what you tell them without that information. But they prefer to not have the same rules for themselves."
Police union President Daryl Turner said by email Wednesday that he would "not be granting any media requests while [his] fellow officers are dealing with the protest."
This is not the first time Portland police have come under fire.
A 2012 investigation by the U.S. Justice Department found Portland police were using excessive force against people with mental illness and were too quick to use Tasers.
Portland police have also long been accused of disproportionately targeting black residents. African American residents make up 6.3% of the population but account for 12.8% of police stops, according to police data released last year.
Black motorists who were stopped were twice as likely as whites to have their cars searched.
Jaweed Kaleem is The Times' national race and justice correspondent. Follow him on Twitter, Facebook and Instagram.
---
Must-read stories from the L.A. Times
Get the day's top news with our Today's Headlines newsletter, sent every weekday morning.
You may occasionally receive promotional content from the Los Angeles Times.