None of the pills found at entertainer Prince's estate in Minnesota had been prescribed to him, court records show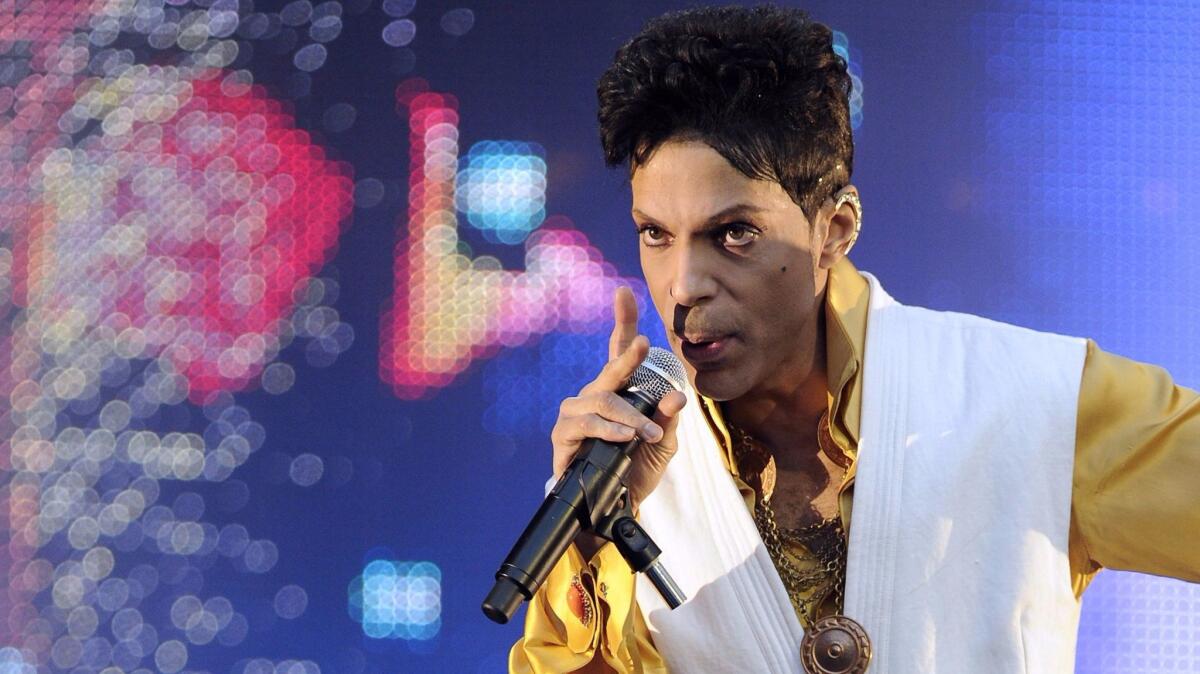 Investigators found "narcotic medications" in Prince's estate in Minnesota after he died of an opioid overdose last year, some in vitamin bottles, but none had been prescribed to the pop star, according to court records released Monday.
The newly unsealed search warrants in Carver County, Minn., do not show where Prince Rogers Nelson may have gotten the powerful opioid fentanyl he took before he was found dead at his Paisley Park estate outside Minneapolis at the age of 57 on April 21, 2016.
No arrests have been made in connection with the ongoing investigation, which is being conducted by the Carver County Sheriff's Office and the Drug Enforcement Administration.
Investigators' records say Prince got his painkillers through others, most recently with the help of a local doctor, Michael Schulenberg, who had started treating Prince in the month before his death.
On April 14 — the day Prince fainted during a private flight from Atlanta to Minneapolis and had to be revived from an opioid overdose — Schulenberg wrote an oxycodone prescription intended for the entertainer, but he prescribed the drugs to Prince's friend and bodyguard, Kirk Johnson, "for Prince's privacy," the doctor told investigators, according to a warrant application.
The records also indicate that the state's confidential prescription monitoring database, which helps pharmacists monitor for drug abuse, showed no prescriptions under Prince's name.
Schulenberg's attorney, Amy S. Conners, said in a statement Monday that the doctor did not treat Johnson as a prescription pass-through for Prince and said he has cooperated with investigators.
"Dr. Schulenberg never directly prescribed opioids to Prince, nor did he ever prescribe opioids to any other person with the intent that they would be given to Prince," Conners said in a statement.
Johnson's attorney, F. Clayton Tyler, said in a statement that his client "did not secure nor supply the drugs which caused Prince's death."
The entertainer didn't have a regular doctor.
"His most recent contact before Dr. Schulenberg was various doctors his managers would set up for him before a show so that Prince could received a 'B12 [vitamin] injection' to 'feel better' before performing for a show," according to the unsealed records.
The records — which include requests to seize computer, email and cellphone records related to Prince — also detail some of the private life of a reclusive megastar who refused to use a cellphone after his private information was hacked, who emailed using a manager's name as his pseudonym and who traveled under the name "Peter Bravestrong" when on the road.
The day before his death, Prince had sought the help of a California-based addiction treatment doctor, Howard Kornfeld, who couldn't go on such short notice and instead sent his son, Andrew, 26, who was not a licensed doctor, to evaluate Prince for possible admittance to his father's treatment clinic.
Andrew Kornfeld had arrived at the property with Johnson and Prince's assistant, Meron Bekure, when Prince's body was discovered.
"Andrew said he heard a scream and ran down the hall and observed Prince lying on his left side in the elevator," states one of the newly unsealed court records, which said that Prince lived at the Paisley Park estate alone and without a security guard.
Schulenberg arrived at the property the same morning.
Investigators were not satisfied with some of the answers they got from the group at Prince's estate. "Interviews with those who were at Paisley Park the morning Prince was found deceased have provided inconsistent and, at times, contradictory statements," one document stated.
Johnson told investigators he didn't know Prince was addicted, according to the warrants, which note that Johnson had known Prince since the 1980s. He was also one of the few people with untrammeled access to Paisley Park, where "there was a sizable amount of narcotic medications … in various pill containers throughout the residence," one warrant stated.
Johnson had picked up various non-opioid medications for Prince the day before the entertainer's death, and his name was found on some of the bottles in Prince's estate, the records said.
Investigators also said they took a backpack belonging to Andrew Kornfeld that contained medications, kept in plastic bags and envelopes, that he didn't have a license to distribute. They included buprenorphine, a treatment drug for opiate addicts, and an anti-nausea suppository. Investigators asked him what he was doing with the drugs.
Kornfeld "admits he brought them of his own accord. He said he got them from his own medicine cabinet, but he denied he intended to use them," one newly unsealed record states. "He said he did not think about it, he just had them, and now admits it was not a very good idea."
Investigators kept hold of Kornfeld's backpack as possible evidence. Kornfeld has not been accused of wrongdoing.
Kornfeld's attorney, William Mauzy, said that Kornfeld is protected by Minnesota's Good Samaritan law, which gives immunity for drug possession if someone provides aid to the victim of an overdose.
"I think the unsealing of the search [warrant] makes it abundantly clear again that Andrew had nothing to do with Prince's death," Mauzy said, noting that Kornfeld had never met or talked to Prince. "He flew from San Francisco, was met by Prince representatives, went to Paisley Park, and sadly Prince looked like he was experiencing a drug overdose, and [he] called 911 as a responsible person would."
Twitter: @mattdpearce
ALSO:
One key way soggy California could save water for the next dry spell
Break away from the USA? The effort to cleave California faces its own split
Conservative opposition to Pope Francis spurs talk of a schism in the Catholic Church
---
UPDATES:
5:05 p.m.: This article was updated throughout with additional details from court documents and comments from officials.
This article was originally published at 9:55 a.m.
Sign up for Essential California for the L.A. Times biggest news, features and recommendations in your inbox six days a week.
You may occasionally receive promotional content from the Los Angeles Times.