Rising propane prices leave many in Midwest out in the cold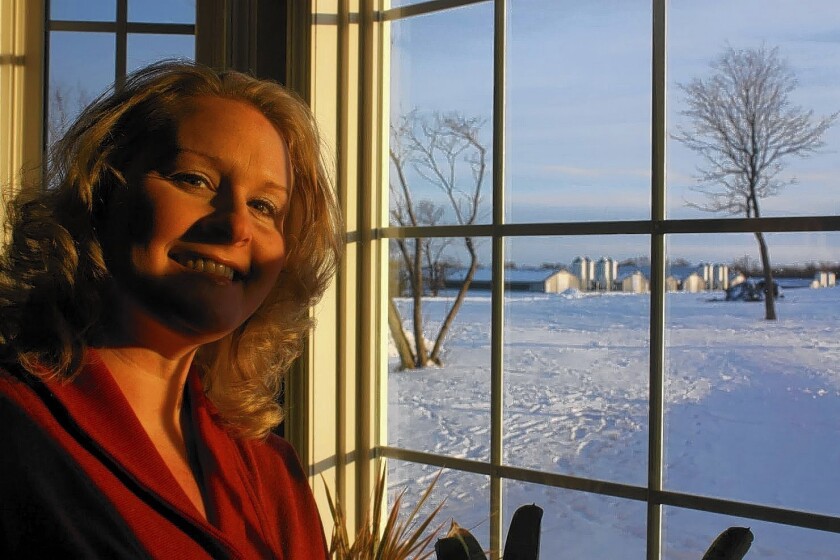 KNOB NOSTER, Mo. — From a bay window in her home on the prairie, Angela Hostetler stares out at the six huge chicken barns out back. They hold 156,000 chickens, and when she and her husband, Mardy, purchased the farm two years ago, it seemed like a good investment.
But this year, the Hostetlers are struggling. That's because their barns, which must be kept at 85 degrees to keep young chickens warm, are heated by 12 1,000-gallon tanks of propane, which are now covered in icy snow.
Propane prices have tripled this year, and the Hostetlers have stopped using propane to heat their home. Now they plug in electric space heaters to counter the 15-degree cold in this unusually brutal winter.
Still, their last propane bill was $26,000, and that covered just a month of fuel. Because of the cold, they've been using more fuel than usual to keep the barns warm. The Hostetlers estimate they'll spend at least $70,000 on propane this winter. Last year's tally: $30,000.
"It's really scary, you don't know how you're going to pay for it," said Hostetler. "It makes you panic when you get those bills." She says the family has considered taking out a loan to pay for propane.
Throughout the Midwest, millions of propane users face the same problem. In recent weeks, propane has risen from the usual $1.50 a gallon to nearly $5 a gallon.
Wood stoves and electric space heaters have disappeared from shelves as demand and prices rise. Companies are rationing propane deliveries, making some people worry that they won't be able to get the fuel when they need it.
"This year, the system has been stressed in every single imaginable way," said Steve Ahrens of the Missouri Propane Gas Assn.
Two weeks ago, observers were comparing the shortage to a flood that happens once in every 100 years. Now they're comparing it to a flood that happens once every 500 years. Local leaders are urging the White House to make a federal disaster declaration; they liken the shortage to a tornado or earthquake.
"They need to understand — people are calling this Obama's Katrina," Ahrens said. "It may seem a stretch, but it really is a widespread natural disaster caused by this weather."
There are three main reasons for the rapid price hikes, said Mollie O'Dell, a spokeswoman with the National Propane Gas Assn. First, farmers had a bumper crop of corn last year, but it was a wet crop, so they had to use five times as much propane as usual to dry their corn before storing it.
Second, one of the pipelines used to transfer propane to the Midwest was under construction, making it more difficult to get large amounts of the fuel to the areas that need it. And third, it's been the coldest winter in a decade for much of the country. Demand for propane in November and December was at the highest recorded level ever for those months, according to the Energy Information Administration.
Demand may be rising, but many consumers are trying to conserve.
Jan Decker, 59, lives in Lincoln, Mo., with her son, his girlfriend and their baby. She keeps the house thermostat at 58, and dresses the baby in multiple layers. She cooks with an electric griddle and flips on space heaters. But she still may run out of propane by the end of the month.
"If I get any more conservative with my usage, I won't be using it at all," she said.
Missouri Gov. Jay Nixon announced Monday that he was directing $15 million toward helping low-income Missourians pay their propane bills. Officials in Wisconsin and Minnesota have also redirected funds for propane assistance, and Georgia Gov. Nathan Deal signed an order prohibiting price gouging.
In Missouri, where an estimated 245,000 homes run on propane, the attorney general said his office was conducting an investigation into the rising prices.
"It's price gouging to no end," said Wayne Smolin, 77, a resident of Warsaw, Mo., who paid $4.19 a gallon for propane a few weeks ago, spending a serious chunk out of his Social Security check and pension on fuel.
A spokesman for AmeriGas, the nation's largest propane supplier, said that although the company is rationing deliveries, it is working to get propane to everyone who needs it in a timely fashion. He attributed the shortage to high transportation costs, extremely cold weather and skyrocketing wholesale prices at Conway, a major Midwest supplier.
People outside of the Midwest may end up paying for the high costs. Some chicken farmers are refusing to get any more shipments of chicks, said Blake Hurst of the Missouri Farm Bureau. If there are fewer chickens, the cost for them might go up too, just as the price of propane did.
Some smaller propane companies are also suffering. Tom Gunter, the manager of Zollicker Oil in Warsaw, said his phone had been ringing more than usual with inquiries from customers who want to cancel orders or get less fuel than usual. He doesn't blame them, but it hurts his business, too.
"It's as high as I've ever seen it in my life," he said. "Nobody wants to buy it."
Charles Opfer might be the best example of how this abnormally cold winter is upending life in the Midwest. By day, he works on a road crew in Pettis County, plowing the roads after this year's many snow storms. The department is running low on salt for the roads because of a nationwide salt shortage.
When he gets home from work, he'd love to turn up the heat. But he can't. His propane tank is about 15% full. So he turns the thermostat down, and reminds his wife, when she says she's cold, that they have to save.
"It's killing me — it really is," Opfer said. "But I'm just trying to hang in there. What else can I do?"
---
Must-read stories from the L.A. Times
Get all the day's most vital news with our Today's Headlines newsletter, sent every weekday morning.
You may occasionally receive promotional content from the Los Angeles Times.