Hurricane Maria victims in Puerto Rico struggle to connect with their families on U.S. mainland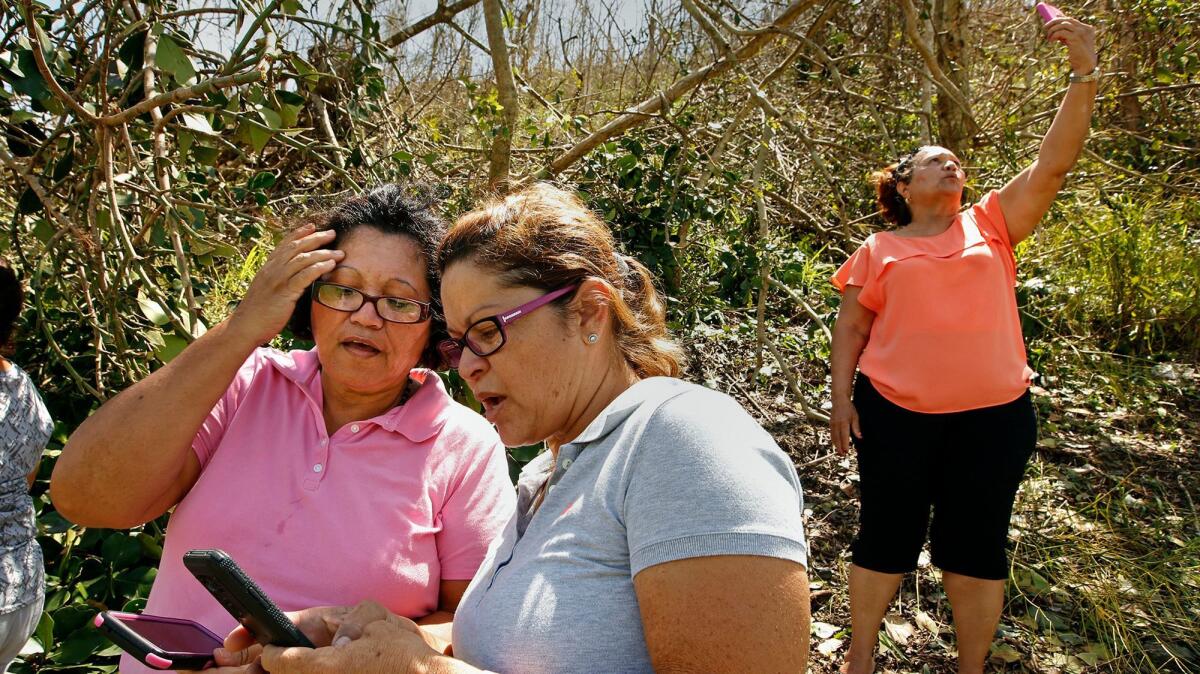 Reporting from San Juan, Puerto Rico —
Dozens of people on a highway in Puerto Rico resorted to parking their cars and walking around, cellphones in hand, trying to get a connection, nearly a week after Hurricane Maria left much of the island incommunicado.
"I'm trying to do web cam but it doesn't work, so I'm trying to text," said Estefanie Torres, 21, who had driven north from Ponce on the island's south coast to try to call her husband, father and aunt in Philadelphia. "I have a lot to say."
Families were frantically trying to reach relatives on and off the island, a U.S. territory. At least 16 people have been confirmed dead in connection with the storm, but the death toll is expected to increase as officials in the capital, San Juan, receive reports from outlying areas. Residents of remote mountain towns in the island's interior had been urged to flee flimsy wooden housing.
Cynthia Maldonado was searching for her mother, son, sister and other relatives in Ponce.
"I am not a fan of social networks but today this is the only hope for many people," she wrote on Facebook. "…No more videos of destruction: If you want to help, post videos - even if they are short – and photos with the name of the person and a short message about how they are. Believe me that comforts us."
Some of those on the U.S. mainland called in reports of the missing to WAPA 680 AM in San Juan, which broadcasts them all day. Searchers posted emotional queries on social media, many featuring smiling photos of the missing: "Looking for Mami! (Dona Leonides)"
"Mom! I need to know you are safe! Anyone please help! Urbanización Mariani 44 Calle 2 Patillas 00723 #Patillas #HurricaneMaria"
"My grandma Aldia Laboy is missing in Guayama, Puerto Rico where she evacuated to a shelter right before #HurricaneMaria"
"My friends father is missing from #Aibonito #PuertoRico #HurricaneMaria - his name is Jose Ismael Vazquez any information is appreciated
After the Los Angeles Times ran a story about the mountain town of Utuado this week, readers with relatives in the area wrote to ask if we had seen them. In one case, we had: Edwin Vidal, 61, a U.S. Army veteran, was rescuing an elderly woman with a team of volunteers when we met him on a cracked highway in town. His daughter was reassured to see his picture and know that he had survived the storm.
Many island residents had no such luck.
"I'm looking to find information about my friend Milagros Irizarry Ocasio. She lives in Angeles in Utuado. Would you happen to have any additional information? She is with her brother and elderly father."
We had not seen her.
"My family is trapped in the area of Puente Blanco of Utuado. My parents are elderly and require assistance. I've had no contact with them or any of my family in Puerto Rico. While I was born and raised in Wisconsin and now live in Orange, CA, my parents are Americans and native Puerto Rican's. Is it possible you can help find them? Their names are Eniobel Reyes and Elsie Reyes," wrote Alma Beaudoin.
We had already left Utuado, and had not seen the couple. There were many others we did not meet:
"I am searching for my grandfather Tomas Crespo. If you have any information on how to locate family please call me. My grandfather has no water from [Hurricane] Irma and his wife is sick," wrote Elizabeth Crespo of Ocala, Fla.
"I really appreciated this report about my birth place. Maybe you can help me locate my family that still lives there. I know that they have no communication whatsoever. Can you help me find them if you are still there? You are my life line," wrote Yolanda Garcia of Chicago.
"I continue to pray that my phone will ring and that I will hear my dad's voice and that he'll tell me that he is fine. That call has not yet come and we are worried," wrote Elle Del Valle of her 85-year-old father, who retired to the eastern city of Caguas.
Some people who got lucky posted updates on a Facebook group dedicated to Hurricane Maria.
"For all those who have been praying and supporting me while I waited to hear from my wife Dayann Molina McDonough and daughter Brianna McDonough as they were stuck in Puerto Rico... THANK THE GODS!! I just heard from them about 10 minutes ago! They only had 2 minutes to talk, but they are alive and well!! They are being taken to the San Juan airport tomorrow," posted Brian McDonough of Nassau County, NY.
The Puerto Rico Federal Affairs Administration directed those seeking information or assistance to call (202) 800-3133 or email maria1@prfaa.pr.gov
Survivors can register and post messages on the Safe and Well page of the American Red Cross, which relatives can also search (survivors can also register by texting SAFE to 78876).
Puerto Rico Maria Updates is also collecting information on Facebook for those affected by the storm.
The group searching for cellphone signals near Cayey on Sunday were trying to reach relatives from California to Florida, New Jersey, North Carolina, Ohio, Pennsylvania and Texas.
Yahaiva Quinones had driven north from Ponce to call her sister in Lancaster, CA and other relatives.
"They don't know what happened since the hurricane: We don't have water, light, anything," said Quinones, 35, who works in cosmetics and lived briefly with her sister in Lancaster. She had heard messages on the radio from families of the missing, just not her own.
The message she was hoping to convey: "That I'm fine, the house is fine."
Nearby, 78-year-old Elba Laboi was trying to reach her children with her dated flip phone. Laboi and her neighbors carpooled 15 miles east from the town of Aibonito, which was devastated by the storm. They were among the lucky ones who still had homes that had not flooded or had the roofs ripped off. They just wanted to tell their children they were safe.
"Please tell my kids I'm OK," said Saul Rosario, 63, a retired carpenter with children in Florida, Iowa, New Jersey and Pennsylvania.
Laboi has children living in Sacramento; Cleveland; Minneapolis; Richmond, Ky.; and St. Petersburg, Fla. Given the opportunity to borrow a reporter's cellphone, she chose to call her daughter in Cleveland.
The phone rang. Her daughter answered.
"It's me, Mami," Laboi said.
She had to repeat herself. The call was quick, but she was smiling when she hung up.
"I wanted to tell them I was OK. They were desperate" for news, she said.
Her neighbor Elisanta Cozumel, 61, also had several children she needed to call – in Colorado, North Carolina and Texas - but her phone wasn't working. She, too, used a reporter's phone to try to reach her son in El Paso.
But the phone had lost its signal. Cozumel left to try another roadside.
ALSO
Postcards from an island of ruin: Puerto Rico after Hurricane Maria
Jennifer Lopez pledges $1 million to Puerto Rico hurricane relief efforts
'Canta y no llores' — 'Sing and don't cry.' Mexico rebounds from earthquake aftermath with a renewed sense of national pride
Quake rescue efforts wind down in Mexico City, with 40 to 50 still missing and 325 dead across country
---
UPDATES:
1:10 p.m.: This article was updated with a revised death toll.
This article was originally published at 10:30 a.m.
Sign up for Essential California for news, features and recommendations from the L.A. Times and beyond in your inbox six days a week.
You may occasionally receive promotional content from the Los Angeles Times.