With graduation just days away, Texas school becomes latest casualty — 10 dead, 10 wounded in latest campus shooting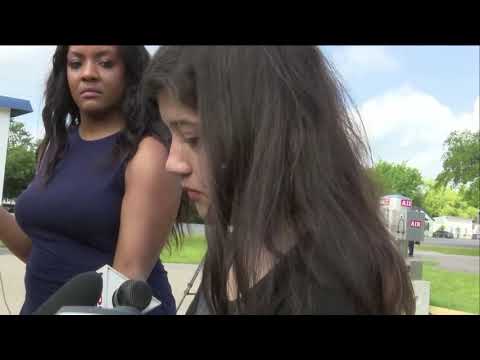 Up to 10 people, mostly students, were killed in a shooting at a Houston-area high school Friday morning, and investigators said they found explosive devices at and around the school.
Reporting from Santa Fe, Texas —
The year was winding down. Prom came and went, and on Tuesday seniors got their caps and gowns for graduation in two weeks. It was almost time to say farewell, not just to their teachers and friends, but to a world and a year of active-shooter drills, lockdowns and classroom dread.
But on Friday morning, before they could cross that finish line, the deepest fears of every American teacher, parent and student once again came true. This time, the school is named Santa Fe High School.
Around 7:30 a.m., authorities said, a 17-year-old junior named Dimitrios Pagourtzis, armed with a shotgun and a .38-caliber revolver he'd taken from his father, opened fire, killing 10 people — mostly students — and wounding 10 others at the school, which is about 35 miles southeast of downtown Houston.
Santa Fe Mayor-elect Jason Tabor — an alumnus of the school, where his stepson is a senior — helped officials notify the families of students killed. "I was in the hallway as they took them into rooms to notify them," he said. "To hear the screams — there's a lot of healing to do."
One of the wounded was a school police officer, John Barnes, who had retired from big-city police work at the Houston Police Department for a job that would let him spend more time with his family. Santa Fe High School was just the place for that, until now.
After running inside the school to engage the shooter, Barnes was shot in both arms and lost so much blood that his heart stopped twice — once on the way to the hospital and once in surgery — before doctors revived him, according to Houston Police Department Capt. James Dale, a close friend.
Some students heard a fire alarm before they heard the gunshots. They were able to flee to safety, where reporters soon arrived to ask the same question reporters have been asking at school shootings around the country.
"Was there a part of you that thought this isn't real, this wouldn't happen in my school?" one Houston-area TV reporter asked Paige Curry, 17.
"No, there wasn't," Curry replied with the world-weariness many American high school students have experienced living in the post-Columbine era. "It's been happening everywhere. I've always kind of felt like eventually it was going to happen here, too."
President Trump ordered flags to be flown half-staff as Texas reels from its latest disaster, less than a year after the region was barraged by Hurricane Harvey and after a separate mass shooting left 26 people dead at a San Antonio-area church in Sutherland Springs, Texas.
The Feb. 14 massacre at Marjory Stoneman Douglas High School in Parkland, Fla., which left 17 people dead, had left its mark on Santa Fe High School, too. Four weeks ago, a small group of students took part in a nationwide student walkout — scheduled on the 19th anniversary of the Columbine High School shooting — in protest of gun violence in schools.
Some wore orange ribbons and one held a sign that read "Santa Fe High School says #NeverAgain." After reading a poem by a survivor of the Parkland shooting, they handed out gun violence fact sheets, discussed how to raise awareness on gun violence, and observed a moment of silence for each of the victims at Stoneman Douglas High School.
This act of solidarity would, tragically, be returned. After word spread of Friday's massacre in Texas, the Parkland students lent their support.
"Santa Fe High, you didn't deserve this," tweeted Stoneman Douglas student Emma Gonzalez, who has emerged as a vocal gun-control advocate since the shooting at her school. "You deserve peace all your lives, not just after a tombstone saying that is put over you. You deserve more than Thoughts and Prayers, and after supporting us by walking out we will be there to support you by raising up your voices."
The teen accused of opening fire survived and was arrested. Pagourtzis had kept a journal in which authorities said he wrote about his desire to carry out such a campus attack and then end it all by taking his own life, said Texas Gov. Greg Abbott.
Instead, "he didn't have the courage to commit suicide," Abbott said.
Pagourtzis surrendered and was arrested on suspicion of capital murder and held without bond. If charged, he could face the death penalty.
Pagourtzis deliberately did not shoot students he liked "so he could have his story told," according to a probable cause affidavit.
Pagourtzis had also apparently brought homemade explosives to the school, including a "CO2 device," a Molotov cocktail and "various other devices," Abbott said.
Pagourtzis was set to graduate in 2019 and played junior varsity football as a defensive tackle. Frank Cole, 16, said he seemed respectful and nice.
"He didn't seem bullied at all, especially because he was a football player," Cole said, adding that he saw coaches encouraging Pagourtzis.
"It's a surprise to see him do this," Cole added. "He didn't really seem the threatening type. He was a big old teddy bear to us."
Pagourtzis had one widely noticed quirk at school: He always wore his trench coat, even in the recent heat, which climbed to the high 90s. Cole didn't find it odd; he thought that was just his style. Others were a little more unnerved.
"All I have to say is dimitri wore a trench coat to school every day from the beginning of the year and it's no wonder he was capable of getting guns in the school," Santa Fe High junior Candi Thurman, 17, wrote to The Times in a private message on Twitter on Friday. "That should have been a red flag."
On Facebook, Pagourtzis expressed interest in joining the Marine Corps. He had no criminal record, but his social media presence was familiarly dark, with an emphasis on guns and the occult.
On April 30, in a Facebook profile that since has been removed, a user under Pagourtzis' name posted an image of a T-shirt bearing the phrase "BORN TO KILL." Another posting the same day showed a dark trench coat with a variety of occult and World War II pins on it.
"Hammer and Sickle=Rebellion, Rising Sun=Kamikaze Tactics, Iron Cross=Bravery, Baphomet=Evil, Cthulu=Power," the caption said.
In the Facebook profile, which prominently featured a pentagram, the user described himself as an "atheist" and declared, "I hate politics."
An Instagram profile under Pagourtzis' name shows a posting from April 24 with a photo of a handgun, a knife and what appears to be a flashlight. (The handgun appeared to be a magazine-fed pistol — different from the revolver used at the school.) Another post from the same day showed an arcade game featuring a toy rifle pointing at a screen.
The Instagram account followed only a handful of other accounts, mostly geared toward gun users, along with Instagram accounts for President Trump, Melania Trump, Ivanka Trump and the White House.
On Friday from Washington, the president described the shooting as a "horrific attack" and offered his condolences.
"This has been going on too long in our country — too many years, too many decades now," Trump said. "We grieve for the terrible loss of life and send our support and love to everyone affected by this absolutely horrific attack to the students, families, teachers and personnel at Santa Fe High."
Abbott called for a "roundtable" of experts "so we can put together laws that will protect 2nd Amendment rights" and prevent future shootings from happening "ever again."
The Republican governor mentioned stronger background checks, tougher rules to keep guns out of the hands of dangerous people and more resources for schools and the treatment of mental health issues.
Abbott, however, suggested that Pagourtzis had easily slipped through the cracks: "The red-flag warnings were either non-existent or imperceptible.... There were simply not the warning signs we saw with so many other shooters."
Lt. Gov. Dan Patrick suggested that part of the problem was that the school had too many doors and that a single door could make it tougher for shooters to enter a campus. "We may need to harden our schools and make them safer," Patrick said. "As a nation, we should look at the design of these schools."
Terry Lummus, 46, a KBR project manager, said his daughter Pressley was in chemistry class near the shooting and knew a substitute teacher, Ms. Perkins, who was killed. "She came out in the hall and could hear the gunshots," Lummus said.
Their family knows a student who was hit in the neck with buckshot from the shooter's shotgun. Fortunately, he has been treated and released from the hospital, Lummus said.
Others were not so lucky. After Lummus and his wife rushed to the school to find their daughter, they watched from a distance as paramedics performed CPR on someone who they later learned was the wounded police officer, still hospitalized late Friday.
It was a scene Lummus never thought he'd see when he moved to the small town 18 years ago from another Houston suburb.
"We moved here to get away from this stuff," Lummus said.
But once again, it seemed like there was nowhere to hide.
Hennessy-Fiske reported from Santa Fe, Texas, special correspondent Jarvie contributed from Atlanta and Pearce from Los Angeles.
---
UPDATES:
6:50 p.m.: This article was updated with comments from Jason Tabor.
5:05 p.m: This article was updated with additional details.
2:05 p.m.: This article was updated with additional details, including comments from the governor.
12:05 p.m.: This article was updated with information on the suspected gunman and additional reaction.
8:15 a.m.: This article was updated with local media reporting fatalities from the shooting.
7:45 a.m.: This article was updated with a school official the suspect's arrest and with more details from the school district.
7 a.m.: This article was updated with more details about the scene and information on a lockdown in February at the school.
This article was originally published at 6:30 a.m.
Sign up for Essential California for the L.A. Times biggest news, features and recommendations in your inbox six days a week.
You may occasionally receive promotional content from the Los Angeles Times.