Will Congress renew law providing health benefits for Sept. 11 first responders?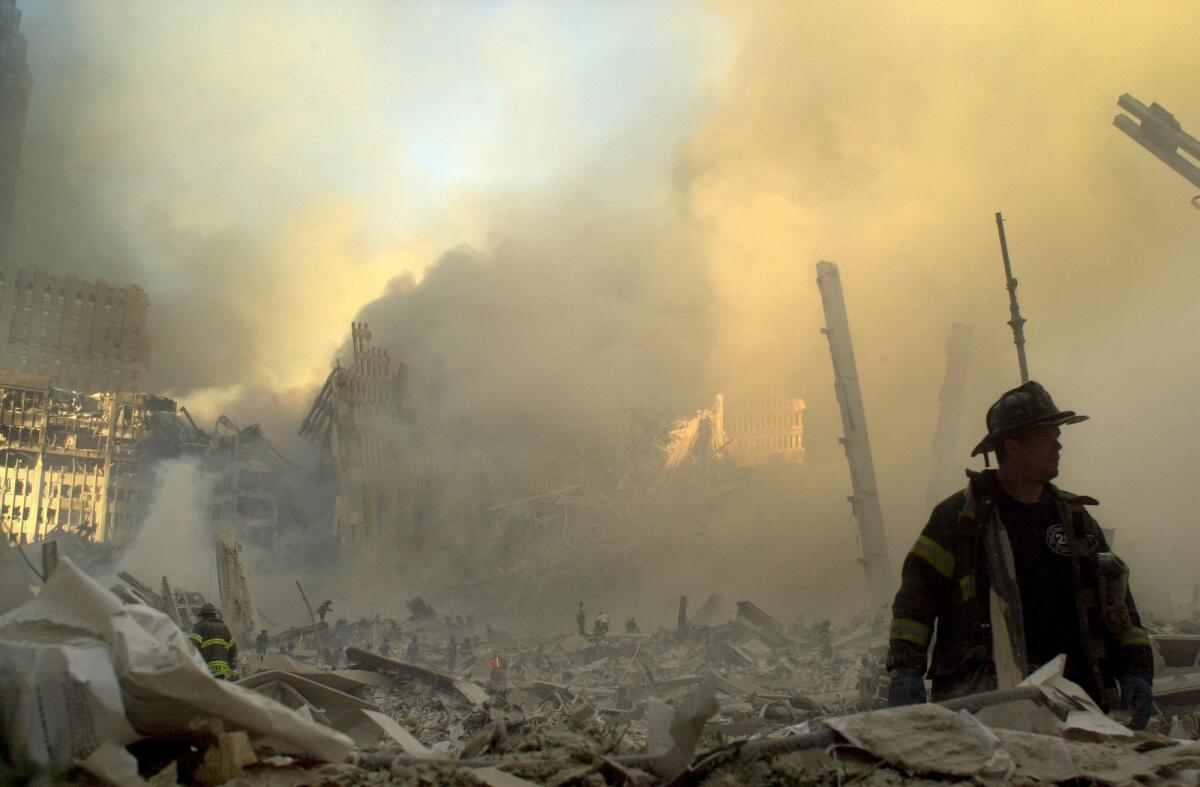 Reporting from New York —
It took nine years after the Sept. 11, 2001, attacks for Congress to guarantee healthcare for the firefighters, police officers, chaplains and others who fell ill as a result of toiling in the dusty ruins of ground zero.
To those unversed in the partisan quarreling that defines today's Congress, the law known as the Zadroga Act seemed a shoo-in for renewal. But the Sept. 30 reauthorization deadline passed without action, sparking a fresh battle that is proving more bitter than the first.
For the first responders caught in the middle, the bitterness is compounded by the respiratory diseases, cancers and other ailments they suffer, and by the realization that money for their monitoring and healthcare will run out unless Congress acts before the end of the year.
See the most-read stories this hour >>
"Failure is not an option," said John Feal, the most vocal of the first responders who fought for the original law and who is helping lead the charge to make it permanent.
Feal was a construction worker who lost part of his foot when a beam fell on him as he worked at the site of the World Trade Center towers, which collapsed after hijackers steered jets into them. He founded the Fealgood Foundation to advocate for first responders.
He did not mince words when he spoke at a recent rally demanding reauthorization of the Zadroga Act.
Feal called Rep. Robert W. Goodlatte (R-Va.) a profane name for introducing legislation that would extend the law for only five years, which critics say is not nearly enough.
"These illnesses don't expire in five years," Feal said in a phone interview as he prepared to make his 19th trip this year to Washington to lobby lawmakers.
Democratic and Republican lawmakers in New York and representatives of police officers and firefighters want the Zadroga Act made permanent. They say Goodlatte's proposed alternative would slash the funding that pays for clinics to monitor and treat ailing Sept. 11 first responders across the country.
The timing of Goodlatte's bill speaks to the partisan politics at play in Washington, even on this bipartisan issue.
NEWSLETTER: Get the day's top headlines from Times Editor Davan Maharaj >>
He unveiled his legislation the same day that Sen. Kirsten Gillibrand (D-N.Y.) announced that a bill to make the Zadroga Act permanent had the support of a filibuster-proof 61 senators, plus 237 co-sponsors in the House of Representatives — a comfortable majority. The bill has since gained more co-sponsors, but the new House speaker, Rep. Paul D. Ryan (R-Wis.), is among those who voted against the original Zadroga act in 2010.
On Monday, a coalition of mayors and local leaders, including New York Mayor Bill de Blasio and Los Angeles Mayor Eric Garcetti, sent a letter to Ryan urging him to make renewal of the Zadroga Act a "top priority."
Critics of Goodlatte, chairman of the House Judiciary Committee, say he is trying to curry favor with conservative Republicans, who see the Zadroga Act as an entitlement program for New York.
His committee disagrees. A committee aide said Wednesday that the Goodlatte proposal balances victims' needs with available funds.
"The current program is sunset at five years, so the rationale is to extend it for a similar period and then let a future Congress reassess the need for continuing the funding further into the future," said the aide, who spoke on background to discuss the workings of the committee.
The James Zadroga 9/11 Health and Compensation Act was named for a New York police detective who died in 2006, at age 34, of lung disease. His death was the first to be directly attributed to breathing toxins at the rubble of the World Trade Center.
These illnesses don't expire in five years.
— John Feal, construction worker who lost part of his foot on Sept. 11
To first responders and their supporters, Zadroga's death proved that federal lawmakers, including then-Environmental Protection Agency chief Christine Todd Whitman and former New York Mayor Rudolph W. Giuliani, had ignored the dangers of breathing the air of lower Manhattan after Sept. 11.
The Zadroga Act allocated $4.3 billion in taxpayer funds to compensate those who fell ill and their families, and to pay for treatment and monitoring of their conditions at selected clinics across the country. The portion of the act that covered treatment and monitoring expired Sept. 30. The compensation fund will expire next year.
There is enough money to cover medical care until next summer, but Feal said clinics serving the program would begin scaling back before then if they were not certain funding would be renewed.
"All these doctors and nurses who treat us, their resumes are going to go out and they're going to start looking for new jobs," Feal said. "The system is going to implode."
That would leave everyone enrolled in the medical program in limbo — 73,000 individuals, according to the Centers for Disease Control and Prevention.
More than 56,000 of them are in New York state, but every state has some. They include firefighters, police officers and regular citizens who volunteered their services and spent weeks working in the fine white dust, shielded only by basic face masks and gloves.
California has 530 people in the program. Goodlatte's state, Virginia, has 470.
The CDC's numbers do not include those who have died of their illnesses.
Supporters of the original law said it was needed because many workers were volunteers without health insurance. Even those with insurance faced exorbitant out-of-pocket expenses if they developed terminal or chronic ailments linked to Sept. 11, the law's supporters said.
The latest fight has brought together an unusual assortment of lobbyists, including comedian Jon Stewart, who is credited with helping push Congress to pass the Zadroga Act in 2010.
"A lot of these guys are sick," Stewart said when he led a group of ailing Sept. 11 responders to the Capitol in September. "The last thing they need is to come down here and have to beg."
Feal said that is exactly what they will do until they get the law reauthorized.
"We're getting this done by the end of the year," he said. "Whether they like it or not, we'll slap the baby bib on and force-feed them this legislation."
Twitter: @tinasusman
ALSO:
El Niño is here, and it'll be 'one storm after another like a conveyor belt'
Trump's deportation plan: We tried that before and it wasn't pretty
U.S. drone strike targets 'Jihadi John' but fate of knife-wielding militant is unclear
Sign up for Essential California for news, features and recommendations from the L.A. Times and beyond in your inbox six days a week.
You may occasionally receive promotional content from the Los Angeles Times.