St. Patrick's Day events marked by celebrations and protests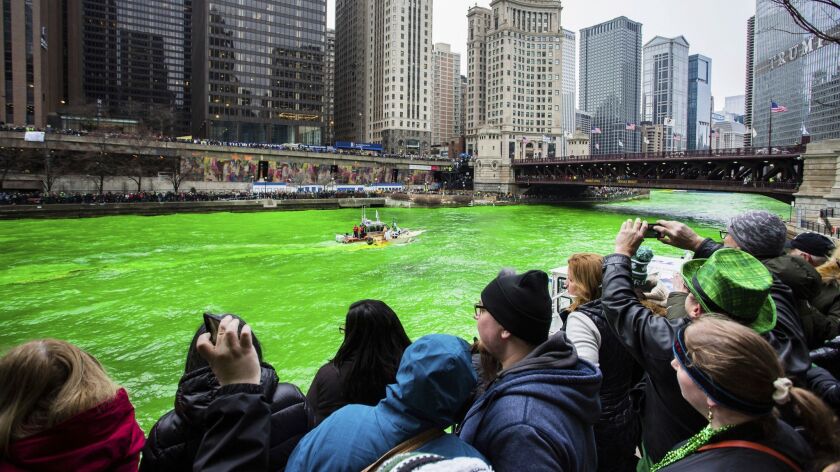 People around the world Saturday donned green outfits and danced in the streets in celebration of Irish culture and tradition during annual St. Patrick's Day festivities.
In New York, Irish Prime Minister Leo Varadkar joined Mayor Bill de Blasio, Gov. Andrew Cuomo and a long list of politicians and entertainers. Loretta Brennan Glucksman, chairwoman of the American Ireland Fund, was this year's parade grand marshal.
An annual tradition since the mid-1800s, New York's parade lasted almost six hours and stretched nearly a mile and a half, with marching bands performing Irish songs and playing bagpipes. Approximately 150,000 people attended, authorities said.
Saturday's parade was more progressive than past years, featuring Varadkar — Ireland's first openly gay prime minister — and groups carrying pro-LGBTQ banners.
Over the years, St. Patrick's Day parades have not been without controversy, as organizers have drawn criticism for rejecting participation by gay and lesbian rights groups, among others.
At 1991's New York parade, "AIDS! AIDS! AIDS!" chants and "You have betrayed Christianity" signs were directed at Irish Lesbian & Gay Organization members who chanted, "We're Irish. We're queer. Get used to it!"
On Saturday in Savannah, Ga., small groups of protesters rallied against a parade appearance by Vice President Mike Pence. Pence, who as governor of Indiana had a record of statements and legislation that many denounced as hostile to the LGBTQ community, walked part of the parade route, shaking hands and taking selfies as the demonstrators shadowed him.
City officials initially banned signs and posters from the event, which led to a fight over 1st Amendment rights. On Friday, officials reversed the ban after the American Civil Liberties Union filed a lawsuit claiming it violated the right to free speech.
Pence, his wife, Karen Pence, and his mother, Nancy Pence-Fritsch, joined Savannah Mayor Eddie DeLoach and his wife, Cynthia, at the festivities, the largest St. Patrick's Day parade in the South.
Protesters followed the vice president with signs that read, "I Stand with Planned Parenthood" and "Mike Pence is a Homophobe."
Security measures for Pence kept the parade attendance numbers lower than in previous years.
Other cities saw their events go smoothly. The Chicago Plumbers Union pumped green dye from boats to color a quarter-mile portion of the Chicago River. The tradition began in 1962, when parade chairman Stephen Bailey noticed that the dye used to locate leaks in buildings was Irish green.
Alderman Patrick O'Connor was the parade grand marshal, leading thousands of marchers including Illinois Gov. Bruce Rauner, Mayor Rahm Emanuel and several candidates running in the city's primary election.
Landmarks such as the Colosseum in Rome, the Christ the Redeemer statue in Rio de Janeiro and the Empire State Building in New York shone with green light to recognize the celebration.
"Star Wars" actor Mark Hamill, whose great-grandmother was born in Ireland, was the international guest of honor for Dublin's St. Patrick's Day parade. He and his wife, Marilou York, marched in the streets with Irish President Michael D. Higgins and the parade's grand marshal, "Game of Thrones" actor Liam Cunningham.
"Today the whole galaxy is Irish," Hamill tweeted.
michael.livingston@latimes.com
---
Must-read stories from the L.A. Times
Get the day's top news with our Today's Headlines newsletter, sent every weekday morning.
You may occasionally receive promotional content from the Los Angeles Times.