'This is probably jail time for life,' airline worker says before crashing empty Alaska Airlines plane near Seattle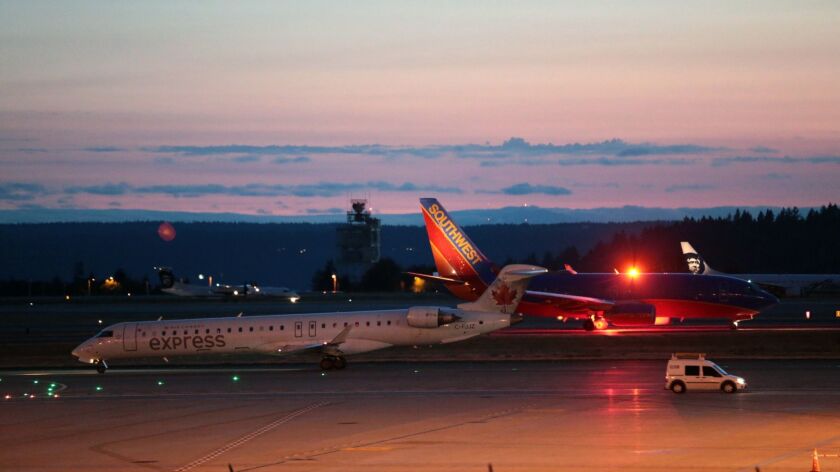 An airline worker stole an empty Alaska Airlines plane from Seattle-Tacoma International Airport in Washington on Friday night, and the National Guard scrambled two fighter jets to chase the aircraft, which crashed on a sparsely populated island in Puget Sound, officials said.
No passengers were aboard the 76-seat Horizon Air Q400 turboprop plane, which was stolen by a 29-year-old Horizon Air ground service agent from Pierce County, according to airline and law enforcement officials. Horizon Air is a subsidiary company that operates Alaska Airlines aircraft.
The man was described as suicidal, and it appeared impossible that he could have survived the crash. Authorities said there was no indication that the crash was a terrorist incident.
The plane made an unauthorized takeoff from the airport around 8 p.m. and crashed on Ketron Island, about five miles southwest of Tacoma, after the renegade pilot bantered erratically with air-traffic controllers who pleaded with him to land the plane, according to officials and dispatch audio.
"This is probably jail time for life, huh?" said the man, identified on the radio as Rich, according to dispatch audio reviewed by the Seattle Times. "I would hope it is for a guy like me."
"Oh, Richard," said an air-traffic controller, "We're not going to worry or think about that. But could you start a left turn please?"
The employee added: "I've got a lot of people that care about me. It's going to disappoint them to hear that I did this. I would like to apologize to each and every one of them. Just a broken guy, got a few screws loose, I guess. Never really knew it, until now."
At another point, the employee said: "I'm gonna land it, in a safe kind of manner. I think I'm gonna try to do a barrel roll, and if that goes good, I'm just gonna nose down and call it a night."
Video posted by witnesses on social media showed the plane making a barrel roll over what appears to be Puget Sound, with some people crying out in terror as the plane exited the roll in a dive toward the water, before barely pulling up in time and flying away.
"Oh, my God! Oh, my God! He's OK? He's OK," one woman said in a video posted on Facebook, which showed at least one military jet in pursuit. It's not clear how long afterward the plane crashed.
The Pierce County Sheriff's Department tweeted that it was "not a terrorist incident" but that F-15 fighter jets had scrambled out of Portland, Ore., to intercept the passenger plane. The FBI issued a statement saying that "information gathered thus far does NOT suggest a terrorist threat or additional, pending criminal activity."
The fighter jets were traveling so quickly that at least one of them broke the sound barrier and caused a sonic boom that some people in the vicinity mistook for an explosion, according to the Sheriff's Department.
"The responding fighter pilots flew alongside the aircraft and were ready to do whatever was needed to protect us, but in the end the man flying the stolen plane crashed on Ketron Island," Washington Gov. Jay Inslee said in a statement, adding that the jets belonged to the Air National Guard from Washington and Oregon.
"Those pilots are trained for moments like tonight and showed they are ready and capable," Inslee said.
Alaska Airlines said "it does not appear that these [military] jets were involved in the crash of the Horizon aircraft."
The plane crashed in a wooded area on Ketron Island and did not hit any structures, according to an Alaska Airlines statement. Ketron Island is primarily forested and undeveloped, with a few homes toward the north end of the island, according to a Pierce County website.
Helicopter footage from KIRO-TV showed flames on Ketron Island where the plane was believed to have crashed.
Fire crews had to board ferries to reach the blaze, according to KING-TV and the West Pierce Fire and Rescue.
The Sheriff's Department directed inquiries to the FBI, indicating federal law enforcement officials would be taking a primary role in the investigation into how the incident unfolded.
The plane had been in a "maintenance position" and was not scheduled for passenger flight when it was stolen, according to a statement from Alaska Airlines.
"Our hearts are with the family of the individual on board as well as all our Alaska Air and Horizon Air employees," Horizon Air Chief Operating Officer Constance von Muehlen said in a video statement.
According to a Horizon Air job posting, ground service agents "play a critical role to keep our flights running smoothly and safely. Whatever the weather, you'll direct aircraft for takeoff, gate approach, load and unload luggage, and operate equipment to de-ice planes in the winter."
---
UPDATES:
Aug. 11, 12:35 a.m.: This article was updated with further description of the worker's job and the crash.
11:30 p.m.: This article was updated throughout with staff reporting, including excerpts from dispatch audio.
This article was originally published at 9:50 p.m. Aug. 10.
---
The Latinx experience chronicled
Get the Latinx Files newsletter for stories that capture the multitudes within our communities.
You may occasionally receive promotional content from the Los Angeles Times.