On the Texas-Mexico border: Crisis? What crisis?
Reporting from McAllen, Texas —
As the nation waited to hear President Trump's latest warnings about a crisis on the border Saturday, a mother in this border town had a more immediate concern: quinceanera photos.
Liliana Saenz supervised as 14-year-old daughter Clarissa posed for a photographer in front of an American flag mural downtown. Saenz didn't care if Trump declared a national of emergency (he didn't). She didn't even plan to watch the president speak. Neither did the photographer she had hired.
"An emergency is: Are we going to cross the border to get tacos?" Fernando Arteaga said, and they laughed.
Trump raised alarms again Saturday in his latest televised address about "a humanitarian and security crisis on our southern border that requires urgent action."
"It is a horrible crisis. It is a humanitarian crisis like we rarely see in our country," he said.
But most interviewed in this Democratic stronghold said that McAllen, which Trump visited 10 days ago, doesn't feel anything like a crisis zone. Migrants have flowed across the border here for generations, and most of those arriving now are families seeking asylum at a local shelter. McAllen's downtown, La Plaza mall and local farmers markets were bustling with crowds, but not migrants.
For Saenz and her quinceanera photo crew, a crisis would have been rain — it was sunny and clear. Or not having a dress in time (Clarissa did — it's royal blue, like Wonder Woman) or shoes (she was wearing red high tops).
Downtown taco stands and discount markets were full of shoppers, many with children in tow. A few streets away, someone set off fireworks. Could it be gunshots? No way, the group said, unfazed. Not here. Across the river in Reynosa, Mexico, maybe.
"If you hear that in Reynosa," Arteaga said, "you better hit the floor."
Whenever Arteaga and others cross into Mexico, they said, they utter a prayer of protection: against being robbed, kidnapped or murdered. But they don't do that here, they added. Cartel crime has been escalating across the border for years: shootings, kidnapping, disappearances, decapitations, bodies strung from bridges. Now that's a crisis, the group agreed.
Across town at the farmers market, Pat Ozuna said it's easy to feel insulated if you live in McAllen, far from the ranches where migrants cross at night. Ozuna, 49, said migrants have vandalized her family's farm in recent years, knocking down fences and killing livestock. Her parents volunteer at the local migrant shelter, but they all support Trump and a border wall.
She wished Trump had declared a national emergency this weekend.
"Come spend the weekend and see if you feel safe" on the ranch, she said. "I'd vote for him again."
The founder of the Catholic Charities migrant shelter here had planned to tell the president about the group's work with families, mostly asylum seekers from Central America, when he visited Jan. 10.
Sister Norma Pimentel had been invited to Trump's round-table meeting, but he never asked her to speak. Instead, he spent much of the discussion talking about migrant criminals and drug traffickers.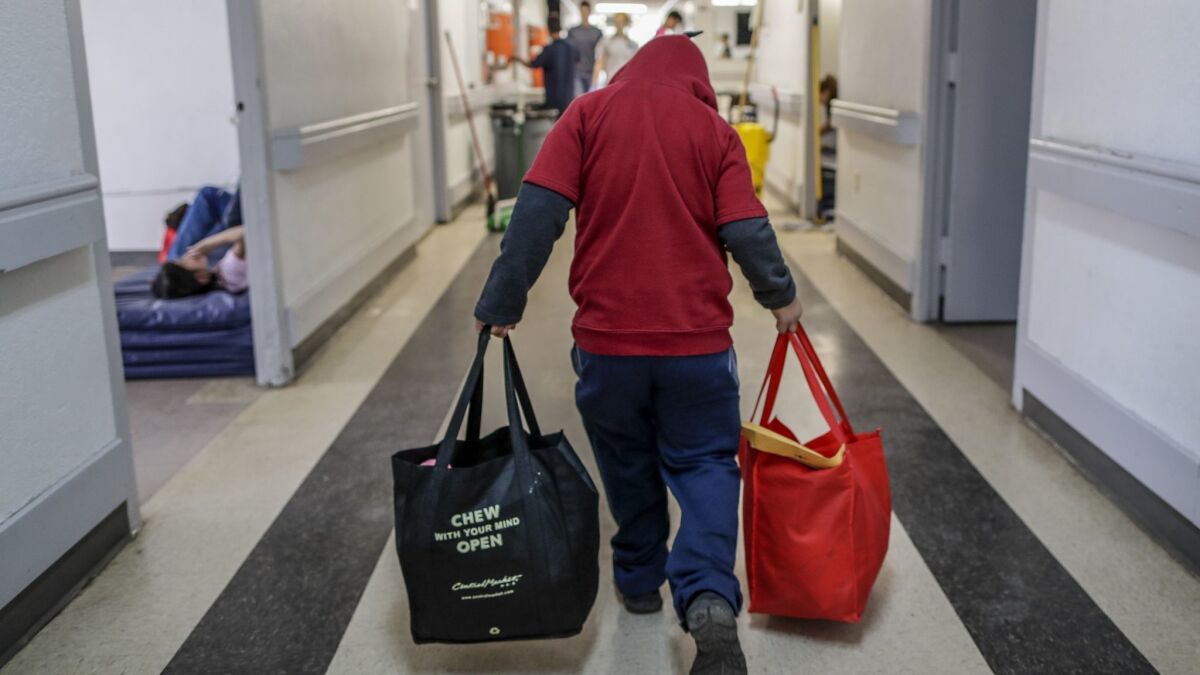 "He wanted to show there was an emergency in the valley and he needs to act on it," Pimentel said as she toured the shelter's new location in a former nursing home. "If he was really interested in human trafficking, he would have asked me to come to the table and talk about it and bring one of these families."
Each day, 200 to 300 families arrive at the shelter, receive food, clothes and rides to the Greyhound bus station. From there, they travel to join friends and relatives across the country. They've come a long way since the first influx of migrant youth in 2012 — a true crisis, she said — adding space, donations and volunteers. On Saturday, there were nearly as many volunteers at the shelter as migrants — no crisis.
"They have it under control," Pimentel said.
Migrants stuck on the other side of the border in cities like Reynosa are the ones suffering, Pimentel said, denied asylum by U.S. Customs officers who tell them to join waiting lists that can take months.
"There's hundreds of them on the other side of the border, abandoned. We're causing that," she said of U.S. immigration policies.
If Trump were really concerned about victims of human trafficking, she said, "he would help them" — not leave them stranded in northern Mexico.
Juan Pablo Lazo, 25, a single father, paid a smuggler $7,000 to travel with his 2-year-old daughter Marjorie from El Salvador across the river illegally into Texas this week. The farmworker paid in advance, and was robbed of what little cash he had left while still in northern Mexico.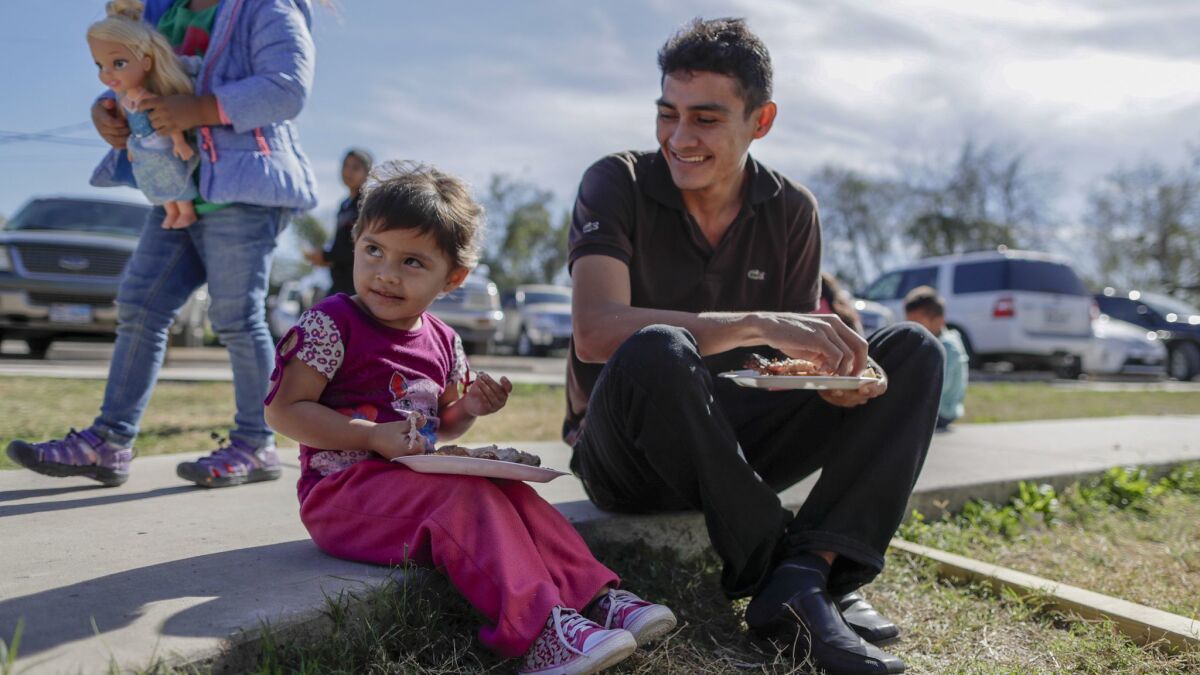 After crossing the river, Lazo claimed asylum, was held by Border Patrol and released with a notice to appear in immigration court. On Saturday, he and his daughter ate barbecued chicken at the shelter before catching a bus to join his older brother in northern New Jersey. The real emergency, he said, isn't on the U.S. side of the border — it's in Mexico and El Salvador, where he fled gang violence and a depressed economy where his only option was seasonal field work.
"If it was an emergency," said McAllen resident Lindsey Ledezma, "people would evacuate. We don't even evacuate for hurricanes. It's kind of ridiculous, honestly."
Ledezma, 19, said the real crisis here is the federal government's partial shutdown. A cosmetology student, she lives with her mother, a Border Patrol dispatcher who has continued to work without pay for nearly a month, barely able to pay their bills.
"We're back to eating sandwiches and noodles but our lights are still on, thank goodness," Ledezma said during a break from class.
Her mother has borrowed from her own parents' retirement savings to make ends meet. That still may not be enough to prevent their electricity from being cut off at the end of the month. They're hoping the shutdown ends and her mother, who has worked for the agency 11 years, gets back pay.
"We sort of figured that's what would happen because that's what happened last time," there was a shutdown, but there's no guarantee, she said. "It feels like you're walking a tightrope with a blindfold."
Twice, Ledezma said, she heard her mother cry herself to sleep. And in one of the poorest parts of the country, she knows they're not alone in their desperation.
"It's other government agencies: food stamps, housing, WIC. That worries me. We don't receive benefits, but I know other people who cannot get by without it," Ledezma said.
At La Plaza mall, Hollister Co. clothing store manager Kenny Huerta, 25, took a break for dinner at the food court with his girlfriend and another friend. They frequent downtown clubs and have never had problems. They were more bothered by Trump's warnings than they were about border security.
McAllen is a city of 140,000 where crime has dropped in recent years; yet because of all the warnings, Huerta said, "People think we're this horrendous city, full of crime."
"Like Detroit," added friend Christian Briones, 22.
Huerta's girlfriend, Larissa Barera, 21, said her relatives called from Saltillo, Mexico, on Friday, troubled by reports about border insecurity, to ask if it was safe for her to go out. She set them straight.
Barera said the valley is so sleepy and small town-feeling, it actually gets boring. Like many young people here, she and her friends have traveled to Austin and San Antonio and considered moving. But family ties, and the comforts of border life, kept them here.
"This is all you need," Huerta said.
They planned to celebrate a friend's birthday later with barbecue, carne asada. Missing that, they said, would be a crisis.
molly.hennessy-fiske@latimes.com
---
Must-read stories from the L.A. Times
Get the day's top news with our Today's Headlines newsletter, sent every weekday morning.
You may occasionally receive promotional content from the Los Angeles Times.