Federal judge in Texas delays pivotal ruling in case involving injunction to suspend DACA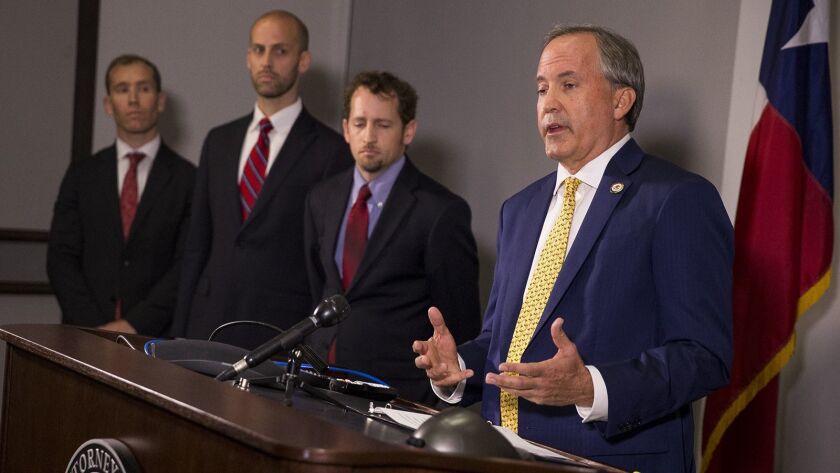 Reporting from Houston —
A federal judge in Texas on Wednesday deferred ruling on a closely watched case that could affect legal protections for thousands of immigrants in the Deferred Action for Childhood Arrivals program.
U.S. District Judge Andrew Hanen asked both sides to file briefs by Monday addressing questions he raised during the hearing.

For the record:
11:50 a.m. Aug. 9, 2018An earlier version of this article misspelled Karla Perez's first name.
Some immigrant advocates feared Hanen would rule from the bench in favor of Texas' request for an injunction suspending the program, known as DACA, nationwide.
The program was created by President Obama in 2012, after failed congressional efforts to fix the country's immigration system. Nearly 800,000 people living in the U.S. illegally with otherwise clean records applied to receive two-year reprieves from deportation.
Then last September, the Trump administration announced it was ending the program. Two months later, U.S. District Judge William Alsup in San Francisco ruled in favor of the program, faulting the administration's legal reasoning. Federal judges in Brooklyn and Washington, D.C., issued similar decisions.
But immigrant advocates were still concerned about Hanen, who in 2015 ended another Obama effort to expand protections for immigrants in the U.S. illegally.
After Hanen postponed ruling, attorneys with the Mexican American Legal Defense and Educational Fund representing 22 DACA recipients and others said they were encouraged by the judge's curiosity.
"I'm encouraged he'll come to the same conclusion other courts have come to in protecting our DACA recipients," said New Jersey Atty. Gen. Gurbir Grewal, who intervened in the case on behalf of the state's 17,000 DACA recipients and flew to Texas for the hearing.
Also attending the hearing was Karla Perez, one of the DACA recipients MALDEF represents in the case. Perez, 25, a law student in Houston originally from Mexico, said it was "unfortunate that my home state of Texas has again targeted an initiative that has had a positive impact on this country" and promised "we will continue to fight."
Texas Atty. Gen. Ken Paxton, who filed the case on behalf of Texas and other states, also attended the hearing, slipping out afterward as protesters chanted "Undocumented, unafraid!"
Paxton issued a statement afterward calling DACA "unconstitutional because it rewrote federal law over the objections of Congress."
"DACA represents a dangerous view of executive power," Paxton wrote. "This lawsuit is vital to restoring the rule of law to our immigration system."
molly.hennessy-fiske@latimes.com
---
Must-read stories from the L.A. Times
Get the day's top news with our Today's Headlines newsletter, sent every weekday morning.
You may occasionally receive promotional content from the Los Angeles Times.