How a Texas bowling alley became a beacon of hope after Harvey's deluge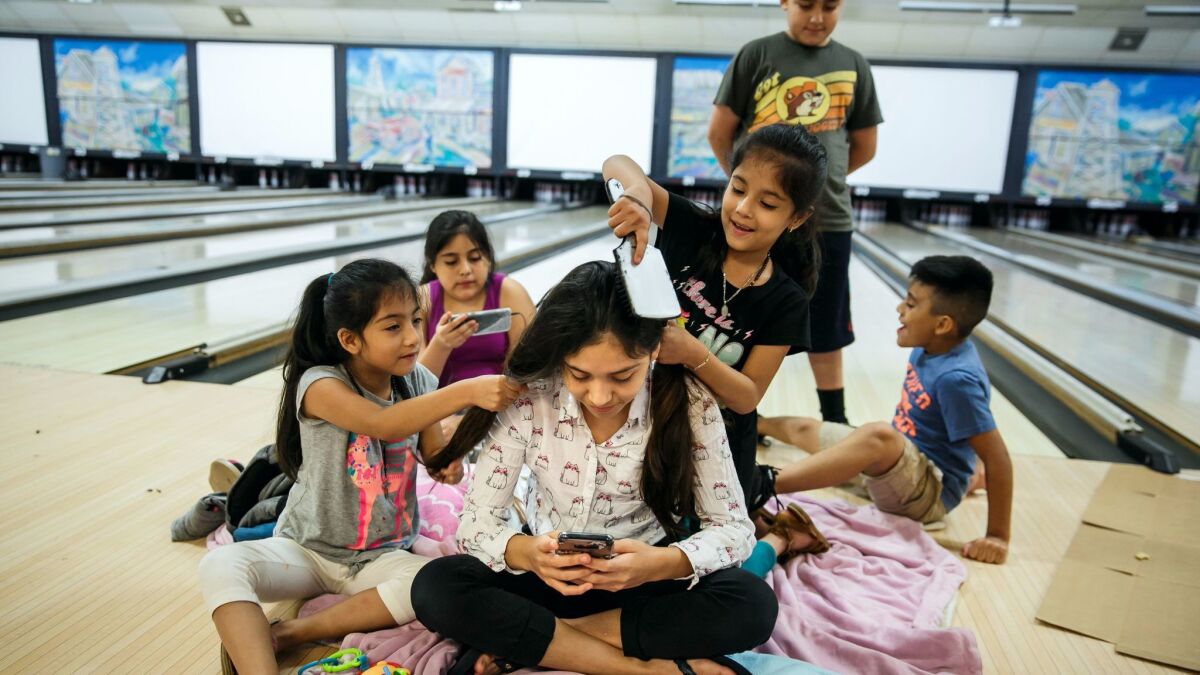 Reporting from Port Arthur, Texas —
Adults chatted next to the bowling balls as kids ran around the video game arcade. Loudspeakers barked out names to come to the front desk, where white shoes in varying sizes were lined up in neat rows.
The bowling alley was full. Not of bowlers, but of survivors.
"We're all here," said Reyna Flores, 31, of the nearby town of Groves, one of 19 people of her extended family sheltering in the bowling alley, where they had slept on the hard wooden floors in front of the lanes, arranged around the ball-return machines.
Thursday morning brought an unusual visitor to the Gulf Coast town of Port Arthur: the sun. Unfortunately, daylight revealed the same sights of flooded neighborhoods that have become the hallmark of Tropical Storm Harvey's rampage across huge swaths of Texas.
All those homes had been filled with people who had to escape to somewhere. In Port Arthur, one of those somewheres was the Max Bowl bowling alley, one of the unlikeliest evacuation centers of the disaster.
The whole setup happened by accident — or, more accurately, by necessity. As floodwaters rampaged through the town Tuesday night, Max Bowl's general manager, Jeff Tolliver, got a phone call: Someone had jimmied the lock on the alley's doors and people had come inside.
By the time Tolliver arrived the next day, 600 to 800 flood survivors had filled the building, along with their pets: dogs, cats, iguanas and one monkey.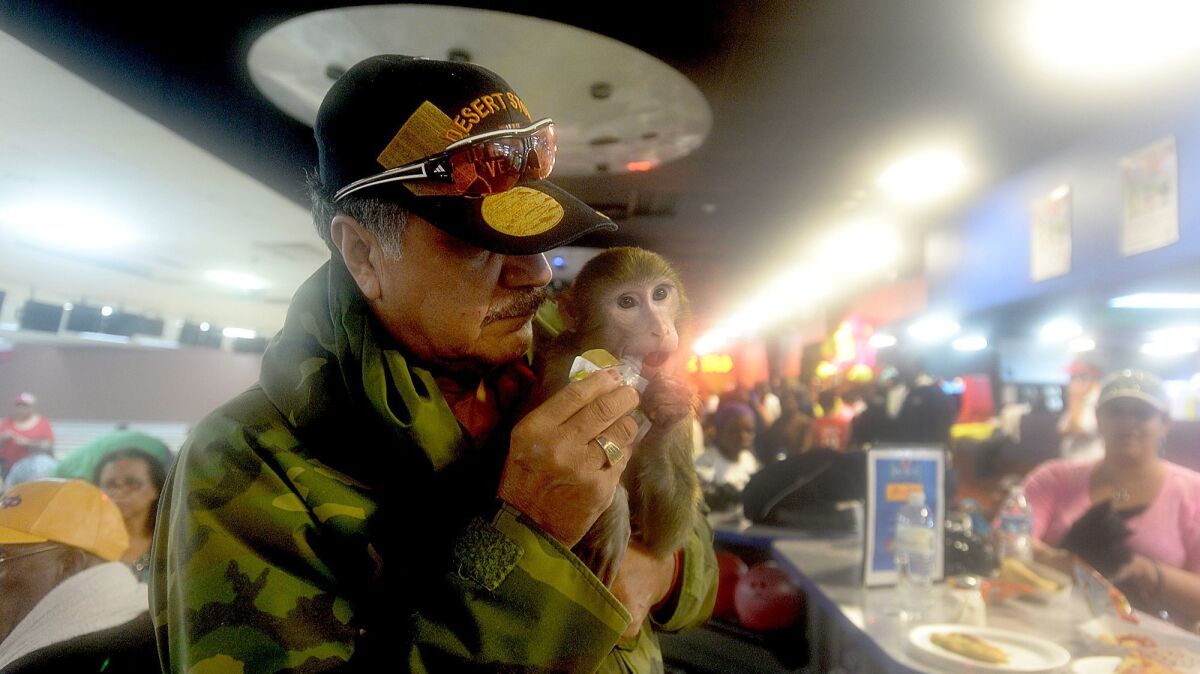 The bowling alley's parking lot had been a staging area for boat rescuers to drop off flood survivors. But so much of the town was flooded, they had nowhere else to go. When it started pouring rain again, the survivors took shelter inside.
Tolliver sized up the situation. Then he rose to the occasion.
Max Bowl, still partially surrounded by floodwaters, would become an evacuation center.
By Thursday, evacuees had organized themselves into an amateur version of the Red Cross, sorting donations and handing out supplies.
"You need some socks?" asked one survivor-turned-volunteer, Brigitte Duplechain, 55, standing behind the shoe-rental counter as a survivor came up. He nodded, and she handed over a fresh pair.
Thousands of donated water bottles were stacked like ziggurats by the front doors. Mounds of donated clothes were stacked just inside, where someone was trying organize them into neat piles. A pontoon boat came bearing a stack of mattresses. EMTs set up a medical office.
Some survivors volunteered to keep the bowling alley clean, including its bathrooms.
"These guys haven't stopped working," Tolliver said, marveling at their work. "I asked if these guys are retired" — because he wanted to hire them.
But with the disaster still so near, it's otherwise been hard to think much beyond the present. Tropical Storm Harvey hasn't just been a taker of homes and a destroyer of cities. It's been a prison, trapping its victims and blocking their escapes.
Many of the survivors lost their cars in the flood. And even if they had them, many of the roads out of town have been flooded.
"We're just waiting to see how we get out of here and maybe get a hotel," said Flores, whose dog had drowned as her house flooded. She grew emotional. The family had slept on the hard alley floors without any mattresses or blankets. "It just feels like we're surrounded by water with no way out."
A small statue of Mother Mary sat near Flores, positioned as if watching over her family. "We believe to have her with us, she'll help — she'll save us somehow," Flores said. "Something good has to come of this."
Salvador Campos, 38, watched his son Montrel, 6, run around in the arcade, where Campos' family had claimed a corner of the gaming room.
"He misses home," Campos said of Montrel. "He wants his bed. He's not used to sleeping on the floor."
Campos paused. "All my family is calling me, telling me to come back home" to East Los Angeles, where Campos grew up. "Just telling you is choking me up." But first, he needs to find a Greyhound bus somewhere that can carry him and his family far from the floods.
Felicia Bolden, 47, lives on the second floor of her partially flooded building and wants to go back home, but boat rescuers refused to give her a ride back.
"I can't live off of snacks and chips and cookies and stuff. I wish that we would just get Army meals," Bolden said. "But I just tried to walk and buy something, but everything is closed."
Bolden added: "This is a bowling alley. They wasn't expecting this. This was supposed to be the place they bring us to take us to other places, but other places filled up."
Out front, Herbert Thomas, 53, sat on the curb outside the alley with several other men, who waited silently as if they were expecting something to happen. Thomas said the flood had caused him to miss his three-times-a-week dialysis treatment.
"Monday, Wednesday, Friday," Thomas said. "I gotta get somewhere tomorrow." He says he has called 911, "but 911 always sends you to somebody else for dialysis."
Plenty of people had already moved on from the bowling alley, with only about 80 remaining by late Thursday. Other shelters were opening up in the city, including a church.
"Slowly but surely it's coming together," Tolliver assured one survivor, while standing behind the shoe counter. "I think you're going to spend one more night here."
The woman nodded. "OK. That's fine."
Port Arthur police Det. Paul Arvizo, chatting with survivors in the alley's lobby, gave thanks for good Samaritans.
"Everybody pitched in and helped with the situation. That's how we made it work," Arvizo said.
He asked if he could send a message to the volunteers and out-of-state emergency responders: "From Port Arthur P.D. to them, thank you so much for your help. We couldn't have done it without you. God bless."
Matt Pearce is a national reporter for The Times. Follow him on Twitter at @mattdpearce.
ALSO
As Houston floodwaters recede, returning residents make some grim discoveries
Hurricane Harvey destroyed this town. But residents are laughing through the destruction
For years, engineers have warned that Houston was a flood disaster in the making. Why didn't somebody do something?
Must-read stories from the L.A. Times
Get the day's top news with our Today's Headlines newsletter, sent every weekday morning.
You may occasionally receive promotional content from the Los Angeles Times.