After Harvey hit, one Texas nursing home evacuation began with a gun drawn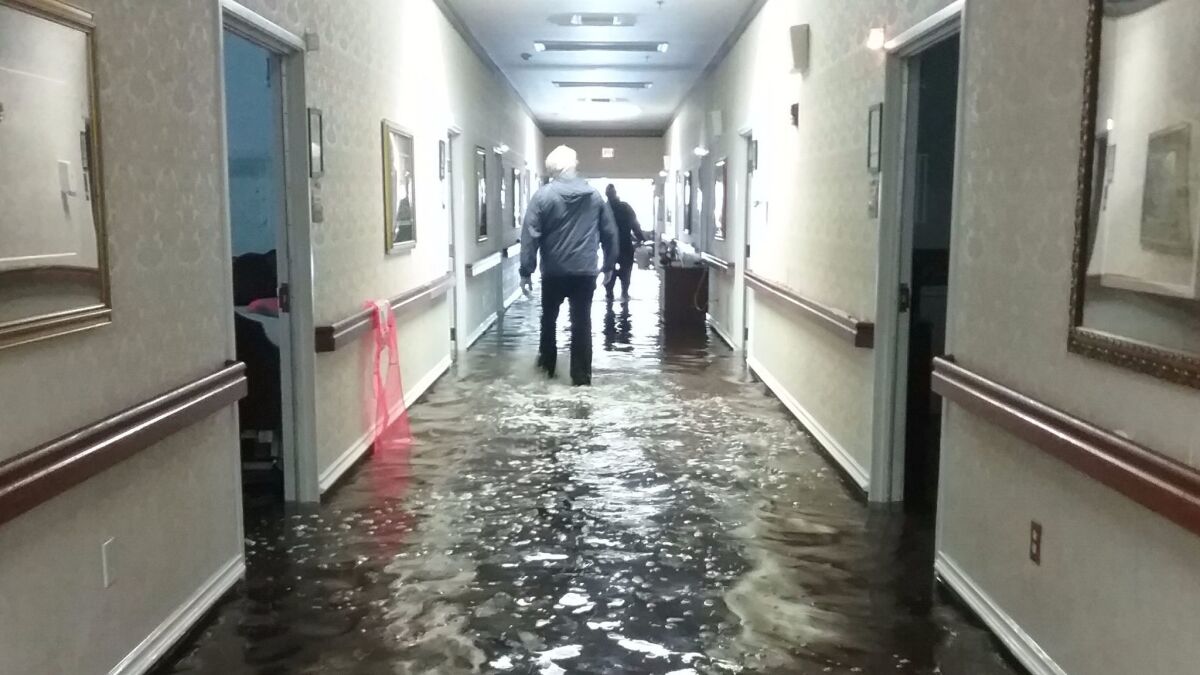 Reporting from Port Arthur, Texas —
The front doors to the Lake Arthur Place nursing home were locked when Ben Husser and his team of volunteer rescuers arrived on boats. He knocked, and when somebody cracked open the entrance, he pushed his way in.
The hallways smelled like feces. An old woman in a wheelchair was trembling, her feet dangling in nearly 12 inches of floodwater from Tropical Storm Harvey.
"What's going on here?" Husser asked a nurse. "Why is she shaking? Is she cold?"
Husser, a 45-year-old audio engineer who had hurricane relief experience with the Louisiana Air National Guard, had borrowed a friend's boat and come to help. He made his way inside and tracked down the nursing home's administrator, Jeff Rosetta. Husser was with the "Cajun Navy," he told Rosetta, and ready to evacuate the patients. Empty boats were waiting.
What unfolded next was one of the most surreal scenes in Harvey's already extraordinary assault on Texas.
In the coastal refinery city of Port Arthur, the storm — which originally hit Texas as a Category 4 hurricane — overwhelmed emergency responders with 26 inches of rain in a single day, more than double the previous record. Two nursing homes filled with 184 residents were flooded with nearly a foot of water. Even deeper waters surrounded the facilities.
And at the moment, the only rescuers in sight were a ragtag band of volunteers on fishing boats.
"You don't understand, I can't give these people to you," Rosetta said, according to Husser. "I can only give them to the National Guard." He ordered Husser to leave.
"Well, that's not the way it's going to work, man," Husser replied. "These people are leaving."
Words turned to physical blows. At one point, Husser drew a gun.
"I had to do what I had to do," Husser later explained. "We had to beat the crap out of Jeff — at least, I did."
Some degree of chaos may have been inevitable amid the record-shattering rains of Harvey. The storm made landfall on Aug. 25 as the strongest hurricane to hit Texas in 56 years, and four days later brought its full drenching force to Port Arthur.
But the crisis at Lake Arthur Place was also the result of decisions made before the floods by the company that owns the nursing homes — Dallas-based Senior Care Centers — and by local officials caught off guard by the storm's strength.
Police raided Lake Arthur Place for evidence two weeks after the floods to better understand why it had not been evacuated before the storm hit, according to a criminal search warrant filed as part of an investigation of possible elder abuse.
"There were several days of warning, and several days to prepare," a detective wrote in an affidavit.
::
Nursing homes try to avoid evacuations if at all possible.
Studies have shown that leaving can be deadlier for residents than staying, probably because of the stress it places on those who are elderly and weak. Federal safety guidelines for nursing homes recommend that "evacuation should only be undertaken if sheltering in place results in greater risk."
To make that determination in Port Arthur, Senior Care Centers rely on Jefferson County officials, according to Andrew Kerr, the president of the company. If the county issues a mandatory evacuation order, a contract with a local ambulance service kicks in to move residents to a safer location, Kerr said in an interview.
Two of the company's nursing homes in Corpus Christi had been evacuated after receiving mandatory evacuation orders. But in Jefferson County, that order never came.
The county official who would have given it, Jefferson County Judge Jeff Branick, said he was closely following the weather forecast, which initially suggested that Port Arthur would be spared the worst of the deluge and receive no more than 15 inches of rain over a week.
As the days passed, the forecasts started calling for closer to 20 inches of rain in southeast Texas, then 30 inches. Still, Branick said, "We thought up until the last night" — Aug. 29, a Tuesday — "everything was going to be OK."
That night — four days after landfall — National Weather Service meteorologist Roger Erickson called Branick to warn that Harvey had shifted: "Hold on: You're going to get hammered with rain."
By then it was too late to evacuate, Branick said. The escape routes around the area had flooded. There was nowhere to evacuate to.
That evening, Tonya Cox, whose 63-year-old mother, Gay Olsen, was a resident at Cypress Glen, talked to a nurse there on the phone.
"Houston's flooding, it's headed y'all's way, do you have an evacuation plan?" asked Cox, 32, of Carlsbad, N.M.
"We do not have evacuation plans at this time," she said she was told, with no explanation offered.
As the rain intensified, it seemed like it would never stop. Parts of Jefferson County would get nearly 50 inches of rain from the storm. About 15,000 of the county's 81,000 homes got flooded.
By midnight, water had entered both nursing homes, according to Senior Care Center officials.
The nursing staff started calling local and state officials to request a rescue.
Roxie Johnson, 61, of Nederland, Texas, whose 79-year-old mother, Dorothy Premeaux, was a resident in Cypress Glen, said she received a phone call from one of the nurses at 12:30 a.m. The nurse, she said, was "telling me they were evacuating because they started taking water in."
"Where are you going?" Johnson said she asked the nurse.
"I don't know," came the reply.
"How am I going to find her?"
"I don't know."
But an immediate evacuation would not be happening. The county was overwhelmed. Several of Port Arthur's fire trucks and garbage trucks were already lost in the flooding. With 911 calls coming nonstop, there was no way to respond to most of the rescue calls.
"I finally told the staff to quit telling people that you're going to take their name and number and tell them people are coming," said Greg Fountain, the Jefferson County emergency manager. "Tell them the truth …. There's nobody coming in the next five minutes and the next five hours even. Do what you've got to do to survive."
::
Nearly every natural disaster draws legions of volunteers eager to help in the rescue effort. The self-styled Cajun Navy attracted military veterans and fishermen and participated in rescue efforts after Hurricane Katrina in 2005 and the Louisiana floods of 2016.
As Harvey bore down on Texas, Husser borrowed a friend's boat and drove from his home in Hammond, La., to Texas.
Soon after he launched into the floodwaters of Port Arthur, two other boaters told him that nurses were abandoning patients at a local nursing home. That turned out to be untrue, but Husser decided to check out the situation.
He was wearing a military tactical vest when he entered Lake Arthur Place with other volunteers. "Everybody thought I was a police officer," Husser said later.
Almost immediately, the situation became even more tense.
The water inside the facility rose "a few inches" when the volunteers removed sandbags and opened the doors, the director of nursing, Andrea Coleman, said in a sworn statement she gave to Port Arthur police.
Coleman said she walked into Rosetta's office and saw Husser and two other men cursing at the administrator. Rosetta's shirt was ripped, he had several cuts on his head and one of his eyes was bloody, she said.
"Jeff Rosetta told Ben and the two other men to get out of his nursing home," Coleman told police. "Ben physically pushed me out of the way and I hit the wall. Ben then removed his gun from its holster and pointed it at Jeff Rosetta's chest."
"Oh, you going to shoot me now?" she said Rosetta asked.
In tears and afraid for her life, Coleman told Husser not to shoot anybody.
"We cannot just turn over our residents to anyone," she said in her statement. "We have a responsibility to them and procedures that have to be followed. I was hesitant to let our residents go with the Cajun Navy after the behavior Ben displayed."
Husser said in an interview that Rosetta had started the fight by shoving him, but he denied shoving Coleman. He defended his decision to draw his gun.
"You're damn right I did, but it was strictly because he was in a tirade, screaming and hollering," Husser said.
Husser also said that he initially thought Rosetta had a weapon on his desk and was reaching for it, and that he holstered his gun when he saw that Rosetta was unarmed.
The volunteers left the office, but soon two Port Arthur police detectives arrived and concluded that the facility needed to be evacuated.
By then, Rosetta apparently was trusting no one. According to a police affidavit, the administrator became argumentative and told one of the uniformed detectives, Mike Hebert, that "his badge appeared to be fake and he was a fake cop." He ordered the detectives to leave the building, at one point shoving Herbert, according to the affidavit.
The detectives handcuffed Rosetta.
::
With the blessing of police, the amateur rescuers began evacuating the residents.
At both nursing homes, the volunteers tried to make sure the seniors had their records and their medications with them before lifting their wheelchairs and beds onto their boats. They took the residents to a local community theater, which became a triage center staffed by local nurses, some of whom showed up on boats in flip-flops.
Many of the seniors had "face sheets" containing basic medical information, according to Lisa Perkins, a surgical nurse who came to volunteer at the triage center at the Port Arthur Community Theater after her home was flooded. But some did not.
Some patients had dementia and didn't know their own names. "And you're trying to figure out how you can help them," Perkins said. "They're freezing cold, they're getting rained on — these people were scared."
Johnson, the daughter who had received the late-night phone call about an evacuation, found her mother at the theater with nothing but two dirty gowns in a trash bag and no identification or medication. Using a ballpoint pen, Johnson wrote her mother's name and a telephone number on the woman's arm.
By nightfall, the nursing home residents had all been evacuated out of the city by military helicopters, though it took a few days for some family members to track down their loved ones.
The extent of the crisis' impact on the health of the seniors is still not known.
A 2012 study in the Journal of Post-Acute and Long-Term Care Medicine found that nursing-home evacuations resulted in higher death rates in the 90 days after a hurricane. And those were from when efforts were undertaken before, not during, the disasters.
Port Arthur police wrote in a search warrant that "medical documents will show some of the individuals sustained injury as a direct result of the catastrophic flooding and the evacuation finally orchestrated at the last minute by citizens." But those injuries were not described, and police did not respond to interview requests.
A spokeswoman for the Texas Department of Health and Human Services also declined to provide information about the case, citing its own ongoing investigation into the nursing homes.
Lori Langford Davis, who helps run a Facebook group for family members of residents at the two evacuated nursing homes, said she had heard about "several cases" of pneumonia in the aftermath of the flood. Her own 94-year-old grandmother, who was at Lake Arthur Place, emerged with bruises and open sores on her arms.
But she doesn't blame the amateur rescuers, whom many regard as heroes. Some family members are signing up with attorneys to consider suing the nursing homes.
"I hope we can put this corporation out of business," Davis said. "This is what you plan for, the worst-case scenario."
Senior Care Centers President Kerr said, "The most critical thing for us is the safety and security of our residents." He blamed the chaotic, last-minute evacuation on "an unforeseen catastrophic event beyond anyone's expectation."
Rosetta, the nursing home administrator, was not arrested during his confrontation with police. But investigators said in their search warrant that he was under investigation for possible criminal negligence in electing not to evacuate before the storm.
Rosetta's lawyer, Ryan Gertz, said the nursing home administrator was understandably confused during the altercation with people whose identities were unclear.
Rosetta was "punch drunk and rationally questioning the authority of the officers," Gertz said. "While it's easy to rush to judgment, ultimately Jeff Rosetta and the excellent staff of the Lake Arthur Place nursing home will be vindicated."
After the evacuation, Cox decided nursing homes were no place for her mother and took her home to New Mexico to live.
Despite severe dementia that requires round-the-clock care, she said, her mother hasn't forgotten the evacuation.
Told about an upcoming trip to the store or other outing, Cox said, she often asks: "Are we going by boat?"
Matt Pearce is a national reporter for The Times. Follow him on Twitter at @mattdpearce.
ALSO
How a Texas bowling alley became a beacon of hope after Harvey's deluge
'A true testament to a mother's will' — saving her daughter, but not herself, from Harvey's floods
Catastrophic storms, once rare, are almost routine. Is climate change to blame?
Must-read stories from the L.A. Times
Get the day's top news with our Today's Headlines newsletter, sent every weekday morning.
You may occasionally receive promotional content from the Los Angeles Times.