In Texas, fasting, prayers and some anger over immigrant children still separated from parents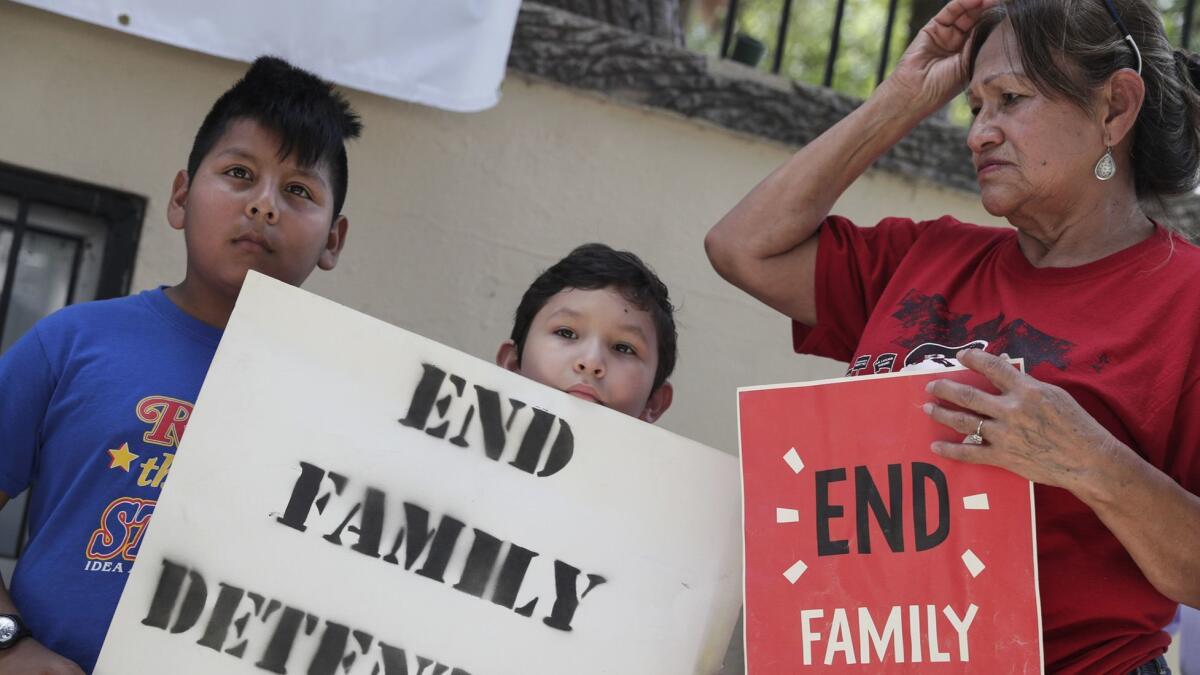 Reporting from MCALLEN, TEXAS —
The night before, a federal judge in California had granted the American Civil Liberties Union a preliminary injunction that calls for all children affected by the Trump administration's "zero tolerance" immigration policy to be reunited with their parents within 30 days.
On Wednesday, immigration advocates and supporters gathered at a public park here in Texas' Rio Grande Valley to celebrate the ruling, though they remained worried about the future and the hundreds of children separated from their parents.
"Last night's ruling is a victory; it is a victory for the children still separated from their families," said Zenen Jaimes Perez, an advocacy director at Texas Civil Rights Project. "We are eager to see the details on how this ruling will actually be implemented so that we can speak with our clients and assure them and give them hope."
Perez hopes the Trump administration will comply with the ruling and halt any deportation of separated families. He said one client from Guatemala was already deported without their child. "We have clients who have not spoken to their children in more than a month," he said.
At Archer Park in McAllen, about a dozen people sat on bleachers listening. Some held signs that read "immigrants welcome here," and "Family over Border."
At the center of a table sat a photo of labor leader Cesar Chavez breaking his 25-day fast with Sen. Robert F. Kennedy during a special Mass that was attended by 6,000 people in Delano, Calif., in 1968. It was a reminder of a more modest protest staged in recent days by people across the country to show solidarity with immigrants in detention — a 24-hour fast. (Earlier in the day, the Boston Globe reported that Kennedy's 90-year-old widow, Ethel Kennedy, planned to fast as well.)
Among the few people at Archer Park who were participating in the fast was Norma Hess, 37, a native of Mexico and mother of five.
"Coming from an immigrant family myself it's really frustrating for me to know our family went through the same struggle but did not have the same challenges as the current generation of immigrants have had," said Hess, who immigrated to the United States when she was 8 and is now a U.S. citizen. "It's heartbreaking to know that families are being taken apart before they can fight for that better life here."
She said her family had waited years to obtain green cards, a process that she and her husband, Kevin Hess, 45, feel takes too long. "When your life is at stake you can't wait years."
The couple reacted differently to the announcement of the court injunction made the night before. "I think that every move that we make that is moving forward is another sense of hope," she said. "I'm still cautiously optimistic because our administration is still very much standing by what they believe, but I feel we are making positive differences by speaking our minds and showing up to events like this."
"I'm more cynical," her husband said. "They don't even know where the kids are."
Norma Hess said it's difficult not to feel hopeless and worried. "As a parent, it's hard not to feel that way," she said. "If someone ripped [away] my kids today I'd be waiting to hear from them, wanting to know who they're with, wanting to know if they're OK."
She's heard of parents complaining that their children were taken from them and sent to shelters in distant states. "You have kids here, in New York and Minnesota, I could understand how as a parent I would feel helpless. I would be anxious all the time," she said.
Nearby were two others who had joined the fast. Leti Sanchez, 48, and her godson, Edgar Ramirez, 11, had two hours to go before their 24-hour fast was completed, and they drank water.
Sanchez said she was close to breaking her fast the night before around 11 when she picked up a cracker. "I stopped and thought about my prayers," she said. "I had been asking God to please reach into the hearts of people separating the families, and I'm doing this so that you can change things"
She said she put the cracker back and went to play La Loteria, a bingo game. This morning she learned of the injunction.
"I felt God listening to us," Sanchez said. "What's the old saying? If three people say his name, then it's a movement."
After sipping water, Edgar said he wanted to take part in the fast because of the children.
"It's sad that they're in cages," he said.
Bertha Ozuna, 64, had also been fasting. When it was her turn to explain why she had chosen to participate, she lambasted President Trump in Spanish.
"Mr. President, you've never needed to cross the border out of necessity, and you should be grateful to your parents for that," she said with anger and tears. "You're the only one who is doing all this. You're the only one dividing families."
For more Southern California news, follow @latvives on Twitter.
Sign up for Essential California for the L.A. Times biggest news, features and recommendations in your inbox six days a week.
You may occasionally receive promotional content from the Los Angeles Times.