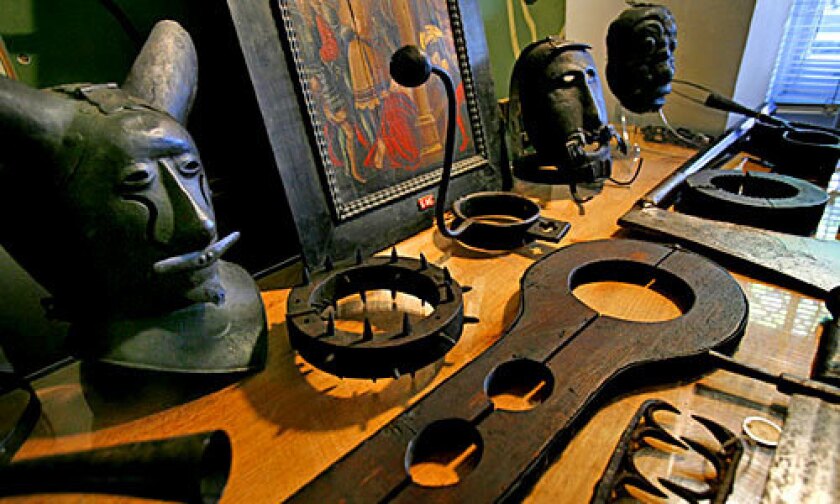 Reporting from New York —
It slices! It dices! It pierces and pokes! It pulls stubborn flesh from bone with the flick of a wrist!
And if that doesn't get your prisoner talking, perhaps the ornate chair with its spiked seat, back and arm rests will do the trick.
The ghoulish throne and tiny flesh ripper, part of a bounty of iron torture implements dating to the 16th century, soon will be up for sale, but on one condition: The buyer must have morals as well as money -- more than $3 million, by some estimates.
At a time when America is under the microscope for harsh interrogation techniques used on suspected terrorists, the anonymous seller of the 252-item collection is adamant that it falls into responsible hands and hopeful that it will serve as a reminder of the gruesome nature of torture -- whether it's done with water and a board or an iron toe screw.
A portion of the proceeds will go to Amnesty International and other human rights organizations, said Arlan Ettinger of Guernsey's auction house in New York, who came into possession of the collection this month. The seller, a woman in New England, was moved by the debate over waterboarding, sleep deprivation and other CIA interrogation methods approved by the George W. Bush administration -- so she explained when she called Ettinger, whose auction house has handled scores of high-profile sales, and asked him to arrange a sale.
Ettinger was flummoxed. His auctions have run the gamut: Soviet art, Elvis Presley's estate, Benny Goodman's clarinet, trinkets from the Titanic, baseballs signed by Mickey Mantle and Babe Ruth. He has sold a 40-foot whale skeleton and guitars crafted by a homeless man for the Grateful Dead's Jerry Garcia.
But how to hawk devices of gore with names like the Tongue Tearer and the Roman Terrible Pincers without crossing the line into sinister profiteering?
"I didn't know how to respond," Ettinger said as he tried on an iron mesh mitt, which would be heated in white-hot coals and strapped onto a prisoner's hand.
He and the seller agreed that the only reasonable plan would be to find a well-intentioned buyer and direct some proceeds to helping prevent future abuses. Ettinger contacted Amnesty International.
"It was one of those things that made me pause for a second and say, 'Wow,' " said Timothy Higdon, Amnesty's deputy director for external affairs. "We think that the conversation around this and the money being generated will certainly help tell the story of why torture is wrong, and why the U.S. government should not be involved in torture."
Sitting in his ground-floor office surrounded by pieces from the collection, Ettinger said that "it made perfect sense that you turn something terrible into something good."
His wooden desk and a nearby table were covered with items like the Small Iron Spider, a flesh-tearing device. "This sweet little thing could grasp any part of one's body and do pain," Ettinger said, squeezing the small handle to make the eight claw-like legs with needle-sharp tips open and close.
There were spiked collars, a large ax and a perforated spoon or sieve "through which boiling water, oil or molten lead was poured onto various portions of the body," according to a catalog accompanying the items.
Iron leg weights were displayed beside the torture chair as a pair of shoes might be shown with a dress: to highlight how well they go together. The weights were designed to add pounds to the person in the torture chair, driving the spikes deeper into the skin.
As well-coiffed women walked dogs past the auction house on a leafy, sun-dappled Manhattan street one recent afternoon, little could they imagine that inside were an iron implement meant to be "affixed to the ears before they were cut off" and "a powerful iron foot breaker." Such were the descriptions in the catalog that accompanied the collection when it went on display in the 1890s.
The catalog, which also is for sale, explains that the items originated in the region of the Holy Roman Empire that became Germany and that "every one of the barbarous implements have been in actual use."
The collection was kept at the Imperial Castle of Nuremberg in Bavaria until the late 1800s, when Britain's Earl of Shrewsbury bought the lot and sent it on tour across Europe and America. In 1893, the collection was displayed at the Chicago World's Fair and in New York.
Eventually, a Norwegian man living in the United States whose family had been persecuted by the Nazis bought the items. His heirs have owned them since his death in the 1970s, and the mysterious woman behind the sale is about as opposite an image of a dungeon master as one could get, Ettinger said.
"This woman is charming, attractive and as effervescent as you could ever want," he said. "She grew up with [the collection]. She felt now was the right time to do something good with it."
But arranging such a sale is complicated. No auction date has been set because Ettinger is hoping that news of the collection's availability will draw a single buyer. Keeping the items together, perhaps on display in a museum, would be the best way to accomplish the goal of having people learn something about human rights abuses, he said.
Setting a price also poses a problem because, unlike an auction of Picasso drawings or precious gems, there is no precedent for selling antique torture equipment.
"It's anybody's guess," said Ettinger, who cited a scholarly work from the 1970s that mentioned a possible $3-million value.
"I think you could argue it would be worth more than that," he said, noting its uniqueness, age, breadth and interest to collectors.
If a single buyer does not come forward, Ettinger said, he will call an auction and sell off items piece by piece.
Whichever way the sale goes, one key will be examining interested parties' intentions to decide whether they are suitable to own items created hundreds of years ago but still capable of killing and maiming.
There's never a way to predict who will bid on what, Ettinger said. A Saudi prince was the surprise purchaser of the whale skeleton. He needed it for a museum. When Guernsey's put baseball memorabilia on the auction block, Marriott was the biggest buyer. It was looking for items for its new hotel sports bars.
"Someone could find it -- for lack of a better word -- a hoot, but we hope it wouldn't go that way," Ettinger said. "If we thought that someone had truly evil intentions, we wouldn't take the money."
Higdon said Guernsey's credibility as an auction house was reassuring.
"If we felt . . . there would be a circus environment or these devices would in any way be used in a negative way, we would have backed away from the sale," he said.
If there is an auction, Ettinger said, the atmosphere must be just right -- perhaps a dark-paneled room in an armory.
There also must be plenty of space. The largest items in the collection, which were too big to squeeze into the auction house's office, remain on a farm north of Manhattan. They include a body rack with thumb screws, on which victims were strapped and stretched to painful lengths, and a heavy stone tablet, the must-have accessory for every dungeon master.
Designed to hang over the torture chamber door, its inscription reads: "Dark deeds make dark endings."
latimes.com /columnone Previous Column One articles are available online.
---