Utah on the verge of the toughest drunk-driving standard in the U.S. – .05%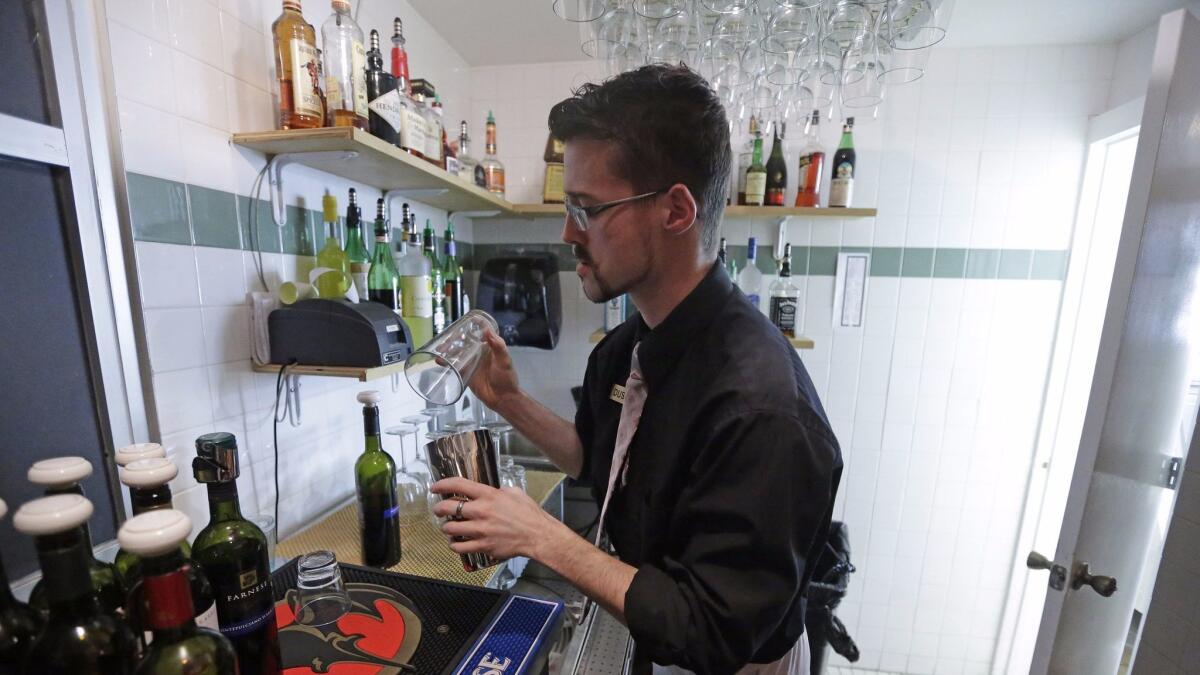 It's nearing the last call — at least in Utah — for a definition of drunk driving that's become the unofficial national standard.
Lawmakers in the state passed a measure last week to lower the legal blood-alcohol concentration for driving from .08% to .05%.
Currently, all 50 states have a .08% cap. Utah would become the first state in the nation to adopt a more stringent standard and, traffic safety advocates hope, encourage other states to do the same.
The National Transportation Safety Board has called on states for years to redefine what constitutes drunk driving. The legislation is expected to be signed by Republican Gov. Gary R. Herbert.
"The time was long overdue for this," said state Rep. Norman Thurston, a Republican from Provo, who championed the legislation. "This is about behavior and we hope that other states take a close look and move in a similar direction."
In Utah, which has long held a tense relationship with alcohol — Mormons make up 60% of the state population and are not supposed to drink booze — lawmakers this session addressed a handful of proposals focused on regulation. They include, among other things, the new blood-alcohol level and how beers and cocktails are prepared at restaurants.
For Thurston, lowering the blood-alcohol limit is about public safety.
The NTSB push to lower the threshold for drunk driving was highlighted in a 2013 report that noted that fatal crashes decreased 18% in Queensland and 8% in New South Wales after those Australian states changed their blood-alcohol limits.
The agency also called for other measures, such as expanding the use of devices that prevent impaired drivers from starting vehicles.
Deaths related to drunk driving nearly doubled in Utah between 2013 and 2014, increasing from 23 to 45. Conversely, drunk driving fatalities nationally have fallen by a third in the last three decades, according to the National Highway Traffic Safety Administration. Nationally, 28 people die every day in motor vehicle crashes involving an alcohol-impaired driver, according to the agency.
Still, some critics of the Utah legislation say it could harm the state's tourism industry; they say other measures could better promote public safety.
"Why not just make it a 0.00% limit? I'm not sure this does much in terms of keeping the public safe," said state Sen. Luz Escamilla, a Democrat from Salt Lake City. "We should be creating laws that have real impact — not just ones that are symbolic."
Escamilla said effective measures include a mandatory seat-belt law, which she helped sponsor for seven years and finally was able to get her colleagues to pass this legislative session.
About Thurston's measure, she added, "If anything, it just keeps Utah in line with having a weird image toward alcohol."
Escamilla's view is shared by groups such as the Salt Lake Area Restaurant Assn., which represents more than 100 establishments.
"It's a terrible law," said Michele T. Corigliano, the group's executive director, who is lobbying Herbert to veto the measure. "We feel that because .05% is so low it's going to put a lot people in jail who should not be in jail. It's an extremely low-level … people who use too much mouthwash could be targeted."
The Centers for Disease Control and Prevention estimates a blood-alcohol concentration of .05% — about three drinks in one hour for a 160-pound man — causes, among other things, altered coordination, reduced ability to track moving objects and difficulty steering a motor vehicle. Several European countries — such as France and Germany — have blood-alcohol limits of .05.
Utah's fraught relationship with alcohol stems from the state's connection with the Church of Jesus Christ of Latter-day Saints, a faith that condemns its use.
Even so, annual liquor sales have increased, up from $367.2 million in 2014 to $396.4 million in 2015, according to the Utah Department of Alcoholic Beverage Control. How liquor is prepared at restaurants is also an issue Utah lawmakers addressed in the 45-day legislative session that came to a close last week.
In 2009, a law was passed that required restaurants to erect a wall or partition — known as a "Zion curtain" to locals — at least 7 feet 2 inches high to shield patrons from seeing alcohol being mixed, poured or prepared. The law dismayed many in the restaurant industry.
Under a compromise proposal passed in recent weeks, restaurants would be allowed to stop using the Zion curtain if they set up a child-free buffer zone around their bar — either a 5-foot zone marked off by something similar to a railing or a 10-foot open area.
Herbert supports the new legislation.
Derek Monson, director of public policy at the Sutherland Institute, a conservative think tank based in Salt Lake City, says it comes down to keeping a clear distinction between a bar and a restaurant.
"People go to restaurants to eat, enjoy others — drinking is not the sole reason," said Monson, whose group supports keeping the Zion curtain. "But here there is some leeway and establishments can now choose what they want to implement."
Doug Hofeling, chief operating officer of Salt Lake Brewing Co., says his establishments will probably choose the buffer option.
"It's a positive that this Zion curtain is going away, or at least not mandatory," Hofeling said, though he fears that losing seats in his restaurants to make space for the buffer zones will cost him business.
"In the restaurant business, anytime you're losing seats, it's never good," he said.
Twitter: @kurtisalee
ALSO
At the nation's only Latino mosque, Trump's immigration policies have 'changed everything'
Elected as the anti-Arpaio, new Phoenix sheriff finds himself at center of nation's immigration debate
The troubled, covert agency responsible for moving the nation's most lethal cargo
Sign up for Essential California for the L.A. Times biggest news, features and recommendations in your inbox six days a week.
You may occasionally receive promotional content from the Los Angeles Times.