Police release fourth batch of materials related to Vegas mass shooting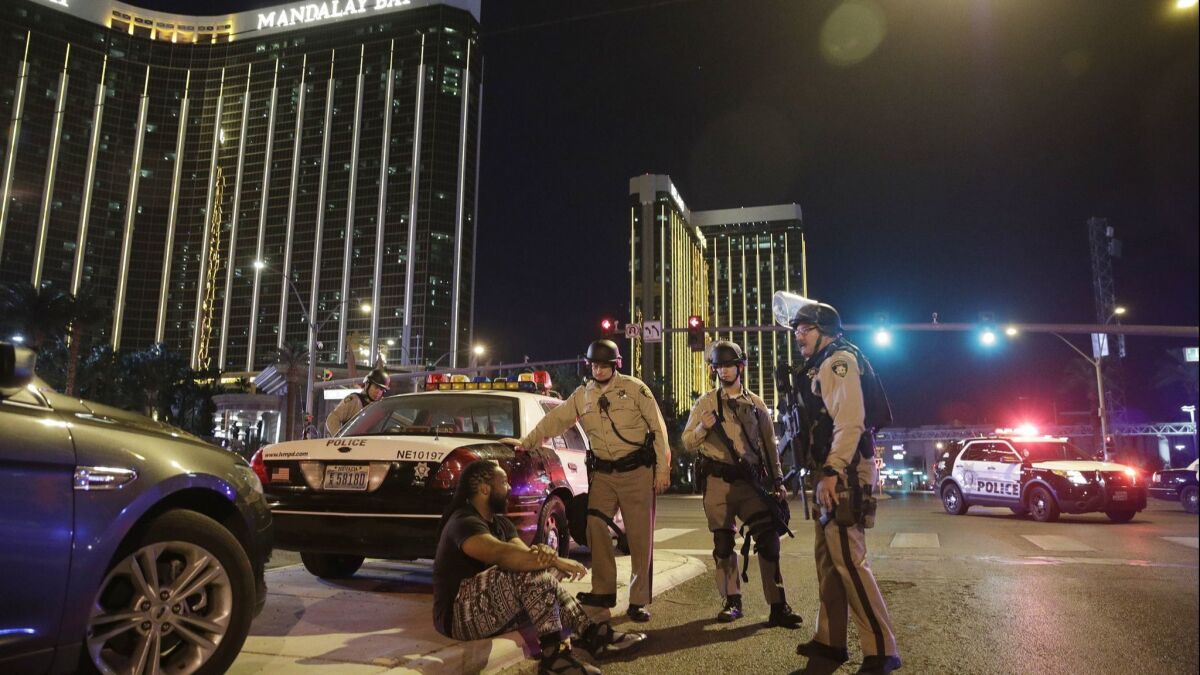 Reporting from Las Vegas —
Las Vegas police Wednesday released aerial and traffic camera video taken in the wake of last year's mass shooting that killed 58 at a country music festival.
The release was the fourth batch of materials doled out by the Las Vegas Metropolitan Police Department. The department had been ordered by the courts to make the items public after media outlets — including the Los Angeles Times — sued for their release under public records requests.
The aerial footage begins at 12:24 a.m. on Oct. 2 — almost 2½ hours after Stephen Paddock opened fire from his Mandalay Bay hotel suite on the 32nd floor down onto a crowd of 22,000 attending the Route 91 Harvest country music festival.
In addition to those killed, hundreds more were injured as they fled for cover in the midst of a set performed by Jason Aldean.
Much of the early aerial video released Wednesday shows flashing red lights of emergency vehicles parked on and around the Las Vegas Strip. There is footage of the concert site as well, but the distance of the camera — along with the lighting — makes it difficult to see details on the ground.
Other video images show wide camera angles of the Strip.
The traffic camera video on Tropicana Avenue shows police cars blocking southbound traffic around 10:17 the night of Oct. 1, and ambulances begin appearing with lights flashing at a little after 10:30.
After that, the traffic on Tropicana is illuminated with red and blue lights from emergency vehicles throughout the night. The marquees of the casinos and restaurants visible in the video remain lit until the sun rises around 6:20 a.m. Normal traffic appears to resume between 7:35 and 8 a.m.
There is no audio with the footage.
Police have been rolling out documents and video related to the shooting since the beginning of May.
Last week, more than 2,000 pages of police reports and witness statements were made public. They included deeply moving accounts by law enforcement officers sharing the fear and uncertainty they felt as the massacre unfolded.
The week before that, about 1,200 pages of witness statements and interviews with victims were released by police. The first wave of public items to be released included several hours of police body-camera footage — including that from officers who breached the door to Paddock's suite.
Police have not determined a motive for why Paddock shot up the concert site, but they have said he was the lone shooter and responsible for the crime. Paddock killed himself with a gunshot wound to the head before police were able to enter his hotel room.
Police have said the large volume of items will continue to be released throughout the coming weeks.
Twitter: @davemontero
---
Must-read stories from the L.A. Times
Get the day's top news with our Today's Headlines newsletter, sent every weekday morning.
You may occasionally receive promotional content from the Los Angeles Times.