Trump to families of Las Vegas victims: 'We will never leave your side'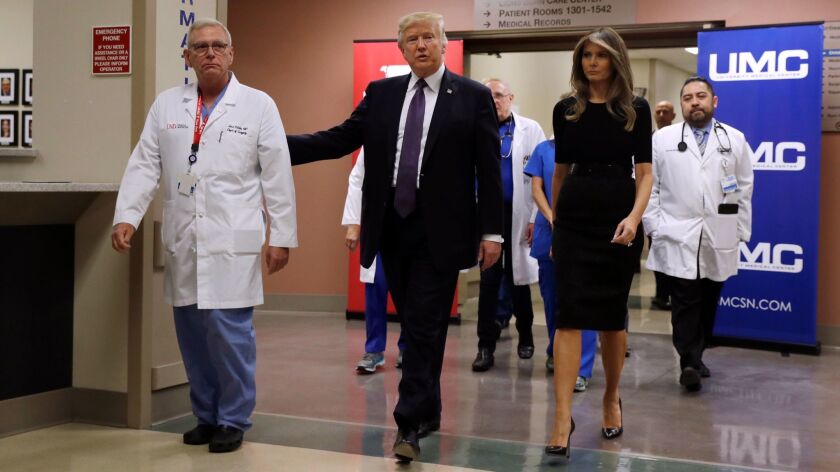 Reporting from Las Vegas —
In a visit with victims and first responders in Las Vegas on Wednesday, President Trump praised those who rushed into action during the massacre that claimed 58 lives, and he told family members of the victims, "You are not alone. We will never leave your side."
The remark came at a news conference in Las Vegas where Trump and First Lady Melania Trump were flanked by local law enforcement officials and dignitaries including Gov. Brian Sandoval.
"We know that your sorrow feels endless," the president said. "We stand together to help you carry your pain."
Trump congratulated police and medical technicians for their heroism in defying the ongoing gunfire during Sunday's shootings at a country music festival to usher concertgoers to safety and aid the wounded.
"When the worst of humanity strikes, and strike it did, the best of humanity responds. Americans dashed into a hail of bullets to rescue total strangers," he said.
"Words cannot describe the bravery the whole world witnessed on Sunday night. Americans defied death and hatred with love and courage," he said.
The Nevada governor also called for strength in moving forward from the tragedy.
"We're hurt. We're hurt badly. But we're not broken," Sandoval said. "The future's going to come one day at a time. We must be glad. We must be good. We must be brave. And we must have faith."
In an earlier public appearance at a hospital that had treated more than 100 victims from Sunday's attack, Trump characterized the gunman as a "very sick man; he was a very demented person." Investigators are still trying to find a motive, he said. "You will know very soon if we find something. We're looking very, very hard."
The president and his wife arrived at McCarran International Airport in Las Vegas shortly after 9:30 a.m. and were greeted by Clark County Sheriff Joe Lombardo and other officials.
More than 30 people gathered outside the airport to watch the arrival. Marla Brassfield held up her phone to take a photo, waiting eagerly to see Air Force One land.
"This is it? This is it?"
"Yes," Stan and Kathy Niewiarowski said as they also aimed their phones at the tarmac.
"Look how slow it's moving," Stan Niewiarowski said.
"Yeah," his wife responded.
At a memorial site outside the airport before Trump arrived, Mekhaly Rassavong, 50, said she was worried about the president's visit. She said Trump's abrasive tweets in the past — and the comments he made downplaying Hurricane Maria while visiting Puerto Rico a day earlier — made her think he may fail to show genuine compassion for Las Vegas.
Puerto Rico "lost 16 people, and he's saying their losses aren't as bad as [Hurricane] Katrina and that they're messing with the [U.S.] budget," she said, shaking her head. "If he's not genuinely going to show compassion here, it's almost like you shouldn't be here because it's just going to make people more upset."
Mark Rumpeler, 58, a reverend who impersonates singer Elvis Presley, disagreed.
"He's going to salute the first responders and Americans who helped, as he should," he said.
Rumpeler said he's happy that the president is visiting, because it takes someone of Trump's caliber to address what has happened in the city.
"He represents all Americans, whether you voted for him or not," he said. "I think he will strengthen America and remind us to keep rowing our boat in one direction."
Matt Pearce is a national reporter for The Times. Follow him on Twitter at @mattdpearce.
---
The Latinx experience chronicled
Get the Latinx Files newsletter for stories that capture the multitudes within our communities.
You may occasionally receive promotional content from the Los Angeles Times.