In Las Vegas, this women's march wasn't just about venting — it was about electoral change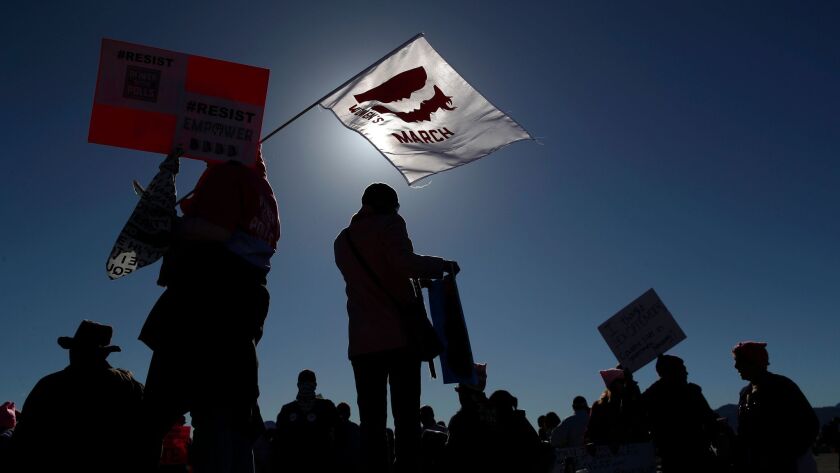 Reporting from LAS VEGAS —
Last year, they were angry. This year, still angry, they added a layer of pragmatism and optimism.
A day after hundreds of thousands of women marked the anniversary of President Trump's inauguration by marching in cities across the country, organizers for the Women's March used Sunday to kick off a voter mobilization effort designed at flipping congressional control to Democrats and electing more women to office.

For the record:
8:35 AM, Jan. 22, 2018An earlier version of this article reported that Sen. Dean Heller voted against a continuing resolution to keep the government funded. Heller voted for the continuing resolution.
Calling their rally "Power to the Polls," the organizers chose Las Vegas as a focal point for the national drive to register 1 million voters this year. Thousands streamed into Sam Boyd Stadium to listen to an array of speakers decry Trump, anti-immigrant policies and a lack of gun reform legislation after the October mass shooting here that left 58 dead and hundreds wounded.
Christine Caria, a victim of the mass shooting and president of the Las Vegas chapter of the Brady Campaign to Prevent Gun Violence, said the link between firearms and domestic violence makes it a critical women's issue. She said it was important to vote for candidates who would fight to tighten gun laws.
She spoke in halting tones — still suffering from post-traumatic stress disorder and physical injuries from the shooting — and was helped through her remarks as the crowd stood and applauded her.
"I'm going to live for those who died," Caria said.
For more than six hours, the crowd at the football stadium continued with themes heard at Saturday's rallies. Many handmade signs took aim at Trump ("Dumb Donald is a racist" was one of the tamer ones).
There were musicians who performed in the interludes between speakers — though the highest-profile performer, Cher, didn't sing but instead spoke about her own experience of gender inequality.
"Even now, in doing business, I have to ask three times for what a man would have to ask for once," she said. "And when I ask for it, you're a bitch and when you don't ask for it, they just run over you."
Many women have railed against Trump and the Republican proposals that have sought to curb access to abortion rights while punting on wage equality and cutting back access to healthcare. More recently, the slate of sexual harassment claims against dozens of celebrities, politicians and high-profile business leaders has galvanized women through the #MeToo movement.
Sexual misconduct allegations against Trump came to light during the 2016 presidential campaign, when the "Access Hollywood" tapes were made public, capturing him bragging about sexually assaulting women. In recent days, a story about Trump paying off porn star Stormy Daniels to stay quiet about an affair angered the president's detractors.
But the rally didn't focus just on Trump. Congressional Republicans took heat for the partial government shutdown that took place at midnight Friday.
One of the Republicans who drew the most ire was Sen. Dean Heller, the Nevada Republican viewed by many as one of the most vulnerable GOP lawmakers up for reelection this year.
Heller voted for the continuing resolution to keep the government funded, and the decision was blasted by U.S. Rep. Jacky Rosen — a Las Vegas Democrat who has announced she is running for his seat. She, along with other Democrats, were frustrated over Trump's refusal to back a bipartisan deal on DACA.
Because of the shutdown, however, many of the speakers who were set to appear at the Las Vegas rally had to appear by video feed as they were forced to stay in Washington for possible votes on a continuing resolution.
U.S. Rep. Dina Titus, who represents Las Vegas, apologized for not being present.
"I'm in Washington trying to reopen the government for the good of the people," Titus said. "So much is at stake and women can make the difference."
Signposts from the Women's March — angry, ironic and sometimes really funny »
Nevada was a bright spot for Democrats in the 2016 election cycle, with the state voting for Hillary Clinton and electing its first female and Latina senator — former Nevada Atty. Gen. Catherine Cortez Masto, a Democrat.
The state also turned over both legislative chambers to Democrats and, in the last session, voted to ratify the Equal Rights Amendment. The state became the first since 1977 to ratify the measure.
Organizers also saw Nevada, with a Latino population of about 28%, as a state that would oppose anti-immigration policies pushed by Trump — including his border wall proposal and Republicans' inability to pass a measure to grant a pathway to citizenship for so-called Dreamers, immigrant children brought illegally to the country.
Astrid Silva, a Dreamer who lives in Las Vegas, said the Trump administration has her family living in fear.
"Do not be mistaken," she said. "I can tell you for myself I think about it every single day. That I will come home and won't see my mom and dad. That is real and that is what our families are facing."
The Las Vegas rally wasn't the only one to take place Sunday. Protesters gathered on multiple continents, including in London, Paris, Sydney, Australia, Madrid and Buenos Aires.
In London, demonstrators carried placards reading "We Are Powerful" and "Time's Up" and chanted outside British Prime Minister Theresa May's office as they raised grievances including workplace inequities and misogynistic abuse on social media.
"Today is a call for action to bring about change," London protest co-organizer Shola Mos-Shogbamimu said. "This is so much more than Trump."
In Las Vegas, Toni Chew sat in the front row near the 30-yard line of the stadium and handed out small necklaces with a washer at the end and the words "Power to the Polls" on them.
The 71-year-old former rancher, who had driven from Wyoming to Las Vegas in a camper, said it was time for women to flex their muscle in November. It was time to make the world better for her granddaughter, she said.
"I stand on the shoulders of women before me who had grit and persistence," she said. "Now it's our time."
The Associated Press contributed to this report.
Twitter: @davemontero
---
UPDATES:
7:50 p.m.: This article has been updated throughout with details from the rally.
This article was originally posted at 1:45 p.m.
---
Must-read stories from the L.A. Times
Get all the day's most vital news with our Today's Headlines newsletter, sent every weekday morning.
You may occasionally receive promotional content from the Los Angeles Times.