Schiff says it would be a mistake for Mueller not to put Trump under oath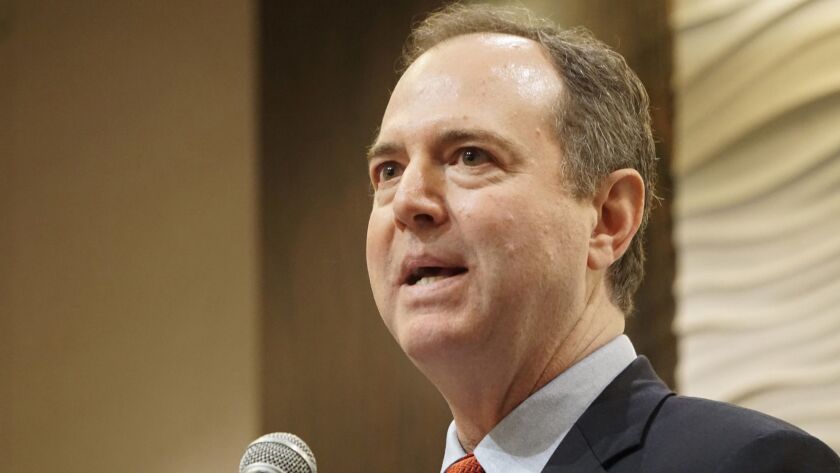 Reporting from Washington, D.C. —
The chairman of the House Intelligence Committee said Sunday that special counsel Robert Mueller was making a "mistake" by not demanding that President Trump testify as part of his investigation, which by many accounts may soon be nearing its end.
Speaking on NBC's "Meet the Press," Rep. Adam Schiff (D-Calif.) acknowledged that it might be expedient for Mueller to avoid subpoenaing Trump's testimony because the president could fight it and Mueller's new boss, Atty. Gen. William Barr, might oppose such a move.
"But I do think ultimately it's a mistake because probably the best way to get the truth would be to put the president under oath," Schiff said. "As he's made plain in the past, he feels it's perfectly fine to lie to the public. After all, he has said, 'It's not like I'm talking before a magistrate.' Well, maybe he should talk before a magistrate."
Schiff also said he is deferring to Mueller on whether Erik Prince, a former Navy SEAL who created the controversial Blackwater security company, lied to Congress about his involvement in the Trump campaign.
The House Intelligence Committee spoke with Prince in 2017 about his meeting in January that year with Kirill Dmitriev, head of the Russian Direct Investment Fund; the meeting in question was organized by the United Arab Emirates in the Seychelles. Prince presented the meeting to congressional investigators as a series of coincidences and insisted to the committee that he played no formal or informal role in Trump's campaign or transition team.
But it is an August 2016 meeting in Trump Tower, which Prince admitted to participating in during an interview with Al Jazeera last week but never disclosed to the Intelligence Committee, that has revived suspicions that Prince lied to Congress under penalty of perjury.
In the Al Jazeera interview, Prince insists that he disclosed the August meeting to investigators, despite no mention of it in the public transcript — something Prince explained by suggesting the transcript must be wrong.
"He's certainly not telling the truth in that interview," Schiff said. "There's nothing wrong with our transcript. ... He did not disclose that meeting to our committee. So his, you know, interview certainly looks inconsistent with his testimony."
But Schiff stopped short of accusing Prince of perjury, leaving those questions to Mueller.
"Bob Mueller will have to make the decision about whether that rises to a level of deliberate falsehood," Schiff said. "But we had questions at the time of his testimony about his candor and how forthcoming he was. And those questions have only been heightened now."
---
The Latinx experience chronicled
Get the Latinx Files newsletter for stories that capture the multitudes within our communities.
You may occasionally receive promotional content from the Los Angeles Times.