More snow, ice and biting cold coming as Eastern Seaboard awaits a 'bomb cyclone'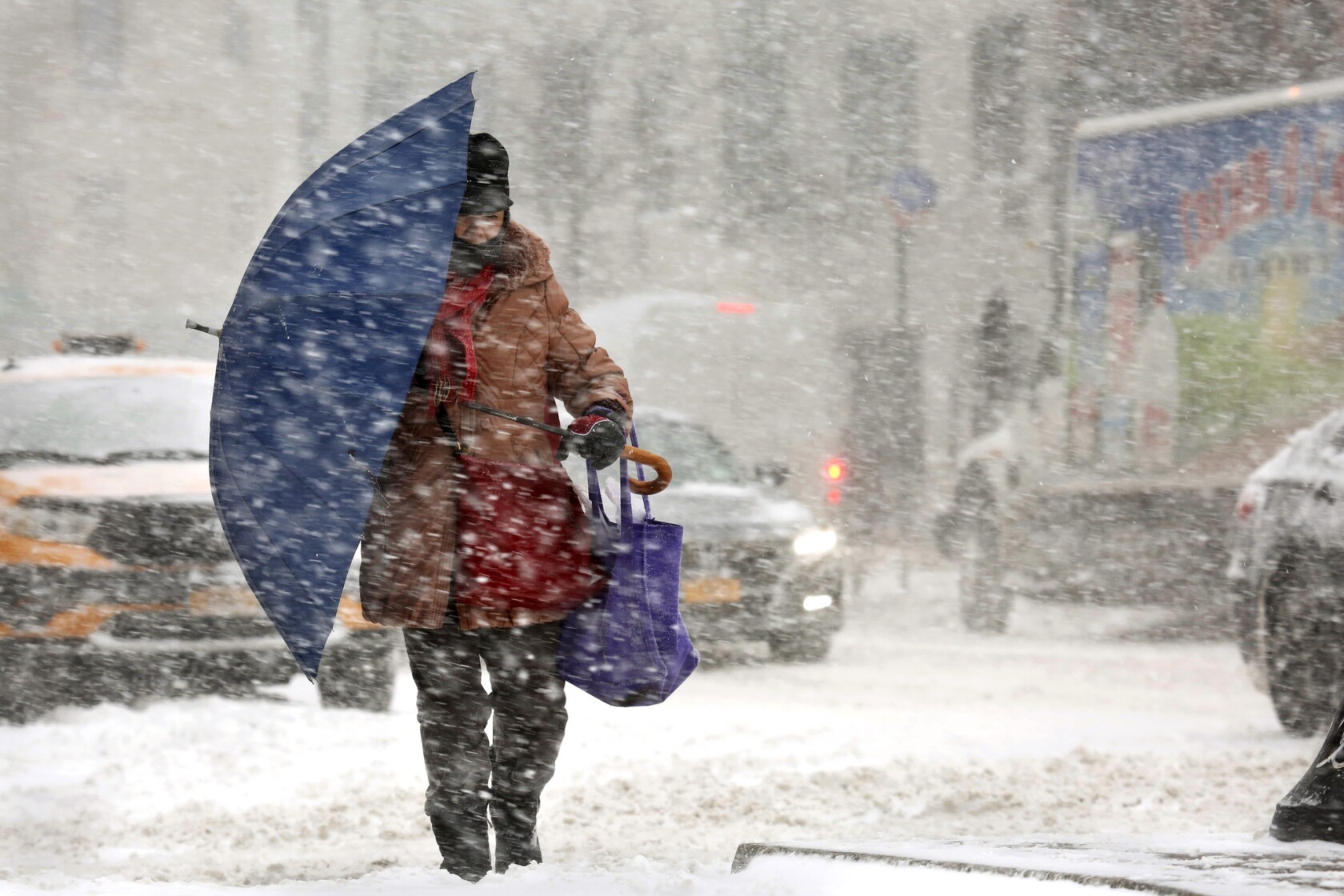 A person walks with an umbrella to block the wind and snow in Manhattan as a winter storm pounds New York on Jan. 4.
(Carolyn Cole / Los Angeles Times)
People cross 42nd Street at Grand Central Station in Manhattan as the first major snowstorm of the year hits New York on Jan. 4.
(Carolyn Cole / Los Angeles Times)
A person crosses 42nd Street at Grand Central Station with an umbrella to block the wind and snow in Manhattan on Jan. 4.
(Carolyn Cole / Los Angeles Times)
As a major winter storm pummels New York on Dec. 4, Laura Jackson makes her way across 3rd Avenue and 42nd Street on the way to a rehabilitaion appointment after having knee surgery.
(Carolyn Cole / Los Angeles Times)
With New York in the grip of a cold and snowy storm, Theo waits for his owner, Honda Wang (not shown), as he shops in a butcher store.
(Carolyn Cole / Los Angeles Times)
A winter storm covers much of New York in snow on Dec. 4.
(Alba Vigaray / EPA /Shutterstock)
Ice collects on the river in Chicago on Jan. 3.
(Scott Olson / Getty Images)
Visitors walk at Niagara Falls State Park, where mist from the falls has frozen.
(James Neiss / Niagara Gazette )
Commuters brave sub-zero temperatures as they make their way to work in Chicago on Tuesday. Record cold temperatures are gripping much of the U.S.
(Scott Olson / Getty Images)
A barge cuts through ice on the Ohio River as it passes under the West End Bridge in Pittsburgh on Monday.
(Haley Nelson / Pittsburgh Post-Gazette)
Water squirts from a mostly frozen fountain in Charlotte, N.C.
(Chuck Burton / Associated Press)
Water flows over the American Falls as ice forms in this view from Niagara Falls, Ontario.
(Aaron Lynett / Canadian Press)
Water sputters through a frozen fountain in Historic Forsyth Park in Savannah, Ga., on Wednesday.
(Stephen B. Morton / Associated Press)
Obdulio Arenas looks over the partially frozen falls at Paterson Great Falls National Historical Park in Paterson, N.J., on Tuesday.
(Julio Cortez / Associated Press)
Icicles hang from a fountain at Beau View condominiums in Biloxi, Miss.
(John Fitzhugh / Sun Herald)
People have bundled up against the cold at the Cloud Gate at Millennium Park in Chicago on Sunday.
(Nam Y. Huh / Associated Press)
Geese huddle along the Des Moines River in Ottumwa, Iowa. The bitter cold has reduced the amount of open water for the waterfowl.
(Matt Milner / Ottumna Courier)
Timothy Gigone, 51, skis along a road in Erie, Pa., on Saturday.
(Jack Hanrahan / Associated Press)
A person fishes near Lock and Dam No. 11 in Dubuque, Iowa, on New Year's Day.
(Nicki Kohl / Telegraph Herald)
People pose for photographs in front of a frozen water fountain in New York's Bryant Park.
(Frank Franklin II / Associated Press)
Ice covers a palm tree in Fort Walton Beach, Fla., after a resident left his sprinklers on.
(Nick Tomecek / Northwest Florida Daily News )
Reporting from NEW YORK —
After enduring more than a week of frigid weather, vast swaths of the country can expect more of the same as a "bomb cyclone" unleashes more snow, ice, rough surf and cold winds from Florida to New England.
The National Weather Service said the strengthening storm could make travel hazardous, lead to power outages and trigger tidal flooding through Thursday. Temperatures will be 20 to 25 degrees below normal by the end of the week from the Midwest to the Eastern Seaboard.
"It is going to be a very powerful nor'easter," weather service meteorologist Alan Dunham said in Boston. "That's what we call these type of storms because they move up the coast in a northeasterly direction, and these storms can generate very, very strong winds."
The storm is also known as a bomb cyclone, or bombogenesis. That refers to a storm that is rapidly intensifying. The cold had already been responsible for least 12 deaths across the U.S., the Associated Press reported.
The weather service estimated that 6 to 12 inches of snow could fall along the East Coast from southern Virginia to Boston. In northern New England, up to 18 inches are possible.
Boston was already feeling the big chill. The city on Tuesday tied a record with its seventh consecutive day when the high temperature failed to top 20 degrees. On Wednesday, the high for Boston was 28 degrees.
The extreme cold has produced what one would expect — airport closures, flight delays and traffic accidents.
But frozen sharks?
In recent days around Cape Cod in Massachusetts, three thresher sharks were found frozen solid. The Atlantic White Shark Conservancy said a 14-foot male was so frozen that researchers were unable to perform a necropsy.
"We hauled the shark off the beach and it is currently thawing at NOAA Fisheries Service to be dissected later," the conservancy said on Facebook. "A true sharkcicle!"
Michelle Wcisel, conservancy program director, said finding frozen sharks was "very rare." It's more common, she said, for sea turtles to die from the elements. Indeed, on the South Texas coast, crews with the National Park Service worked to save cold-stunned sea turtles.
Diverse parts of the country have seen winter anomalies during the current long-running cold snap.
In Southport, N.C., as firefighters were finishing the cleanup of a fire at a local restaurant, the water on the ground started to freeze. In northern Iowa, a water tower froze, causing the town of Evansdale to lose water service.
Evansdale Mayor Doug Faas said he has lived in the town of almost 5,000 people for 36 years and had never seen the tower freeze. Officials were able to restore service in about an hour, but had to issue a boil order.
"It was just a fluke occurrence," Faas said. "We had 20-below [zero as a low] for three nights in a row, and it never warmed up above 5 of 6 degrees during the day and no sunlight to warm the metal."
In New York City, streets and parks were quiet Tuesday. Brooklyn Botanic Garden, a 52-acre park usually teeming with tourists, was nearly empty.
Temperatures rose to the comparatively mild mid-20s on Wednesday but weren't expected to surpass freezing the rest of the week and could fall as low as 3 degrees on Saturday, with the wind chill far lower.
The city could receive half a foot of snow or more beginning Wednesday night, with snowfall expected to occur at times at the rate of 1 inch per hour. The city's Department of Homeless Services issued a "code blue" emergency notice to help homeless New Yorkers find shelter.
People posted images of icicles hanging inside subway stations. Farther north in New York state, Niagara Falls froze, a rarity this early in winter.
Across the South and Midwest, forecasters urged residents to stay indoors, keep pets out of the elements and check on neighbors who are vulnerable to the cold.
The National Weather Service in Chicago warned people spending any time outdoors to wear waterproof boots and cover their faces to avoid hypothermia and frostbite.
Across most of northern Illinois and northwestern Indiana, wind chill values of minus-20 to minus-25 degrees were expected Wednesday evening.
Across the South, millions of residents were experiencing unseasonably cold weather.
The Savannah/Hilton Head International Airport in Georgia and the Charleston International Airport in South Carolina were both closed Wednesday morning because of the storm.
One distinguishing feature of this cold snap has been how long it has lingered, especially in the South, where residents aren't used to the Arctic air.
For example, in South Florida, the high this time of year is usually in the mid- to upper 70s, and lows usually stay in the 60s. In the coming days, temperatures could dip into the low 40s, the coldest it has been in the area in three years.
"That's one of the things that makes this unique for us," said Stephen Konarik, a meteorologist with the National Weather Service in Miami. "It would be rare for us to get through a winter where we wouldn't have temperatures this cold, but maybe only for a night."
Cosgrove reported from Los Angeles and Agrawal from New York.
---
UPDATES:
2:50 p.m.: This article was updated with the latest forecasts and comments from Doug Faas and National Weather Service officials.
This article was originally published at 10:10 a.m.
---
Must-read stories from the L.A. Times
Get all the day's most vital news with our Today's Headlines newsletter, sent every weekday morning.
You may occasionally receive promotional content from the Los Angeles Times.