Baby born in U.S. to mother infected with Zika has birth defects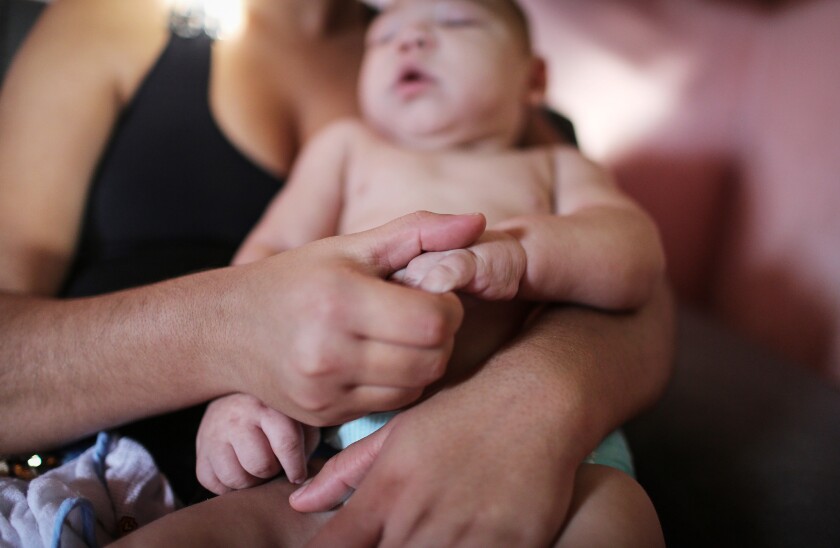 As Dr. Abdulla Al-Khan pulled the baby from the womb of her mother, he was overcome with emotion.
The infant girl was suffering from severe microcephaly, a rare condition linked to Zika virus in which babies are born with unusually small heads. She also exhibited other physical deficiencies.
Tests had revealed there were problems with the child, but that did little to prepare Al-Khan for the girl's arrival.
"The baby cried as much as tears came down my eyes," said Al-Khan, director of the division of maternal fetal medicine and surgery at the Hackensack University Medical Center in New Jersey. "It touched me. As much as I was mentally prepared for this, I was emotionally devastated in the operating room. It just crushed me."
The infant, born Tuesday to a Honduran woman who doctors said was infected by the Zika virus, is the second known case of a baby born with Zika-related birth defects in the U.S.
The first was born earlier this year in Hawaii to a mother who health officials said had probably contracted the disease while living in Brazil last year, according to local health officials.
The mother in the New Jersey case, whose identity has not been released, was visiting the United States and had contracted Zika overseas after being bitten by a mosquito, according to the hospital.
Zika is transmitted to people mainly through the bite of an infected Aedes aegypti mosquito, which also spreads diseases such as dengue and yellow fever, according to the U.S. Centers for Disease Control and Prevention. Sexual transmission of Zika from a male partner is also possible, according to the heath agency.
The virus has swept several South and Central American countries, including Honduras, one of the poorest countries in Latin America, where in February officials declared a state of emergency after Zika cases soared to more than 3,600, according to local health officials.
Al-Khan, an obstetrician-gynecologist, said the mother came to the medical center's Donna A. Sanzari Women's Hospital on Friday. Doctors performed ultrasound exams and "became concerned that there could be an issue with the baby," Al-Khan said.
The tests revealed that the baby had abnormalities including severe microcephaly, calcification of the brain, bowel problems and restricted growth, he said.
The hospital suspected that the woman, who was 35 weeks pregnant, might have contracted Zika, a diagnosis that the CDC confirmed, Al-Khan said. The health agency had been sent a sample of the woman's blood for testing while she was still in Honduras, the doctor said.
It was unclear who sent the blood sample, but "we were very glad the CDC was able to confirm," he said.
Doctors determined that to save the baby's life they would have perform a caesarean section. Al-Khan said the mother's life was never at risk.
"It's been a very, very difficult time for her," Al-Khan said.
Chasing an epidemic: On the road with Brazil's Zika detectives
Honduras is among at least a half a dozen Latin American and Caribbean countries that outlaw abortion with no exceptions, not even to save a woman's life, according to reproductive rights advocacy groups.
The CDC puts the number of Zika infection cases at 591 nationwide, with 16 of them in New Jersey. All the cases are related to travel that originated overseas, according to the agency. Eleven of the total number of Zika cases were transmitted sexually.
As of May 19, there were more than 300 pregnant women infected with Zika across the United States and its territories, including Puerto Rico, according to a national pregnancy registry that is monitoring the expectant mothers.
The CDC has warned pregnant women against traveling to areas where Zika virus transmission is ongoing.
"The take-home message is that it is time for us as a nation … to do every single thing possible to bring a halt to Zika infection," Al-Khan said. "This should be an awakening call."
MORE NATIONAL NEWS
Proposed cuts in aid to Cubans could save taxpayers billions
Fired hospital worker's case points to a trail of stolen drugs and thousands of patients at risk
May was a bloody month in Chicago — 66 dead and nearly 400 shot
---
Must-read stories from the L.A. Times
Get the day's top news with our Today's Headlines newsletter, sent every weekday morning.
You may occasionally receive promotional content from the Los Angeles Times.