Zinke is denounced for 'konnichiwa' remark during discussion of Japanese American internment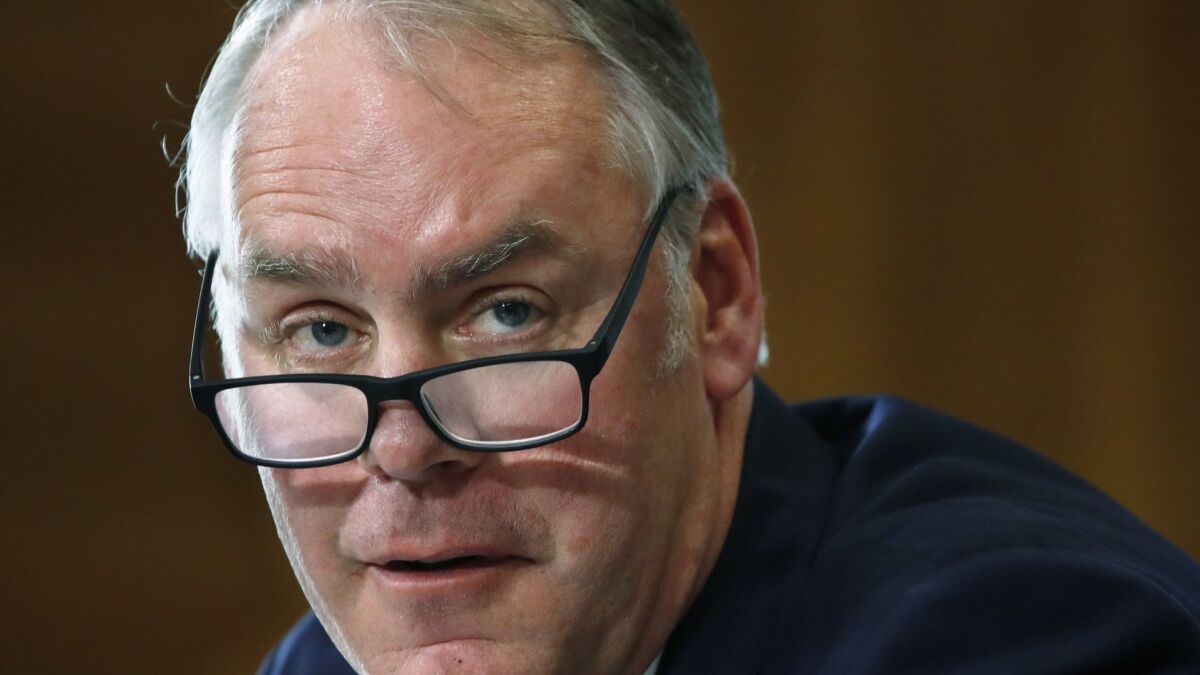 Asian American lawmakers and organizations denounced as insensitive and culturally tone-deaf a comment by Interior Secretary Ryan Zinke during a discussion about the forced internment of Japanese Americans during World War II.
When asked about the importance of preserving internment camp sites, Zinke responded by saying, "konnichiwa," Japanese for "good afternoon."
The comment came Thursday in Washington during a hearing by the House Committee on Natural Resources as it considered the future of the Japanese American Confinement Sites Grant Program, which funds efforts to preserve sites where Japanese Americans were detained during the war.
Rep. Colleen Hanabusa (D-Hawaii), calling herself "the granddaughter of two internees," said both of her grandfathers were among the more than 110,000 Japanese Americans who were interned.
Hanabusa said President Trump's budget proposal included eliminating funding for the grant program. "I believe that it is essential that we as a nation recognize our darkest moments so we don't have them repeat again," she said.
After Hanabusa asked whether Zinke would continue funding the program, he replied, "Oh, konnichiwa," with a smile and small nod.
One woman in the audience looked stunned, her jaw dropping when she heard Zinke's remark.
"I think it's still 'ohayo gozaimasu,' but that's OK," Hanabusa responded, correcting Zinke with the Japanese term for "good morning."
After a few seconds of awkward silence, Zinke answered that his priorities were to fix facilities under his department's jurisdiction, bridges and pipeline structures first. He then said of the grant program, "I will look into it.… I agree with you, it is important."
Criticism and calls for an apology quickly followed Zinke's remark.
"Rather than greet her like he would any other Member of Congress, he responded to her as if she did not speak any English," Rep. Judy Chu (D-Monterey Park) wrote in a statement.
"Secretary Zinke's addressing Representative Colleen Hanabusa with 'konnichiwa' in a formal congressional hearing reflects his inability to distinguish an American of Japanese ancestry from a citizen of Japan," Mitchell Maki, president of the Go For Broke National Education Center in Los Angeles, said in a statement. He added that "while Secretary Zinke may have had no ill intentions with this remark, his lack of awareness is alarming."
"This blatantly insensitive remark by @secretaryzinke is uncalled for and is not behavior that a cabinet secretary should exhibit," Rep. Grace Meng (D-New York) wrote on Twitter.
A tweet from Sen. Tammy Duckworth (D-Ill.) was more concise: "Nope. Racism is not ok."
As of late Friday, Zinke had not issued a comment on the remark.
michael.livingston@latimes.com
---
Must-read stories from the L.A. Times
Get the day's top news with our Today's Headlines newsletter, sent every weekday morning.
You may occasionally receive promotional content from the Los Angeles Times.