11 ways still photography takes the grace out of figure skating
We love Canadian Meagan Duhamel's midair hairdo during the pairs free skate. The look on Eric Radford's is pretty good too.
(Yuri Kadobnov/AFP/Getty Images)
This shot of Yan Han during his free skate almost makes you feel like he's striking a pose while singing in the shower.
(Damien Meyer/AFP/Getty Images)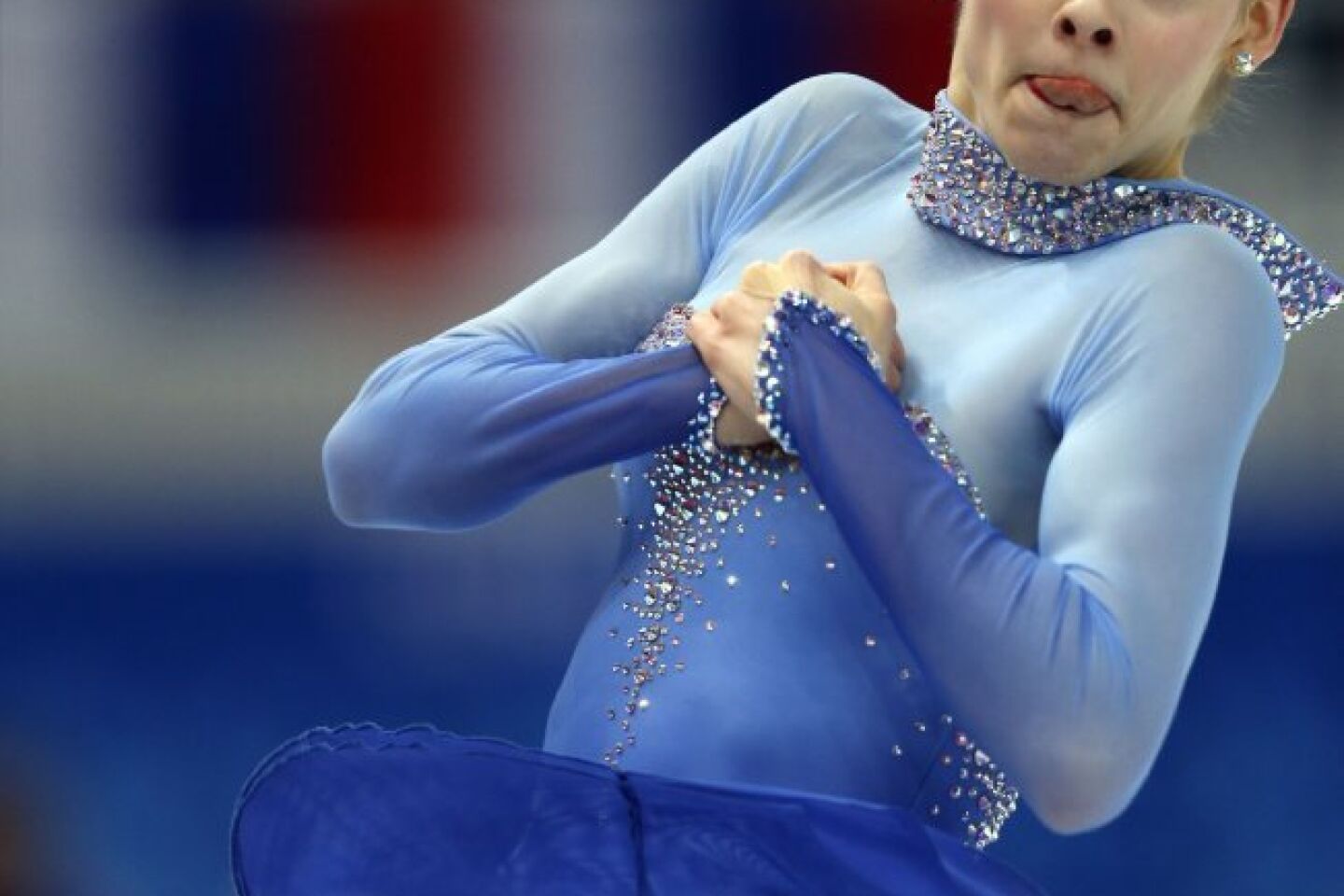 We've all done this little tongue thing while much easier stuff than jumps during a free skate in the Olympics. But Gracie Gold of the United States probably looks cuter than us.
(Adrian Dennis/AFP/Getty Images)
OK, this one isn't particularly awkward. We just think this move done by Nathalie Pechalat and Fabian Bourzat of France during their free dance is awesome.
(Tatyana Zenkovich/EPA)
Figure skating is a beautiful sport. It's fluid and graceful -- and it's fast. So fast, in fact, that it can look totally different when you slow it down. Or bring it to a halt.
Still photography can bring out skating's most awkward moments, as you can see in the slideshow above. Some things that look great flowing across the ice don't look so great when a skater is caught in that one split second – something we couldn't help but notice when browsing through pictures of figure skating at the Olympics this year.
Yes, the photos are LOL-worthy, but they also elicit respect. It's kind of incredible what these athletes do (I figure skated as I kid and wasn't nearly as good, so I can vouch for this). The stills might not make figure skating look graceful, but they don't make it look easy either.
ALSO:
Why don't figure skaters get dizzy?
Things I learned as a competitive figure skater
The good, the bad and the ridiculous of figure skating fashion
Twitter: @lauraelizdavis
Must-read stories from the L.A. Times
Get the day's top news with our Today's Headlines newsletter, sent every weekday morning.
You may occasionally receive promotional content from the Los Angeles Times.