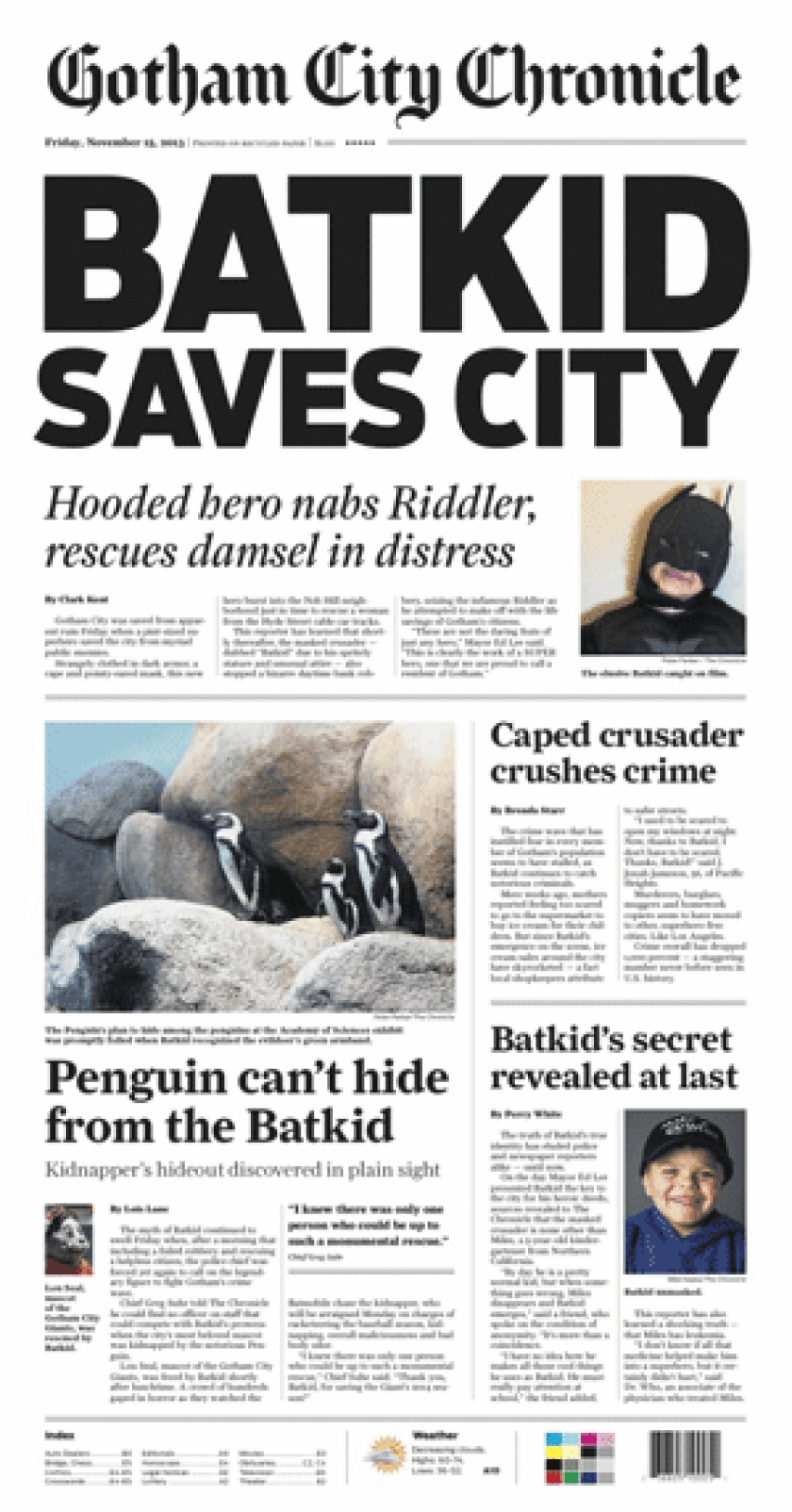 As many as 12,000 people in San Francisco are helping to make superhero dreams come true Friday for Batkid, age 5.
Miles has been fighting leukemia since he was 18 months old. "He likes to be a superhero," his mom told the local NBC affiliate -- and he is one, having fought cancer, which is now in remission. According to the Associated Press, Miles lives in Tulelake in Northern California. He ended his cancer treatments in June.
The thousands of volunteers in San Francisco and the Make-A-Wish Greater Bay Area Foundation are helping his family celebrate by creating a Gotham City experience for the kindergartner.
Miles was being taken around the city in a special Batmobile. A damsel in distress was tied up, awaiting his rescue. (See the tweet at bottom.)
Later, Miles was set to vanquish the Riddler and the Penguin, have lunch and then swing by City Hall to be given the key to the city. NBC reported on the adventures of the masked kindergartner, saying Miles exited the Batmobile "of course - safety first - after unstrapping himself from his carseat."
The San Francisco Chronicle printed a special edition of the Gotham City Chronicle, at left, 1,000 of which were to be handed out in Union Square.
Audrey Cooper, managing editor of the Chronicle, told the Los Angeles Times that the demand for copies of the Gotham City edition had been so great, the paper would be reprinting the faux page inside the A section of Saturday's paper.
[Updated, 11:40 a.m. Nov. 15: "This is what I love about San Francisco," Cooper said by email. "We're a quirky city that loves freethinkers. We totally understand a 5-year-old cancer survivor who wants to dress up like Batman.
"We're assembling the company in about 30 minutes to take the 1,000 copies to Union Square. I hope we don't get mobbed. "]
Even President Obama was in on Batkid mania. He tweeted:
#FollowFriday RT @SFWish: Here he comes!!!! #SFBatkid pic.twitter.com/pMn3gRHcLo— Barack Obama (@BarackObama) November 15, 2013
@sfwish pic.twitter.com/TG5MuQDhfN
— Mike Pelton (@KRON4MPelton) November 15, 2013
Justice is served! Thank you once again, #SFBatkid. Gotham City loves you! pic.twitter.com/Wp1WS2DRXv— Make-A-Wish Bay Area (@SFWish) November 15, 2013
Follow me @AmyTheHub
---