Pope Francis was once a bouncer
At St. Peter's Basilica, Pope Francis and teens squeeze in for a selfie in August 2013.
(L'Osservatore Romano / Associated Press)
Pope Francis climbs into the back seat of a Ford Focus following his first official visit to Italian President Giorgio Napolitano. The pontiff has become known for his frugality.
(Alessandro Di Meo / EPA)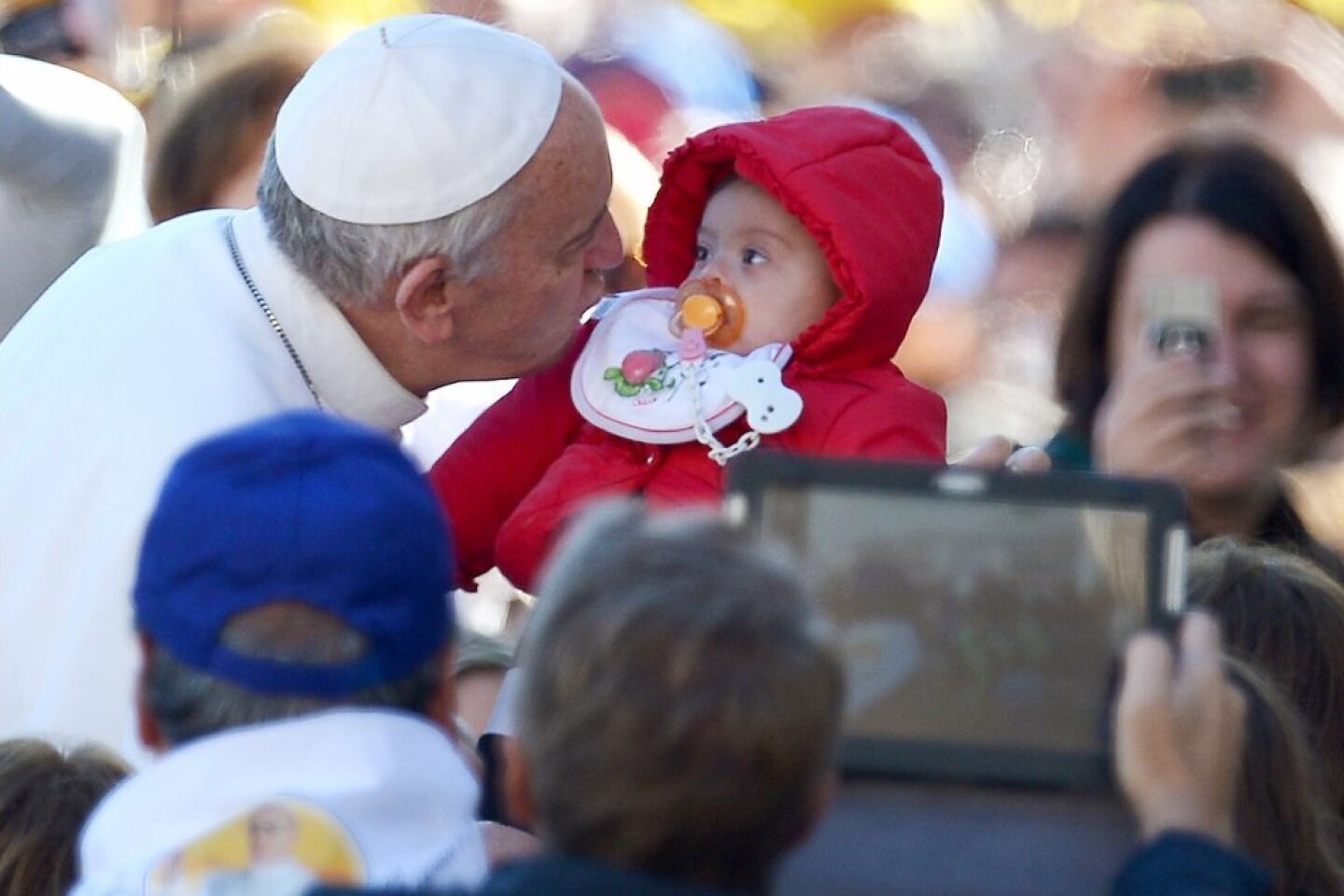 Pope Francis goes in for the kiss, but the baby's not so sure.
(Vincenzo Pinto / AFP / Getty Images)
During an audience with healthcare workers, Pope Francis gets a kiss on the cheek from a woman in a wheelchair.
(Andrew Medichini / Associated Press)
Before the March 2013 conclave, Pope Francis pays the bill for staying at the Domus Internationalis Paulus VI residence.
(AFP/Getty Images)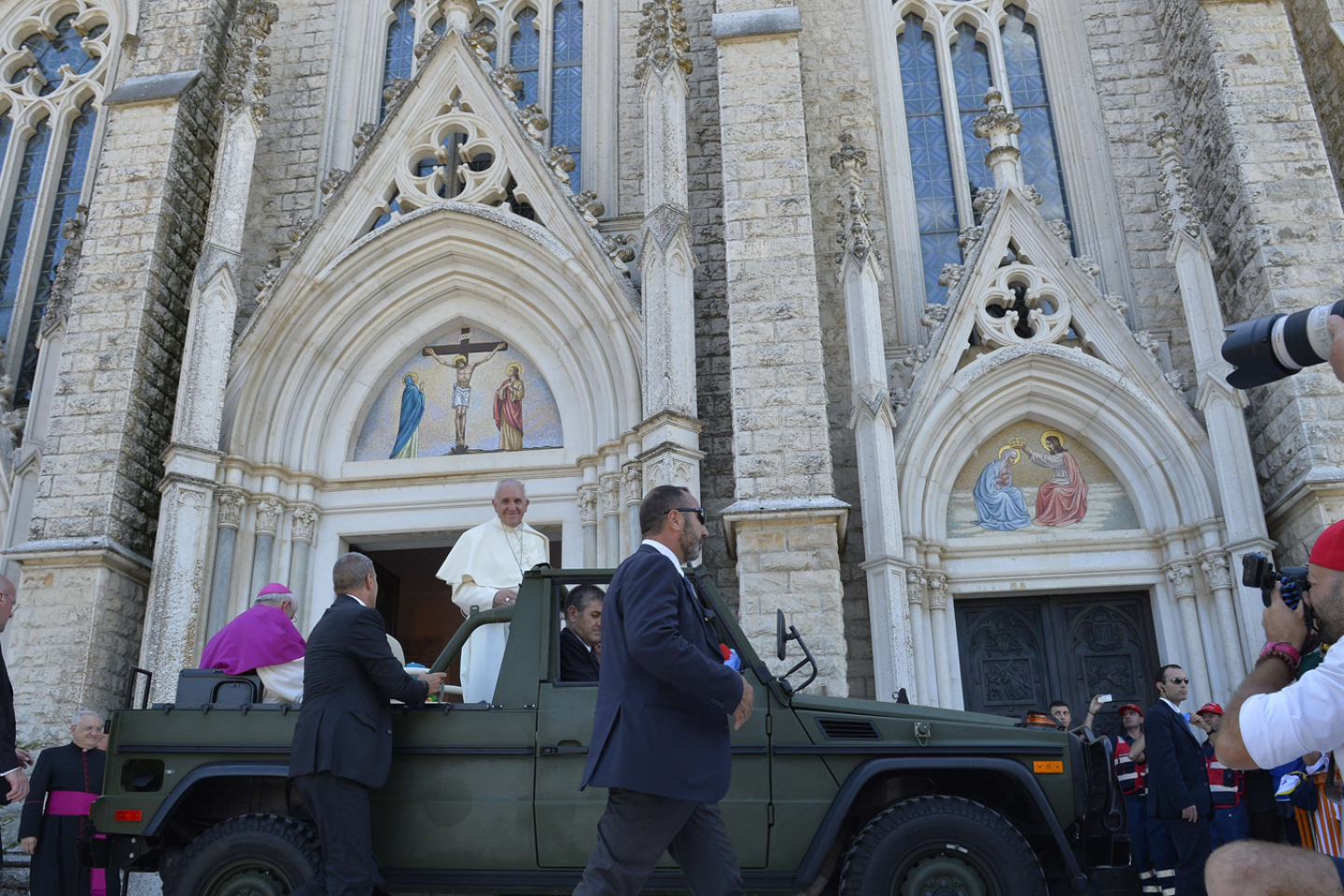 No bulletproof vehicle for Francis. He arrives in a khaki popemobile for a meeting with youth of the diocese on July 5 in Castelpetroso, Italy. AFP PHOTO / ANDREAS SOLARO
(Andreas Solaro / AFP)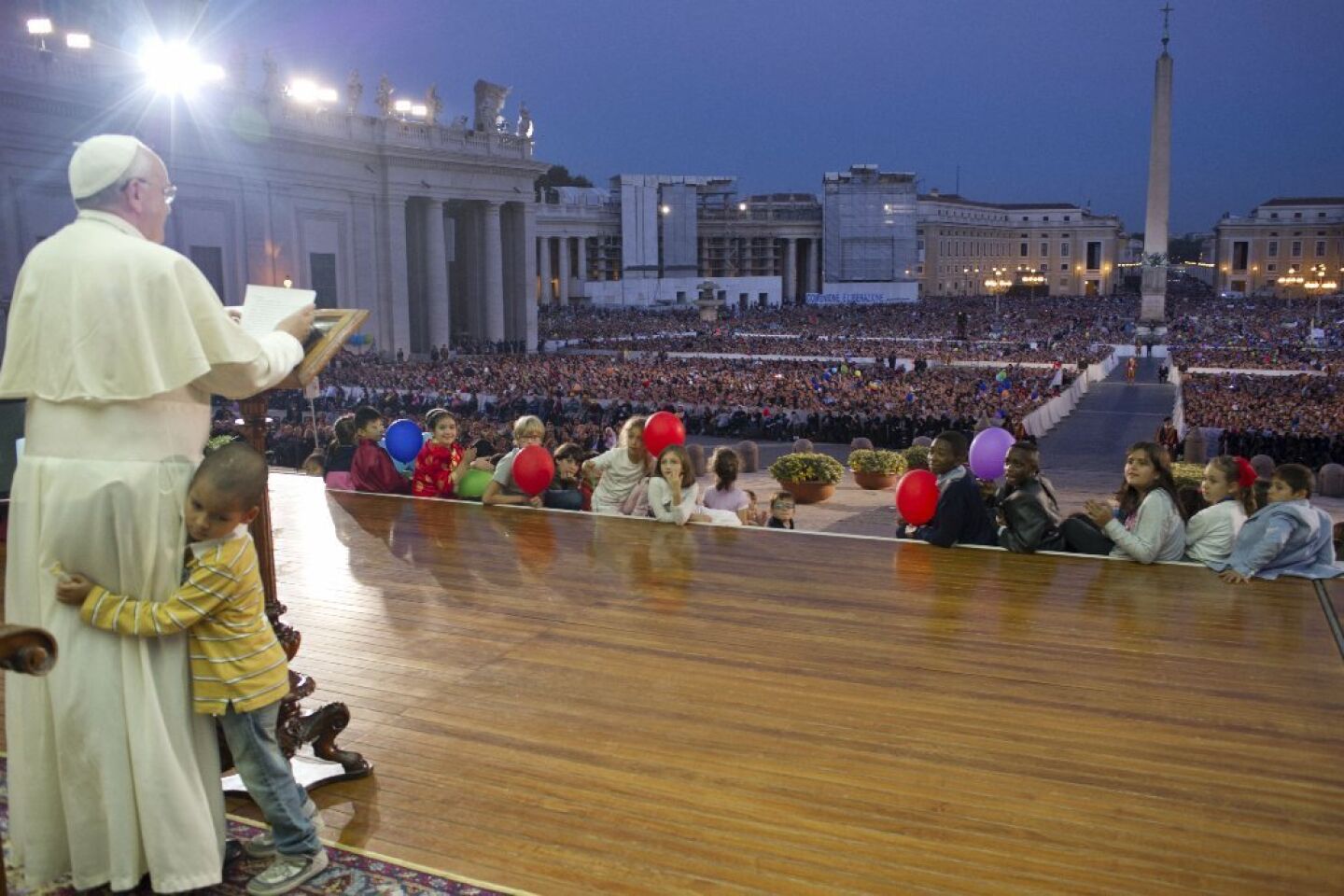 A boy joined Pope Francis on stage during an audience with families in St. Peter's Square. The boy refused to be lured away by those near the pope, who occasionally patted him on the head as he delivered his speech.
(L'Osservatore Romano / Associated Press)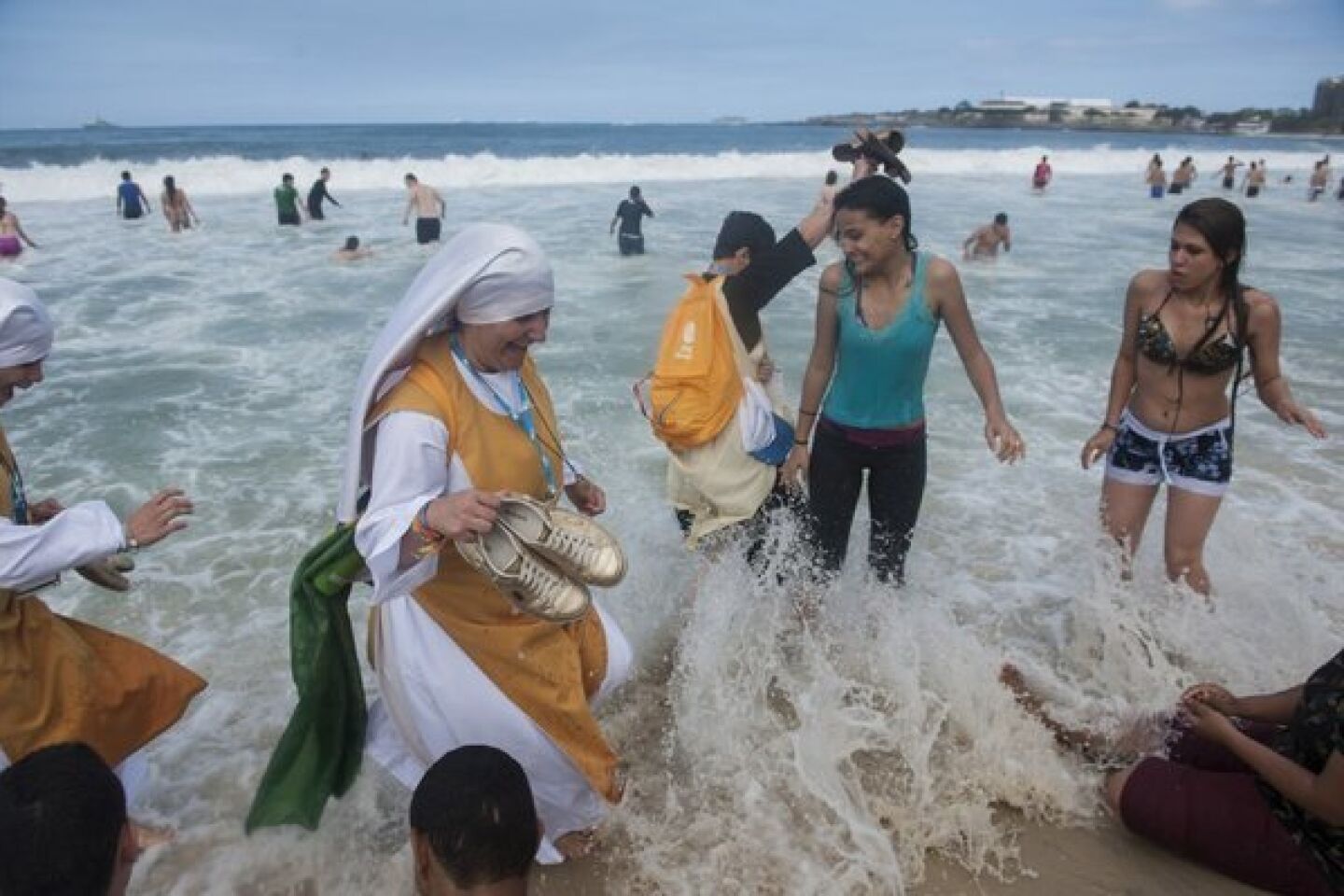 Nuns frolic at a beach in Rio de Janeiro during Pope Francis' trip to his home continent. He conducted the World Youth Day's closing Mass on the Copacabana beachfront.
(Nicolas Tanner / Associated Press)
During a four-hour visit to a church near Rome on Sunday, Pope Francis shared with parishioners some of the finer points of his résumé, including a stint working as a bouncer.
The Vatican newspaper, L'Osservatore Romano, reported that the pope told a group of parishioners at the church of San Cirillo Alessandrino about his earlier jobs, which also included sweeping floors and running laboratory tests, according to a report from the Catholic News Service.
Many were quick to note that nightclub bouncers are not exactly known for the inclusiveness that has marked Pope Francis' reputation during his first year. New York magazine even imagined a dialogue between the pope and a club owner grappling over this issue:
"Club owner: Look, uh, Jorge, is it? I know it's your first day, but you need to be a little more discerning about who you let in. ... I'm seeing a lot of poorly dressed losers in here. Also a number of lepers."
Although the pope admitted to his bouncer background, he said it was his later work as a literature and psychology teacher that gave him the key to drawing people back into the church, according to the Catholic News Service.
Pope Francis' job as a bouncer was reported back in March by Gazzetta del Sud, an Italian paper, and the Telegraph, which wrote that he worked in a bar in Buenos Aires while he was a student.
ALSO:
Mystery of Jupiter's Great Red Spot may have been solved
Tom Daley and Maria Bello are latest to — yawn — come out
Bao Bao is her name: National Zoo panda cub adorable at 100 days
Twitter: @danielrothberg
Must-read stories from the L.A. Times
Get the day's top news with our Today's Headlines newsletter, sent every weekday morning.
You may occasionally receive promotional content from the Los Angeles Times.