'Human error' led to gas explosion at Mass. strip club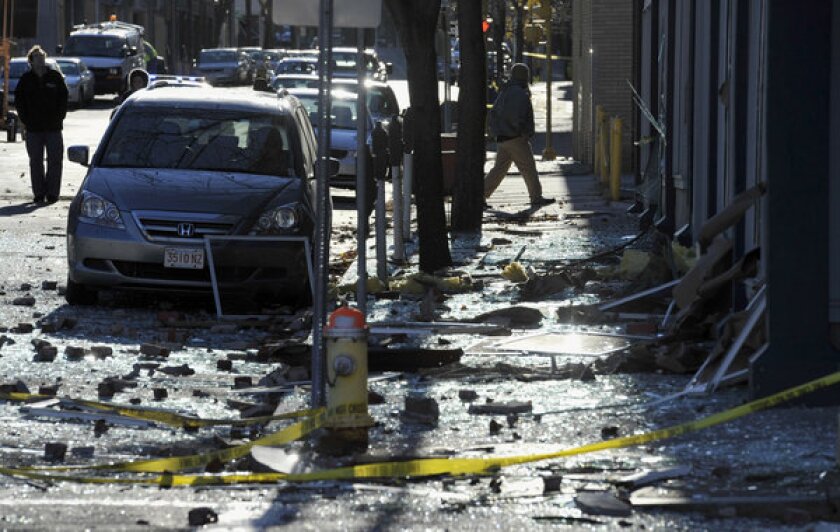 A Springfield, Mass., strip club exploded Friday evening after a gas employee's metal probe punctured a natural gas line and caused the club to fill with gas, investigators said Sunday.
Officials may never know exactly what sparked the explosion, which flattened the club, damaged dozens of nearby buildings and injured 19 people, including 12 firefighters who had rushed to evacuate the building and area.
According to the findings of an investigation by Massachusetts State Fire Marshal Stephen D. Coan, an employee with the Columbia Gas Co. was responding to a report of a gas odor at the Scores Gentleman's Club in downtown Springfield and was looking for the source.
"The gas company employee smelled gas at the threshold of the building, but metered no gas inside," Coan's office said in a release. "He began to search outside the building using a metal probe to make holes in order to measure gas. His examination appears to have been an appropriate distance from where older markings on the sidewalk indicated where the gas line was. However, the markings were incorrect and his metal probe inadvertently punctured the high-pressure gas line right at the foundation of the building."
The employee called the fire department and told his company to shut off the gas, which was filling the building. Springfield Fire Commissioner Joseph Conant said firefighters' evacuation of the scene saved many lives. On Friday night, one stripper described how the club manager ordered her to get out quickly — regardless of how she was dressed.
"They have determined that human error as opposed to a fault of the gas infrastructure provided the fuel for the explosion," fire marshal Coan's office said of investigators in the release. "Exactly whose human error will be the subject of the [Massachusetts] Department of Public Utilities' ongoing investigation."
A spokeswoman for the Columbia Gas Company did not respond to a request for comment. Springfield Mayor Domenic J. Sarno said in a statement that the company had pledged "full cooperation with all city and state investigatory officials."
matt.pearce@latimes.com
ALSO:
NASA has unprecedented view of Mars dust storm
Woman photographed riding Florida manatee is arrested
---
Must-read stories from the L.A. Times
Get the day's top news with our Today's Headlines newsletter, sent every weekday morning.
You may occasionally receive promotional content from the Los Angeles Times.