Suspect in prison chief's slaying was accidentally released early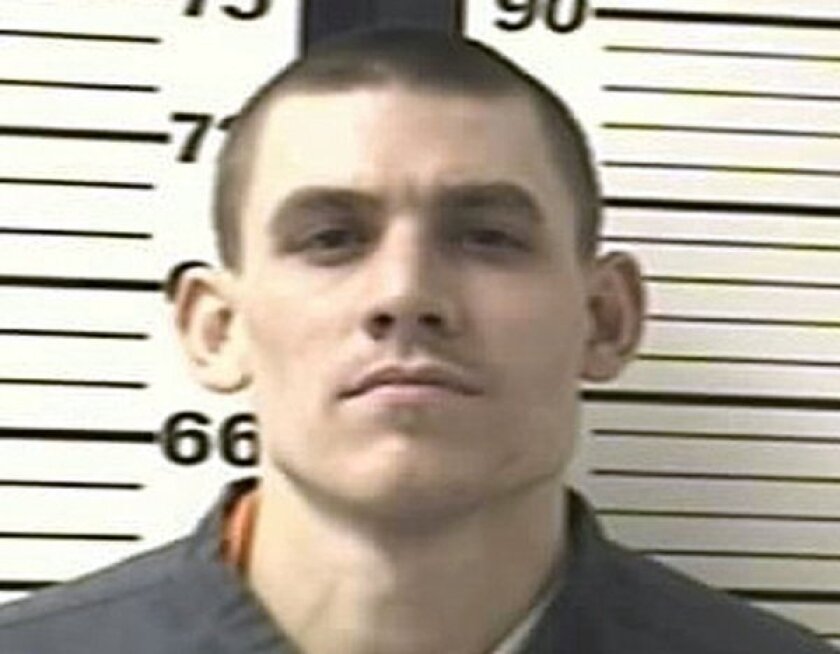 Evan Spencer Ebel was supposed to be in prison. But the man suspected of killing Colorado's prisons chief last month was accidentally freed four years early due to a court mistake.
Ebel's nickname was "Evil," and prison officials had ruled him a "very high risk" for commiting more crimes if freed.
But he was paroled Jan. 28, and within two months, Ebel was a suspect in the killings of Denver pizza deliveryman Nathan Leon and Colorado prisons director Tom Clements.
Two days after Clements' killing, on March 21, Ebel, 28, got into a shootout with Texas deputies and died of his injuries.
Leon's wife, Katie Barnhart-Leon, learned of Ebel's mistaken release on Friday. "I am OUTRAGED!!!!!!" she posted on Facebook. "This makes me sick I am so upset right now... Just when I thought things couldn't get any worse I find this out."
Ebel had been in prison on robbery and assault charges since 2005 and quickly became a problem for Colorado prison officials. But the Associated Press, which reviewed court records, found Ebel had subtracted 115 days from his sentence for good behavior despite extensive disciplinary problems, including multiple assaults and wiping feces on another inmate's cell door.
More significantly, Ebel had four more years shaved off his prison sentence after a judge misspoke and a judicial assistant didn't make a notation in a file, according to a statement from the 11th Judicial District Court in Colorado provided to the Los Angeles Times on Monday.
In 2005, Ebel told a corrections officer that "he would kill her if he ever saw her on the streets," according to prison records.
In 2006, he attacked a prison staffer, threatening to kill the staffer and the staffer's family, and he continued to harass prison staff over the years, the records said.
Ebel pleaded guilty to second-degree assault in 2008. In a written deal with prosecutors, he agreed to a four-year sentence plus three years of parole. Those four years in prison were supposed to be tacked onto the end of the eight-year prison term that he was already serving.
But at a sentencing hearing on June 11, 2008, the judge in charge of Ebel's case did not mention that the four-year sentence was supposed to be served consecutively, according to a statement from Colorado's 11th Judicial District Court provided to the Los Angeles Times on Monday.
As a result, a clerk did not make the notation for Ebel to serve consecutive sentences in the court's directions for the Colorado Department of Corrections, according to the court's statement.
The absence of that notation led prison officials to interpret the four-year sentence as concurrent -- to be served at the same time as his other sentence. So Ebel was released about four years early.
Colorado prisons spokeswoman Alison Morgan told the Denver Post that prison officials are barred by law from contacting the courts about sentences.
"The district has undertaken a review of its practices in an effort to avoid a re-occurrence of this circumstance," the court said in its statement, which was signed by Chief Judge Charles M. Burton and district administrator Walter Blair. "The court regrets this oversight and extends condolences to the families of Mr. Nathan Leon and Mr. Tom Clements."
During the Texas shootout, Ebel wounded a deputy. Officials matched his gun to the bullets fired at Clements' Colorado Springs home.
Officials also found bomb-making materials in Ebel's trunk in addition to a Domino's pizza uniform, according to court documents. They are still investigating whether he may have acted alone.
El Paso County, Colo., sheriff's investigators looking into Clements' slaying have contacted officials in Kaufman County, Texas, to monitor possible connections between Clements' case and the slayings of two Kaufman County prosecutors.
ALSO:
Texas wonders who is killing prosecutors
Supreme Court rejects call to change voting district head counts
More on why Colorado movie theater suspect was told that 'justice is death'
---
Must-read stories from the L.A. Times
Get all the day's most vital news with our Today's Headlines newsletter, sent every weekday morning.
You may occasionally receive promotional content from the Los Angeles Times.