Newtown families help Obama press for gun reform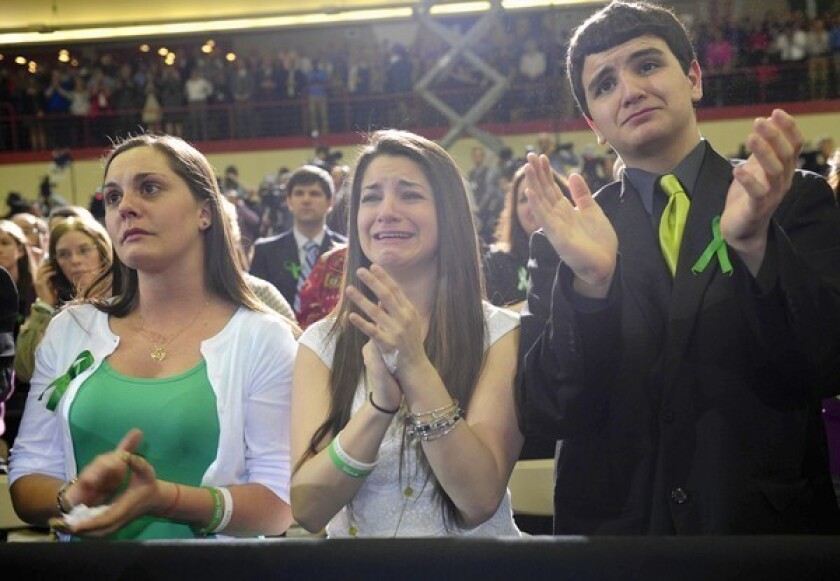 HARTFORD, Conn. — President Obama sought Monday to use the emotional pull of the Newtown school massacre to galvanize public support for his drive to pass stricter gun control measures, even as more than a dozen Republican senators promised to filibuster to block such votes.
Obama met with family members of those killed at Sandy Hook Elementary School and told a crowd at the University of Hartford basketball arena that the December day of the shooting was the toughest of his presidency.
"But I've got to tell you, if we don't respond to this, that'll be a tough day for me too," he said. "We've got to expect more from ourselves, and we've got to expect more from Congress."
SPEECH: Obama on the Newtown shooting
The fate of Obama's first major initiative since reelection comes down to the unavoidable politics of a divided Senate. The president and the Newtown families, some of whom will lobby on Capitol Hill this week, are seeking to influence a narrow audience: a handful of uncertain Democrats and potentially persuadable Republicans.
The centerpiece of the gun bill — an expansion of background checks for buyers — faces an uncertain Senate fate. Democrats had staked their hopes on a compromise between West Virginia Democrat Joe Manchin III and Oklahoma Republican Tom Coburn, a prospect that now appears all but dead.
But sources close to the negotiations were increasingly hopeful Monday about talks between Manchin and a new partner, Pennsylvania Republican Patrick J. Toomey. One administration official noted that Toomey, a former president of the anti-tax Club for Growth, is up for reelection in 2016 and needs to win moderate voters in the Philadelphia suburbs, where support for tough gun measures is high.
As part of the background checks, advocates led by Sen. Charles E. Schumer (D-N.Y.) want to keep a permanent record of gun sales, which would allow law enforcement to trace weapons used in crimes. But opponents say those records could lead to what Utah Republican Mike Lee, who initiated the promise to filibuster, called "government surveillance of constitutionally protected activity."
On Monday, Senate Majority Leader Harry Reid (D-Nev.) bristled at the GOP filibuster threat and called for a full debate on the floor of the chamber, saying Senate Republicans "seem afraid to even engage."
"Shame on them," he said.
The White House is rolling out events this week to turn up the pressure on reluctant lawmakers. On Tuesday, Vice President Joe Biden will meet with law enforcement officials at the White House. And on Wednesday, First Lady Michelle Obama, in a rare foray into a contentious issue, will participate in a summit on youth violence in her hometown of Chicago.
Some family members of the Newtown victims joined the president Monday night on Air Force One to fly to Washington for meetings with senators; a similar effort was made in Connecticut ahead of a push for stricter laws, which were enacted last week.
Obama has repeatedly said that gun violence victims deserve a vote on the measure and should not be denied one by what he called a "political stunt."
"If you believe that the families of Newtown and Aurora and Tucson and Virginia Tech and the thousands of Americans who have been gunned down in the last four months deserve a vote, we all have to stand up," he said in Hartford.
The president is in regular contact with survivors of gun violence, said one senior official who declined to speak publicly because of the sensitivity of the topic. "He wants a meaningful bill he can sign," the official said, "and he's willing to make some compromises to get it."
Without an agreement on new background check language, it is unclear how soon the Senate will begin debate on a bill. Leadership aides have said they expect formal consideration could begin this week, assuming that enough Republicans would join Democrats to oppose any delaying tactics. Sixty votes are needed to thwart a filibuster.
Sen. John McCain (R-Ariz.), a previous supporter of expanded background checks, spoke out against a filibuster Sunday. "I don't understand it. What are we afraid of?" McCain said on CBS' "Face the Nation." "Why not take up an amendment and debate? The American people will profit from it."
In Hartford, many members of the audience wore the Sandy Hook school colors, green and white, in memory of the victims.
Two of those in the crowd were Nancy Lefkowitz and Meg Staunton, mothers from nearby Fairfield who started a grass-roots group called March for Change after the Newtown shooting.
They turned out 5,500 demonstrators at the Connecticut Statehouse before the gun control votes there. The group's members are urged to make calls and send emails at 9:30 a.m. on Fridays, the time of the Newtown shooting.
"The Newtown ZIP code does have a big impact," Lefkowitz said, "but we don't have ownership of this. These were babies who were killed in Newtown. People everywhere are moved by that."
To get Congress to take action, Staunton said, grass-roots activists have to keep pressure on their state legislatures. "That's how we get federal change," Staunton said.
---
Must-read stories from the L.A. Times
Get all the day's most vital news with our Today's Headlines newsletter, sent every weekday morning.
You may occasionally receive promotional content from the Los Angeles Times.