Texas explosion: Two families, two frantic searches for relatives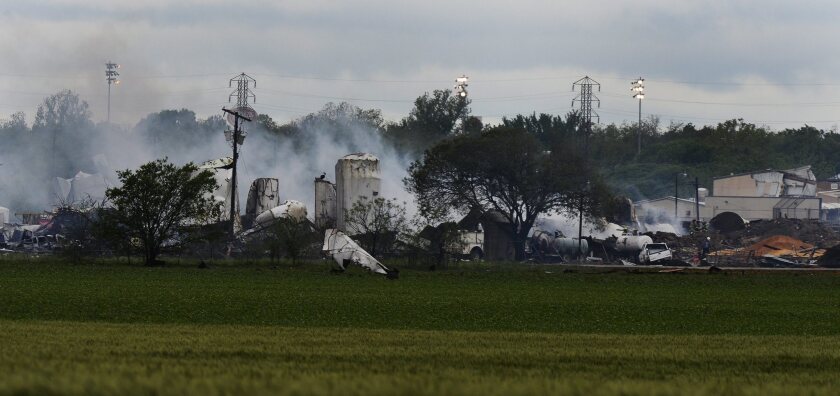 Moments after a flaming fertilizer plant exploded in the town of West, Texas, two women immediately leaped behind the wheels of their cars.
Alicia McCowan, 24, had just completed a shift at the local Sonic drive-in Wednesday night when the blast struck. Her boys, 2 and 4, were with a baby sitter in McCowan's apartment near the fertilizer plant, where an enormous mushroom cloud had materialized. She raced for her car.
At Gladys Quilter's home on the other side of the small town, "Criminal Minds" was just coming on the television when the explosion shook her house. Outside, a plume of smoke was rising to the north, where her 91-year-old sister, Lucille, was staying in a nursing home.
Quilter, 84, went for her keys. Both she and McCowan were headed for North Reagan Street.
The explosion had plunged half the town into a darkness lit only by the flashing lights of emergency vehicles. But drivers drove fast anyway. In the dark and confusion, McCowan was rear-ended in front of the middle school near her apartment building.
"I just got out and started running," McCowan said.
Her two-story apartment building was "falling apart," McCowan told the Los Angeles Times. A chaotic throng of people was milling around outside, and she searched frantically for her children, screaming their names.
Then she spotted 4-year-old Brayden dragging her 2-year-old, Kaegan, down the stairs. Both were in their underwear.
"I just started yelling for them," McCowan said.
McCowan located the baby sitter's child, who had also been in the apartment, and turned the three children over to her parents, who had also rushed to the scene. She began a search for the baby sitter. In a telephone interview, she recounted her conversation with Brayden.
"What clothes was she wearing?" McCowan asked him.
"Mommy, she was in your bed looking at the window and then the top of the house fell on her," Brayden said.
Across the street, Quilter was pulling up to West Rest Haven, a nursing home. All of the glass windows in the one-story building shattered inward, launching shards into the rooms where elderly residents were asleep. Quilter told The Times that she found her sister Lucille bruised, bloodied and covered in glass but otherwise unharmed.
Quilter's niece arrived and helped pull Lucille out through a window. Quilter cleared debris off of Lucille's 102-year-old roommate and helped two of the home's employees get her through the window as well.
"Lucille was pretty calm," Quilter said.
On Thursday morning, Quilter joined her niece at the niece's bakery where they gave first responders food and coffee. During the drive, she saw houses in flames and shattered brick walls. Glass was everywhere.
McCowan bought her children some clothes and then left them at their grandparents' house in Hubbard. She checked on the baby sitter, who was in critical condition at the intensive care unit at a nearby hospital.
Then she drove back to West. She is an assistant manager at the Sonic, where employees were serving rescue personnel.
ALSO:
Emergency dispatcher call for help
Videos point to suspects in Boston Marathon bombings
Texas fertilizer plant explosion: A living 'nightmare,' governor says
---
Must-read stories from the L.A. Times
Get all the day's most vital news with our Today's Headlines newsletter, sent every weekday morning.
You may occasionally receive promotional content from the Los Angeles Times.