Blast site in heart of Boston getting back to normal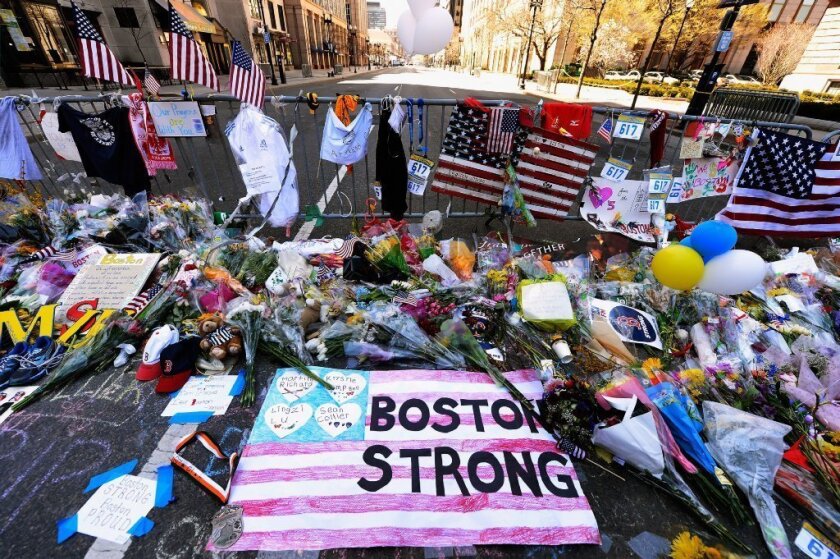 BOSTON -- Officials here are eager to get their city back to normal, though criminal investigators may still be examining the site of the Boston Marathon blasts for another couple of days, Boston Police Commissioner Edward Davis said Sunday.
Officials on Sunday afternoon began moving the mementos, flowers and flags that have amassed around Boylston Street as Boston awaits the Federal Bureau of Investigation's release of several city blocks that became a crime scene after Monday's blasts.
Davis said FBI investigators and U.S. Bureau of Alcohol, Tobacco, Firearms and Explosives bomb technicians were working with "an enormous amount of evidence" at the scene, where some onlookers from the race still have not yet been able to collect their lost belongings. The grandstands at the finish line, which were evacuated immediately after the blasts, still remained.
Boston Mayor Thomas M. Menino called Boylston Street "now the most famous street in the world" and said he wanted to "make sure we do this as respectfully as we can for the victims" when introducing a plan that would reopen the street to the public.
Kathy Niermeyer, who lives north of Boston, just happened to be visiting the memorial when some onlookers began to move the memorial piece by piece to its new location.
They formed a line, passing individual items to one another, to an adjacent corner where onlookers were already bringing fresh flowers. One man used his backpack to move T-shirts and other less delicate mementos.
The only remnants of the finish line memorial, where an interfaith prayer was held earlier in the day, were chalk drawings and crushed flower petals on the asphalt.
"I just wanted to see Boston back," Niermeyer said.
City officials said they were still deciding about a permanent memorial, but the city said it needed to conduct environmental tests and building inspections to make sure the area is safe for business owners, and the public, to return.
Investigators did not find more explosives at the scene, despite widespread concern immediately after the back-to-back blasts that the bombers had planted more bombs.
Davis said authorities had already recovered parts of crude bomb-making materials as well as a circuit board that appeared to be linked to the weapons.
City officials they would erect message boards for well-wishers to leave messages instead of mementos, which can be damaged in the rain and become a litter problem.
The new memorial location was already mounded with flowers, shirts, flags -- not all of them American -- and shoes. One sign on the ground in front of the public shrine, covered in small handprints, bore the words "STOP THE VIOLENCE."
ALSO:
Video said to show suspect setting backpack down
Boston plays, prays and remembers on Sunday of renewal
Red Sox game: Neil Diamond live -- 'So good, so good, so good'
Mason reported from Boston, Pearce from Los Angeles.

---
Must-read stories from the L.A. Times
Get all the day's most vital news with our Today's Headlines newsletter, sent every weekday morning.
You may occasionally receive promotional content from the Los Angeles Times.