Effects of government shutdown seen across U.S.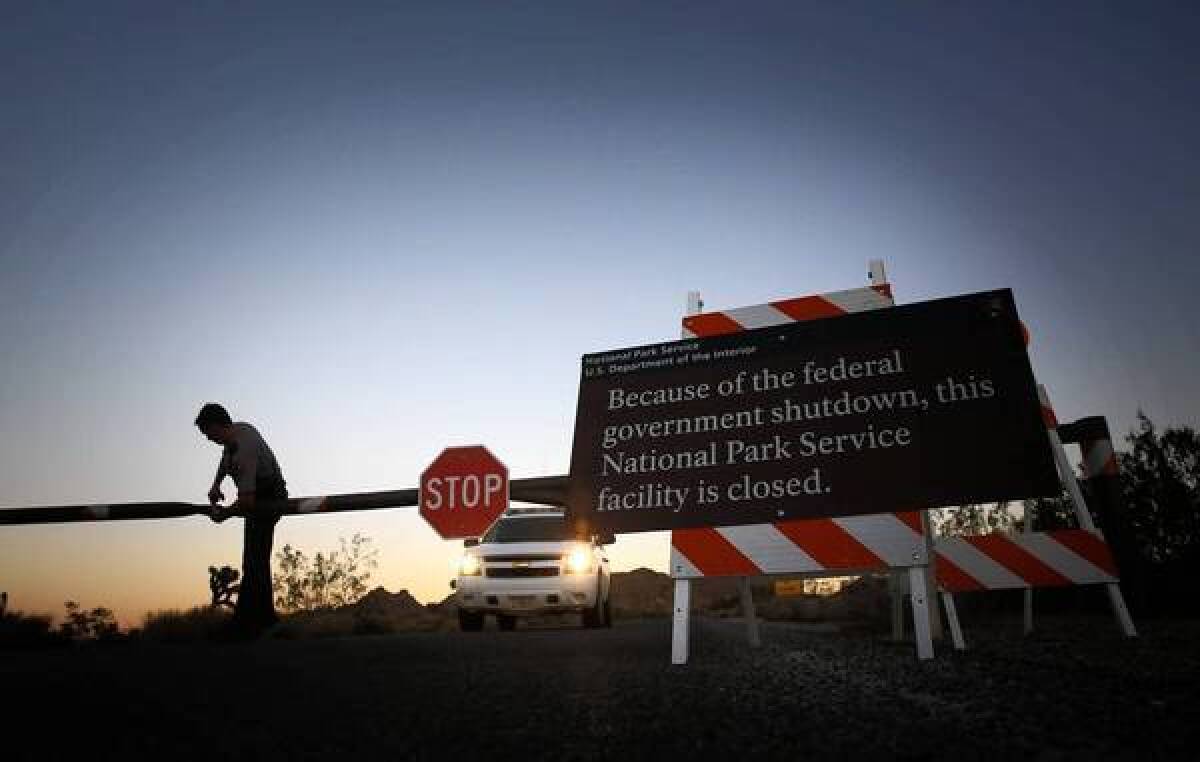 JOSHUA TREE, Calif. — In the high desert of California, they came for the cactuses and the contorted monzogranite formations, for the open space, for all the reasons so many have come before — to explore; to get married; simply to think.
But Joshua Tree National Park was closed Tuesday, indefinitely, so they gathered instead at a nearby cafe, to complain about their government.
"The government doesn't seem to care," said Rosie Rivera, manager of the Park Rock Cafe. "It's us, the people down here, who have to pay for their disagreements."
"They need to think about the people. Not themselves," said Al Valerio, who had driven to Joshua Tree with his wife.
Americans often complain that their government is out of touch. That has rarely seemed more true than on Tuesday, the first day that some pieces of the federal government machinery ground to a halt.
Polls showed that the first government shutdown in 17 years — prompted largely by continued efforts to block President Obama's healthcare law — was decidedly unpopular with the public. At the same time, the reach of the federal government was never more evident than when it suddenly disappeared.
Icons of American ideals were closed to the public — the Statue of Liberty, the Liberty Bell. Nineteen Smithsonian museums and galleries, 401 national parks and attractions, and two dozen American-run overseas military cemeteries closed immediately.
"We are a little bit shocked," said Corina Naraevskaya, who had traveled from Russia to visit the giant pandas at the National Zoo, which was locked. Nearby, a man in a panda shirt stomped away when he saw the "Closed" sign. "Are you kidding me?" he yelled. Even the zoo's popular Giant Panda Cam, which had captured Mei Xiang snuggling with her new cub Tuesday morning, went dark.
Many of the faces of government that have the most immediate effects on our lives — police officers, street-sweepers, schoolteachers — are paid for primarily by local and state agencies. And the shutdown will have no impact on most of the vast federal benefit programs — Social Security, Medicare, Medi-Cal.
But in many communities, the distinction between federal and local government was lost, and the effect of the shutdown was immediate and real — a trickle-down noneconomy.
About 800,000 federal employees have been sent home. Analysts say the shutdown means a reduction in collective American income of about $200 million per day. Communities near national parks are expected to lose $76 million a day in visitor spending. In Yosemite National Park, lodges and cabins had been scheduled to be filled to near capacity. Instead, thousands of visitors were given 48 hours to leave.
Advocates warned that domestic violence shelters in Montana and Vermont were no longer being reimbursed for their services, and said some shelters could be forced to close altogether. Scientific research across the country — into a type of meningitis in Hawaii; of water quality in Tarpon Bay, Fla. — came to a halt because scientists could not get into their own labs. Military service academy football games were in jeopardy.
Head Start, the health, nutrition and education program for low-income children, is operated locally, but is funded by federal grants — some of which ended Monday. Federal grants were no longer being renewed as of Tuesday morning.
According to organizers, at least 23 local programs in 11 states are now without funding. In Calhoun County, Ala., where a quarter of the residents younger than 18 live below the poverty line, hundreds of poor children were told that their preschools were closed. In tiny Hobson City, volunteers scrambled to take in children at a church instead.
Tales of disarray are virtually certain to come next. "Closing" massive swaths of wilderness is no simple proposition; a lock on a gate only goes so far.
The Santa Monica Mountains National Recreation Area, for instance, is a popular playground in Southern California — and a 240-square-mile bramble of government bureaucracy, with ownership stakes claimed by every level of government, universities and private property owners. Hikers, bikers and horseback riders will be able to access some areas only to be blocked from others.
"We're very porous," said Kate Kuykendall, a spokeswoman for the area. "It will not be a seamless experience."
As one park ranger put it to a visitor Tuesday at Zion National Park in Utah: "You can stop and take pictures. But don't go hiking and break a leg, because we can't rescue you."
There were concerns that crucial government roles could be eroded by the shutdown.
About 70% of the 86,000 civilians employed at the 16 U.S. intelligence agencies have been furloughed, officials said in Washington. "The intelligence community's ability to identify threats and provide information for a broad set of national security decisions will be diminished for the duration," said Shawn Turner, a spokesman for the director of national intelligence.
Some of the effects of the shutdown bordered on the surreal.
In New Jersey, authorities began shutting down operations at the Gateway National Recreation Area — including the removal of 28 floppy-eared goats. The Nubians had been brought in this summer to feast on a massive thicket of poison ivy that threatened the foundation under the long guns that protected New York Harbor from foreign invasion through World War II. The goats were carted away to an upstate farm.
When national parks closed, they were also forced to revoke most permits for special events — including the permit for a Ku Klux Klan gathering that had been scheduled at Gettysburg National Military Park in Pennsylvania.
For the duration of the shutdown, the Internal Revenue Service won't be conducting any audits. It won't issue any refunds, either. Virtually all of NASA's workforce was furloughed — but not Karen Nyberg or Michael Hopkins, the two American astronauts orbiting the Earth aboard the International Space Station. They carried on with their work as scheduled, above the fray.
Anyone skeptical that the shutdown could have far-reaching consequences might consider looking toward the heavens.
Starting Nov. 18, a three-week window will open for NASA to send its next mission to Mars. A $671-million probe is being dispatched to study Mars' transition from a wet and warm planet to one that is dry and cold — vital research for determining whether Mars ever harbored life.
But much of the preparation for launch is being done at the Kennedy Space Center in Florida — where 2,069 of the center's 2,078 civil servants were told to stay home. On Tuesday, the spacecraft was placed into a robotic hibernation of sorts, Bruce Jakosky, the mission's principal investigator, said in an interview. The mission will get back on track as soon as the freeze in Washington lifts.
"We're going to do everything we can to get to Mars," Jakosky said. "We're not ready to panic — yet."
But if the shutdown endures long enough, the launch window will start to narrow. In early December, it will close altogether. And the orbits of Earth and Mars will not line up in the proper configuration to try again until 2016.
Gold reported from Los Angeles, Rojas from Joshua Tree and Halper from Washington.
Times staff writers Kurt Streeter in Yosemite National Park and Michael Muskal, Ari Bloomekatz, Tony Barboza and Jason Wells in Los Angeles contributed to this report, along with Ken Dilanian, David Lauter and Becca Clemons of the Washington bureau and Steve Chapman of the Chicago Tribune.
Must-read stories from the L.A. Times
Get the day's top news with our Today's Headlines newsletter, sent every weekday morning.
You may occasionally receive promotional content from the Los Angeles Times.