Arizona State fraternity suspended after MLK-themed party mocks blacks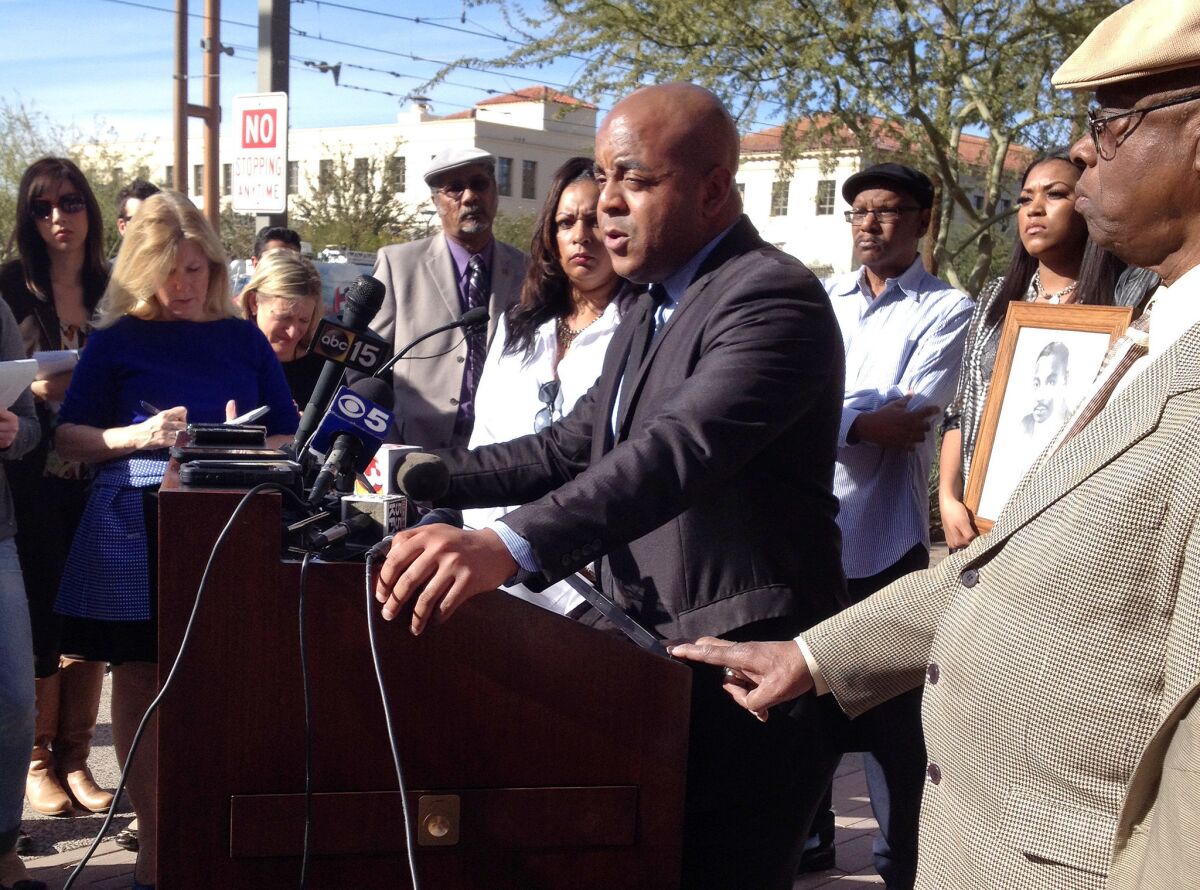 Civil rights leaders are calling for the expulsion of members of the Arizona State University chapter of Tau Kappa Epsilon fraternity who planned and participated in a Martin Luther King Jr.-themed party that mocked black people.
The fraternity suffered a public backlash Tuesday after photos were posted over the weekend of party attendees wearing stereotypical clothing, such as baggy basketball jerseys, bandannas and baseball caps worn backward, and drinking out of watermelon cups. Students used hashtags such as #blackoutformlk, #ihaveadream and #mlkparty to accompany their photos.
In an email statement to the Los Angeles Times, ASU officials said the fraternity, which has been on disciplinary probation since 2012, had been officially suspended.
According to Tempe Police Department reports, uploaded to Document Cloud by the Arizona Republic, in November 2012, about 20 members of the fraternity assaulted members of a rival fraternity, Delta Kappa Epsilon. As part of the fraternity's probation, it was not allowed to have parties.
"The party TKE held last weekend was not held on campus and was not a sanctioned university event," university officials said in a statement Tuesday. "Because of the latest incident, ASU has suspended chapter operations, can and will take additional action against the individuals involved, and is meeting with the national TKE organization today to take further action against the chapter."
The national fraternity, founded in 1899 in Bloomington, Ill., issued a public statement apologizing for "any offensive actions that a few of our members might have participated in."
"Tau Kappa Epsilon does not condone or support any actions by its members that would be defined as racist, discriminatory and/or offensive," the statement said. "It is with embarrassment and regret when a few individuals within our organization make decisions that do not align with the values and principles of Tau Kappa Epsilon."
Not everyone was appeased.
"One of the most dehumanizing actions is to make a mockery of a person's race," the Rev. Jarrett Maupin told The Times. "It's unbelievable that in 2014, young, white, obviously educated individuals are partaking in these kinds of actions."
Maupin organized a news conference Tuesday outside ASU's Walter Cronkite School of Journalism and Mass Communication in downtown Phoenix to draw attention to what he deemed a "serious, outrageous and disgusting act of racism."
Maupin demanded a boycott of the university's athletic program and fundraising campaign to rebuild Sun Devil Stadium.
Longtime civil rights activist the Rev. Luther Holland Jr., who also spoke at the news conference, told The Times that "to allow the fraternity to continue is to allow students to make a mockery of African American people."
Holland, who was in Alabama with King for the famed Selma-to-Montgomery march in 1965, is now with the First Institutional Baptist Church Community Development Corp., which is the oldest Baptist church in Arizona.
"There's no reason other than pure hate and spite that students did what they did," he said. "Dr. King had a dream but it seems that it is turning into a nightmare."
Holland said students and faculty needed to be trained in how to address African Americans.
ASU alumnus Benjamin Taylor, a lawyer, said he and other members of the African American community in Phoenix were "appalled" by the incident.
"We are willing to give diversity training if the campus or fraternity needs it," he told The Times.
TKE's national professional staff is at ASU to begin an investigation, according to the fraternity's statement.
James Rund, ASU's senior vice president for educational outreach and student services, spoke with Maupin about the university's response, according to the university's statement.
"The university will not tolerate this kind of behavior," the statement said.
ALSO:
Purdue University shooting: Victim, suspect are identified
Remains found in N.Y. river identified as missing boy with autism
Ferocious snowstorm creates new traffic jam for Christie inaugural
Twitter: @saba_h
Must-read stories from the L.A. Times
Get the day's top news with our Today's Headlines newsletter, sent every weekday morning.
You may occasionally receive promotional content from the Los Angeles Times.