Pipe bomb suspect Cesar Sayoc searched for his targets online as part of his 'domestic terror attack' plan, Justice Department says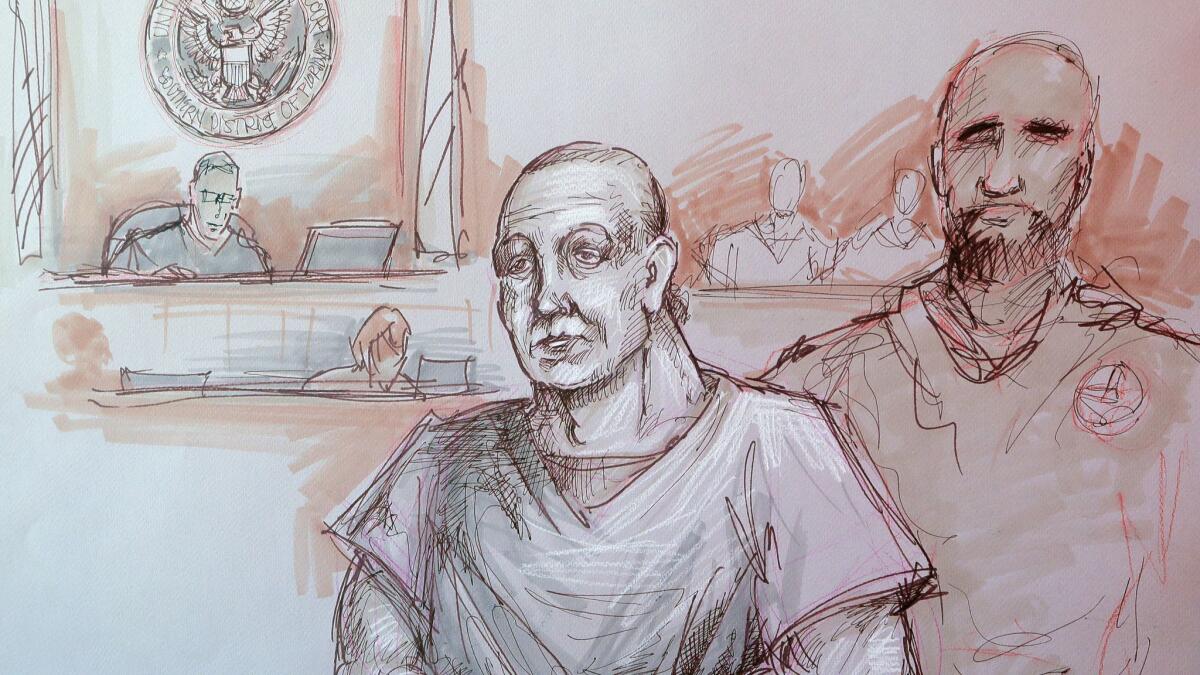 Reporting from Fort Lauderdale, Fla. —
Pipe bomb suspect Cesar Sayoc searched for addresses of his targets online and had photos of many of them on his cellphone, including one of Michelle Obama's driver's license, federal prosecutors said in a letter outlining more evidence against him.
The letter sent by Justice Department prosecutors in New York to a Miami federal judge also says Sayoc began plotting the "domestic terror attack" in July while living in his van. The old white vehicle was plastered with photos praising Donald Trump and targeting his critics, depicting some of Sayoc's alleged opponents with red crosshairs on their faces.
The FBI says Sayoc ultimately mailed 15 improvised explosive devices to prominent Democrats, Trump critics and media outlets before he was arrested in the van last week.
The 56-year-old Sayoc faces five federal charges in Manhattan carrying a combined maximum sentence of 48 years behind bars, prosecutors said.
Prosecutors said in the letter to U.S. Magistrate Judge Edwin Torres that Sayoc should remain jailed without bail. A detention hearing is set Friday in Miami, as well as a hearing on when Sayoc should be sent to New York to stand trial. Additional charges are likely, they said.
"Because of the powerful proof that the defendant perpetrated these acts, he poses a substantial danger to the community. In light of the consequences at issue and the likelihood of conviction, the defendant is also a substantial flight risk. Therefore, pretrial detention is appropriate," the letter says.
Among Sayoc's online searches for addresses, prosecutors said, were for former President Obama, former Secretary of State Hillary Clinton, billionaire George Soros, California Sen. Kamala Harris, New Jersey Sen. Cory Booker, former Atty. Gen. Eric Holder and for CNN. The FBI recovered explosive devices sent to all of them, among others.
Sayoc's cellphone contains photos of some of his alleged intended victims, the letter adds, including Soros, the homes of Obama and former Vice President Joe Biden, and the driver's license belonging to Michelle Obama.
The laptop computer found in the van also has a file with the address in Sunrise, Fla., of the office of U.S. Rep. Debbie Wasserman Schultz, former chairwoman of the Democratic National Committee. That office was used as the return address on the packages containing the pipe bombs, according to the FBI. The computer file was labeled "Debbie W.docx".
In addition, prosecutors said the FBI so far has found DNA evidence linked to Sayoc from 10 of the improvised explosive devices and fingerprints on two of the mailing envelopes.
Sayoc was arrested last Friday outside a South Florida auto parts store after the pipe bombs began surfacing around the country. None of them exploded and no one was injured, but investigators say they contained real explosive material.
"The defendant also placed shards of glass in several of the IEDs for the apparent purpose of maximizing harm to his intended victims through the detonation of the devices that he had mailed," prosecutors wrote.
Sign up for Essential California for news, features and recommendations from the L.A. Times and beyond in your inbox six days a week.
You may occasionally receive promotional content from the Los Angeles Times.