Pregnant women warned about Miami neighborhood after Zika cases increase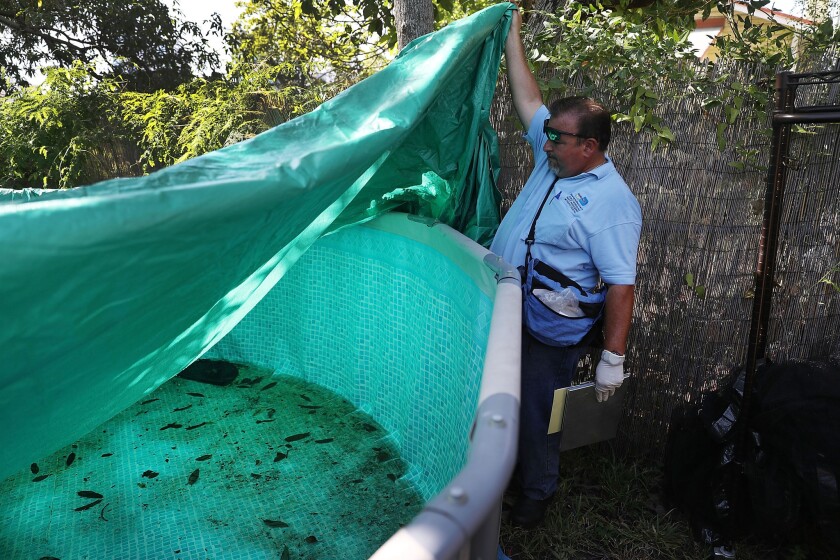 Reporting from Miami —
Government health officials are warning that pregnant women should avoid travel to a Zika-stricken part of Miami and urging expectant mothers who frequent the neighborhood to get tested for the virus, after the number of people feared infected through mosquito bites in the U.S. climbed to 14.
In a warning issued Monday, the Centers for Disease Control and Prevention also said men and women who have recently visited the area should wait at least eight weeks before trying to conceive a child.
Gov. Rick Scott asked Monday for a federal emergency response team to help the state combat the spread of the virus in the U.S.
Officials announced four cases on Friday, believed to be the first people to contract the virus from mosquitoes within the 50 states. Ten more cases were announced Monday. The CDC's emergency response team will help Florida officials in their investigation, sample collection and mosquito control efforts. The White House said the CDC team would be deployed to Florida "in short order."
Zika is such a mild disease that most who get it don't even know they've been infected, but it can lead to severe brain-related birth defects if women are infected during pregnancy. The disease has swept through Latin America and the Caribbean in recent months.
Florida health officials said they've tested more than 200 people in Miami-Dade and Broward counties after reports of local transmissions of the virus in early July. Of the 14 people infected, two are women and 12 are men.
"We will continue to keep our residents and visitors safe utilizing constant surveillance and aggressive strategies, such as increased mosquito spraying, that have allowed our state to fight similar viruses," Scott said in a statement.
The Florida infections are thought to have occurred in a small area just north of downtown Miami, in the Wynwood arts district. The travel warning covers an area of about one square mile in Wynwood to the east of Interstate 95 and south of Interstate 195.
U.S. health officials do not expect widespread outbreaks of the sort seen in Brazil and in Latin America and the Caribbean, in part because of better sanitation, better mosquito control and wider use of window screens and air conditioners.
The area, known for murals spray-painted across warehouses, art galleries, restaurants and boutiques, is rapidly gentrifying and has a number of construction sites where standing water can collect and serve as a breeding ground for mosquitoes.
Many walking the streets recently were unaware the virus had spread and were confused about how the disease is transmitted.
Jordan Davison and Melissa Felix work for a cruise line and were enjoying their day off Monday looking at the murals in the neighborhood.
"It's not like a big thing, right?" said 25-year-old Davison. "It's kind of freaky — there's so much going on we didn't know, didn't really think about it ... I might wear bug spray going forward."
See the most-read stories in National News this hour »
More than 1,650 cases of Zika have been reported in U.S. states that were linked either with travel or having sex with a returned traveler, another way the virus can spread.
Bakery owner Mariana Cortez isn't worried that Zika is going to keep locals and tourists from eating her delicious desserts.
"Mosquitoes are not enough of a reason to not come pick up your cake ... I don't think my business is going to be affected by Zika."
On Friday, Florida agricultural officials immediately announced more aggressive mosquito-control efforts, and Florida politicians rushed to assure tourists it's still safe to visit the state.
MORE NATIONAL NEWS
Democratic vice presidential candidate Tim Kaine can speak Spanish. Do Latino voters care?
It's been a lethal year for police. But here's what's behind the numbers
A sparkling new Sandy Hook school arrives, with high-tech features and security 'second to none'
---
UPDATES:
10:57 a.m.: Updated with a travel warning for pregnant women and additional details.
This story was originally posted at 8:40 a.m.
---
Must-read stories from the L.A. Times
Get all the day's most vital news with our Today's Headlines newsletter, sent every weekday morning.
You may occasionally receive promotional content from the Los Angeles Times.