Houston voters reject LGBT equal rights measure
Reporting from Houston —
Houston voters rejected a controversial ordinance Tuesday that would have barred discrimination against gays and transgender people, an outcome that came after an 18-month battle pitting gay rights advocates against those who believed they were defending religious liberty.
The vote had been expected to be close. But with nearly 94% of precincts reporting, the measure was failing by a wide margin, 61% to 39%.
Opponents of the measure celebrated, while one of its leading supporters, Mayor Annise Parker, predicted that the city's reputation would suffer.
NEWSLETTER: Get the day's top headlines from Times Editor Davan Maharaj >>
"I fear that this will have stained Houston's reputation as a tolerant, welcoming global city and I absolutely fear there will be a direct economic backlash," Parker told supporters gathered at a downtown barbecue restaurant as election results came in.
Parker, the first lesbian mayor of a major U.S. city, had championed the ordinance, making it a personal battle about what she called "my rights."
"No one's rights should be subject to a popular vote," Parker said. "This was a campaign of fear-mongering and deliberate lies.… This is about a small group of people who want to preserve their ability to discriminate."
The ordinance's opponents discounted any backlash.
"You want to talk about scare tactics? That's what she's doing," said Paul Simpson, chairman of the county's Republican Party, adding that voters' resounding rejection of the ordinance "showed the citizens of Houston think it's unnecessary."
The Houston Equal Rights Ordinance, HERO to its supporters, was approved by the City Council in May 2014. Opponents sued, and in July the Texas Supreme Court ordered the city to either repeal the measure or place it on the ballot.
Texas is one of 28 states that does not have statewide nondiscrimination protections, although major cities -- including Austin, Dallas, Fort Worth and San Antonio -- have adopted such measures.
Of the other 22 states, 17 bar discrimination on the basis of sexual orientation and gender identity in employment, housing and public accommodations, and four offer limited protections. Last month, New York Gov. Andrew Cuomo announced an executive action to protect transgender people from discrimination.
See the most-read stories this hour >>
Tuesday's referendum drew attention from across the country. The ordinance received high-profile endorsements last week from the White House and Democratic presidential candidate Hillary Rodham Clinton.
Supporters, including the mayor, NAACP officials, pastors and business leaders, said the ordinance would have offered increased protections for 15 groups, including gay and transgender people.
Political analysts said the measure enjoyed early support. But conservative opponents reached out to minorities and eroded that support.
"We came up short tonight," said Richard Carlbom, campaign manager for Houston Unites. But he added, "We remain confident that HERO will prevail soon."
Carlbom encouraged supporters to keep fighting.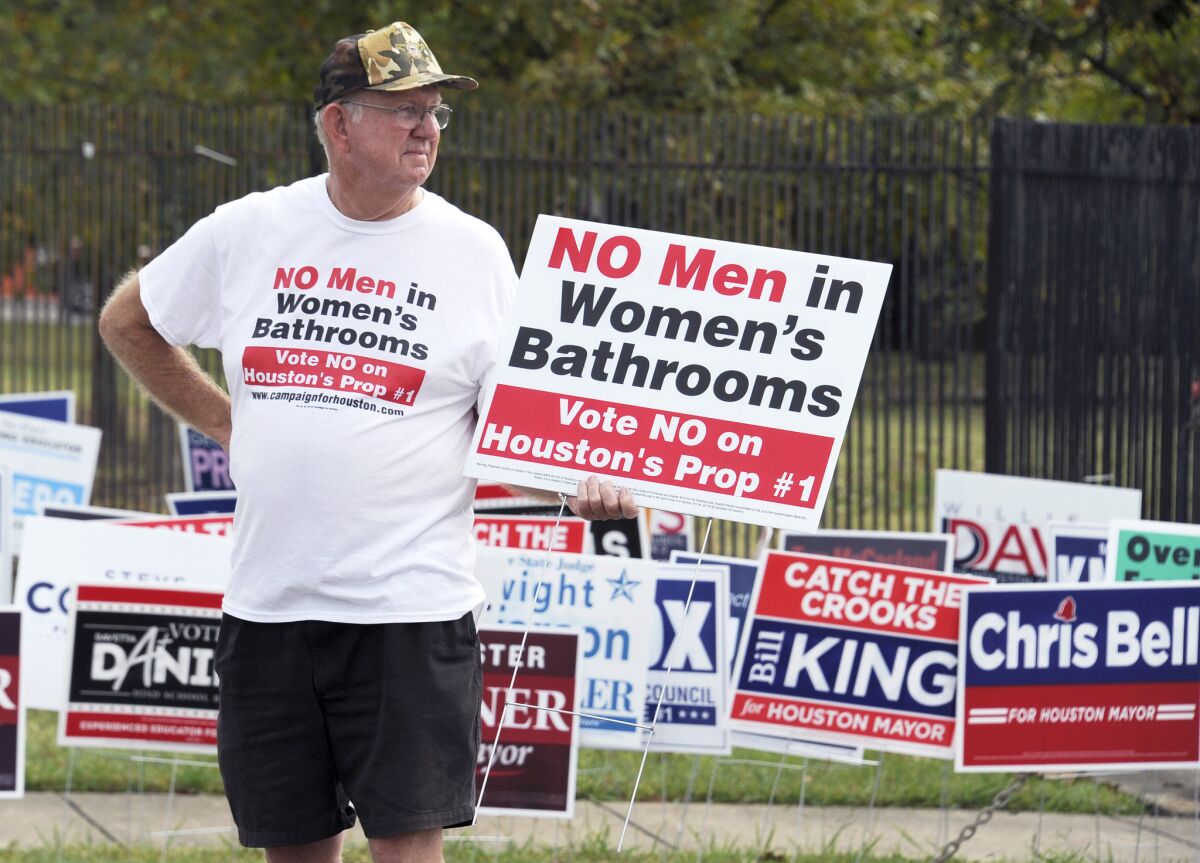 "The struggle for fairness and equality never stops," he said. "People's hearts and minds, they are changing."
Conservative leaders who campaigned and spoke out against the ordinance included a coalition of pastors, Republican Gov. Greg Abbott, Lt. Gov. Dan Patrick, former Houston Astro Lance Berkman and Houston Texans football owner Bob McNair.
Opponents called the measure Proposition 1 or the "bathroom ordinance," and said it infringed on their religious beliefs and posed a public health risk by allowing transgender women into women's restrooms.
Jonathan Saenz, president of Texas Values Action, a conservative group that opposed the ordinance, called the vote "a significant victory for common sense, safety, and religious freedom, not just in Houston, but for all of Texas.... This vote will impact the nation and shows, once again, that the people still support common-sense Texas values."
Follow me for the latest in national news @mollyhf
ALSO:
Quentin Tarantino says police boycotts don't intimidate him: 'I'm not a cop hater'
Super volcano? The Big One in Wyoming? A huge gash in Earth has folks talking
Head of money-losing L.A. County Fair Assn. made nearly $900,000 in total compensation
Must-read stories from the L.A. Times
Get the day's top news with our Today's Headlines newsletter, sent every weekday morning.
You may occasionally receive promotional content from the Los Angeles Times.