Quentin Tarantino 'not backing down' from remarks on police brutality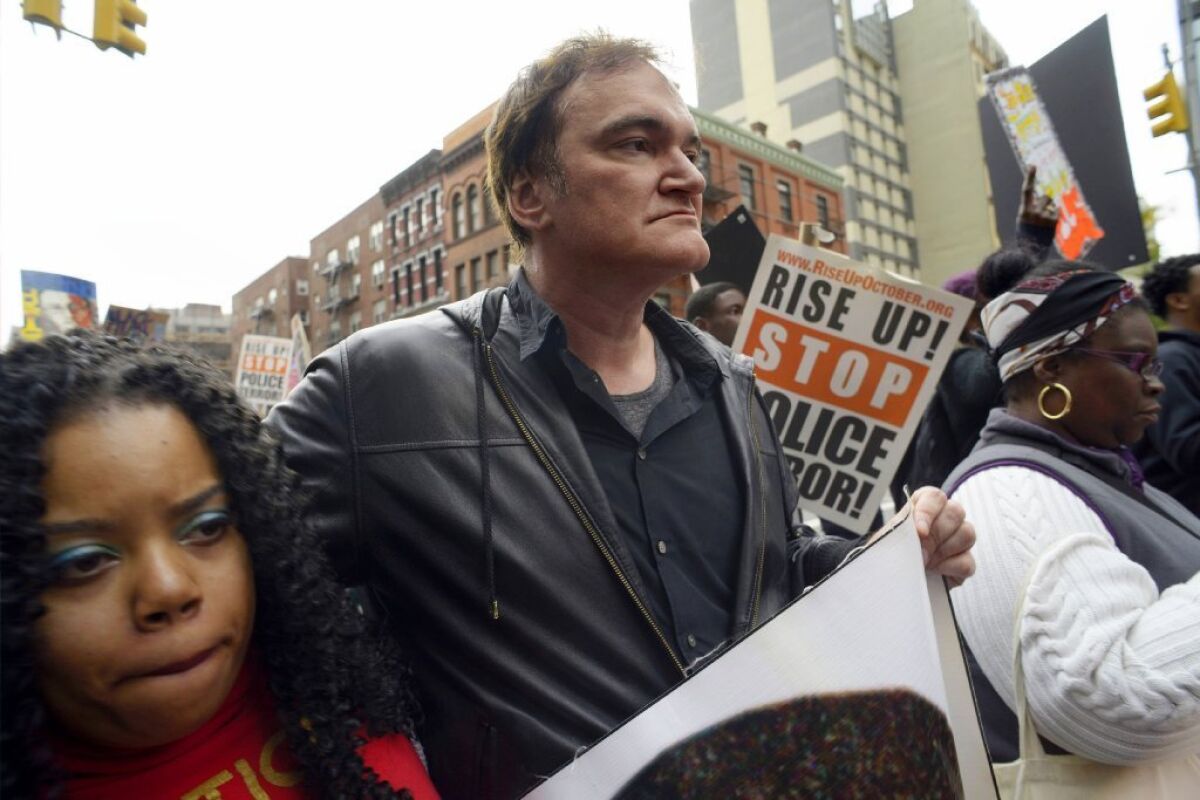 Under increasing fire from law enforcement groups, director Quentin Tarantino broke his silence Tuesday and said his remarks condemning police brutality had been misrepresented to "demonize" him and deflect attention away from the issue.
"All cops are not murderers," Tarantino told The Times in his first public response to the controversy. "I never said that. I never even implied that."
See the most-read stories in Entertainment this hour >>
Police unions across the country, including ones representing officers in Los Angeles and Orange County, have called for a boycott of Tarantino's upcoming movie, "The Hateful Eight," following remarks the filmmaker made at an Oct. 24 rally in New York to call attention to those killed in police shootings.
"I'm a human being with a conscience," Tarantino said at the rally. "And when I see murder I cannot stand by. And I have to call the murdered the murdered and I have to call the murderers the murderers."
The threatened boycott could dim prospects for Tarantino's new film, which is set for a Christmas release and has been expected to be a critical and commercial success for Tarantino and his longtime distributor, the Weinstein Co. Several movies beset by controversy in recent years have seen either their box office or awards recognition dented.
Tarantino said his remarks at the rally last month were aimed at police officers who have been involved in unwarranted shootings of civilians.
"What they're doing is pretty obvious," he said of his critics. "Instead of dealing with the incidents of police brutality that those people were bringing up, instead of examining the problem of police brutality in this country, better they single me out. And their message is very clear. It's to shut me down. It's to discredit me. It is to intimidate me. It is to shut my mouth, and even more important than that, it is to send a message out to any other prominent person that might feel the need to join that side of the argument."
Speaking to reporters Tuesday, LAPD Chief Charlie Beck said the director "doesn't understand the nature of the violence" that police officers face in their work.
"Mr. Tarantino lives in a fantasy world. That's how he makes his living," Beck said. "His movies are extremely violent, but he doesn't understand violence. … Unfortunately, he mistakes lawful use of force for murder, and it's not."
The timing of the boycott call comes at a crucial time for Tarantino and Weinstein Co. co-chairman Harvey Weinstein. Over the years, Weinstein has relied on the commercial success of Tarantino's films, which have included "Pulp Fiction," "Inglourious Basterds" and "Django Unchained," to bankroll the production, acquisition and marketing costs of the rest of his slate.
"My first company, Miramax, was the house that Quentin built, and my second company, the Weinstein Co., is the house that Quentin saved," Weinstein said at a 2013 Tarantino tribute in Lyon, France.
But the old showbiz adage — that any publicity is good publicity — doesn't always prove true when it comes to films.
"Zero Dark Thirty," the 2012 movie about the hunt for Osama bin Laden, grossed $95 million in theaters but underperformed at the Oscars after politicians and pundits criticized its depiction of torture. Last year, the civil rights drama "Selma" took hits over its portrayal of President Lyndon B. Johnson.
And in the last few weeks, the biopic "Steve Jobs" has tanked commercially amid complaints from the Apple co-founder's colleagues that the movie took extreme liberties with its subject.
At the same time, films such as "American Sniper" and "The Last Temptation of Christ" were possibly helped by controversy surrounding their takes on events.
What's different here is that the fuss surrounding "The Hateful Eight" isn't about the content of the movie, which hasn't been screened publicly, but about remarks made by its director that are unrelated to the film itself.
It's too early to know how many moviegoers will heed the boycott call when "The Hateful Eight" arrives in theaters on Christmas and whether film academy members, who have given Tarantino's last two movies 13 Oscar nominations, will be inclined to pay attention.
Lt. Craig Lally, who heads the Los Angeles Police Protective League that represents LAPD officers, predicts that the broader public will support police and steer clear of "The Hateful Eight." He says Tarantino showed a "stunning lack of sensitivity" by calling police officers murderers just four days after a New York police officer was killed in East Harlem.
"There's an underground of people who are very pro-police," Lally said. "And it's going to be this underground that shuts down the movie, not the cops."
Others see history offering another possible outcome.
USC Annenberg professor Jonathan Taplin produced Martin Scorsese's "Mean Streets" and "The Last Waltz" and remembers the controversy surrounding the filmmaker when religious groups boycotted his 1988 epic "The Last Temptation of Christ."
"The film was really an art film and so all the controversy actually gave it more attention than it might have otherwise gotten," Taplin said, noting that Scorsese received an Oscar nod for his direction.
"The academy does not like being told not to see a movie," Taplin added. "In Quentin's case, if the movie is good, his fans will come, boycott or not."
Last year, Clint Eastwood's "American Sniper," the story of Navy SEAL Chris Kyle, the most lethal sniper in U.S. military history, was condemned by many on the left as jingoistic. But it became the year's highest-grossing film, fueled in part by moviegoers attracted to its empathetic portrait of a military hero.
Maybe it'll dissipate. Maybe it won't. But I have a 1st Amendment right to protest against police brutality as I see it. And I'm not backing down from that.
— Quentin Tarantino, director
Todd Boyd, a professor of critical studies at USC's School of Cinematic Arts, believes that the boycott calls could boost interest in "The Hateful Eight" in a similar fashion, piquing the interest of Tarantino's core group of fans.
"Tarantino has always been the kind of figure who has attracted contrarians," Boyd says. "So there aren't too many things that could be better for this film than for law enforcement to try and boycott it."
Tarantino, for one, doesn't believe that the boycott calls will affect his movie.
"The people who are screaming against me are the mouthpieces for the police," Tarantino said. "They can call for a boycott. That doesn't mean that cops are going to respond. Because I actually have a whole lot of fans that are police officers.
"We'll see what happens," the filmmaker added. "Maybe it'll dissipate. Maybe it won't. But I have a 1st Amendment right to protest against police brutality as I see it. And I'm not backing down from that."
Twitter: @glennwhipp
MORE:
Quentin Tarantino's guide to 'The Hateful Eight' gang
Much to love in live reading of Quentin Tarantino's 'Hateful Eight'
Boycott of Quentin Tarantino's 'Hateful Eight' adds Orange County police organization
From the Oscars to the Emmys.
Get the Envelope newsletter for exclusive awards season coverage, behind-the-scenes stories from the Envelope podcast and columnist Glenn Whipp's must-read analysis.
You may occasionally receive promotional content from the Los Angeles Times.